World Class Stadium Roofing & Sporting Club Solutions
Boasting an unrivaled reference portfolio of projects for iconic stadium roofing, our highly experienced local staff have a key understanding of design, manufacturing, logistical and construction risks and opportunities in large-scale projects such as tensile membrane stadium roofing.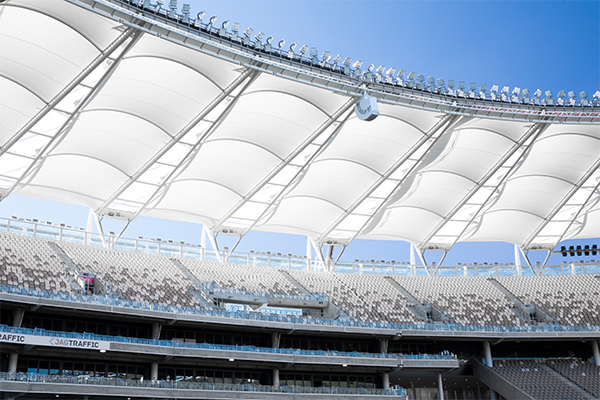 Major Stadiums
From covered bar areas and amenities blocks, to spectator shade cover and full-span stadium roofing, MaxMax Australia and our global Taiyo Kogyo Group family has been involved in some of the most stunning and iconic stadium projects around the world.
With an increased demand for stadiums to be multi-purpose, base to multiple "home" teams and sporting codes, as well as hosting concerts and events, new venues are looking to stand out with stunning facilities, player and spectator amenities and stunning architectural designs through tensile membrane stadium roofing and facades. Favoring durable and high-translucency PTFE for stadium roofing thanks to it's long life and strength, MakMax has also incorporated modern ETFE foil into our designs, creating unique and memorable stadium experiences.
Some of the major Stadiums within our reference portfolio are:
Australia
Homebush Stadium, Sydney, 1999
Adelaide Oval, 2003
The Gabba, Brisbane, 2005
Rat Rafter Area, Brisbane, 2008
Metricon Stadium, Gold Coast, 2010
Optus Stadium Perth, 2017
Anna Mears Velodrome, Brisbane, 2017
Memorial Drive Tennis Centre, Adelaide, 2019
Melbourne Park, Australia Open Showcourt 3, 2019
CBUS Stadium (Repair), Gold Coast, 2020
Sydney Football Stadium, 2022
Asia
Hong Kou Stadium, Shanghai, China, 1999
Shanghai Stadium, China, 2001
'Big Eye Stadium' Oita Prefectural Sports Park, Japan, 2001
Niigata 'Big Swan' Stadium,  Niigata, Japan, 2001
Toyota Stadium, Aichi, Japan, 2001
Saitama Stadium, Japan 2002
Wuhan Stadium, Hubei, China, 2002
Incheon Moonhak Stadium, South Korea, 2002
Kumagaya Dome, Saitama, Japan, 2003
Shanghai International Circuit (F1), China, 2004
Nantong Stadium, Shenzen, China, 2006
Kunshan Stadium, Jiangsu, China, 2006
Shanghai International Tennis Court, China, 2007
Chepauk Stadium, Chennai, India, 2010
Jawaharlal Nehru Stadium, New Delhi, India, 2010
Ranchi Stadium, India, 2010
Shenzhen Universiade, China, 2011
Shenzen Baoan Stadium, China, 2011
Panjin Sports Centre, China, 2013
Zaozhuang Stadium, China, 2018
Africa & Middle East
King Fahd Stadium, Saudi Arabia, 1986
Saida Stadium, Lebanon, 2000
Dubai Cricket Stadium, UAE, 2007
Kuwait National Stadium, Safat, Kuwait, 2007
Moses Mabhida Stadium, Durban, South Africa, 2009
Cape Town Stadium, South Africa, 2009
Nelson Mandela Stadium, South Africa, 2009
Hazza bin Zayed Stadium, Abu Dhabi, UAE, 2014
Khalifa International Stadium, Doha, 2017
Europe & the Americas
Rome Olympic Stadium, Italy, 1990
Georgia Dome, USA, 1992
Paul Brown Stadium, Cincinnati, USA, 2000
Hamburg Volkspark, Germany, 2001
La Plata Stadium, Argentina, 2003
Karaiskaki Olympic Stadium, Athens, Greece, 2004
Dallas Cowboys Stadium, Texas, USA, 2009
Gdynia Stadium, Poland, 2010
Legia Stadium, Warsaw, Poland, 2010
New York Red Bull Stadium, USA, 2011
Talisman Center, Calgary, Canada, 2011
Mineirao Stadium, Belo Horizonte, Brazil, 2013
Arena Fonte Nova, Salvadore, Brazil, 2013
Brasilia Stadium, Brazil, 2013
Stade Velodrome Marseille, France, 2014
Mercedes-Benz Stadium, Atlanta, USA, 2017
Wanda Metropolitano Stadium, Madrid, Spain, 2017
Levante Stadium, Valencia, Spain 2020
Suzanne Lenglen court at Roland Garros, Paris, France, 2022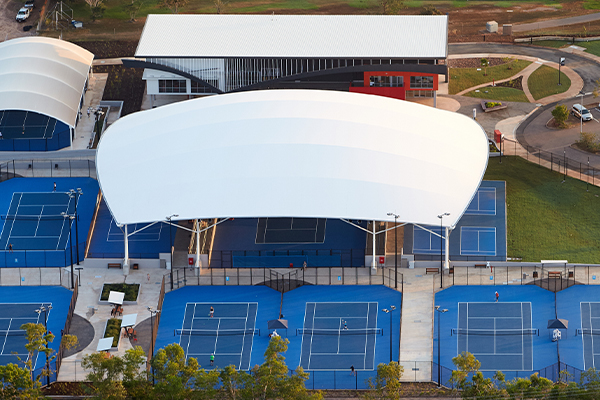 Sports Court Canopies
Allowing natural light through the translucent membrane, yet keeping players cool and comfortable in hot conditions, and dry during inclement weather, architectural fabric structures are perfect for full-coverage sports court canopies. The MakMax Sports Court Canopy is a lightweight structure, making it ideal for large-span coverage.
MakMax has created canopies for;
Tennis Courts
Futsal pitches
Grandstands & Grounds
World-class stadium roofing is not the only sporting facilities that can benefit from tensile membrane architecture. MakMax Australia has extensive project experience with sporting facilities of all types. Keep your players, spectators and club patrons comfortable with a range of shade and weather solutions.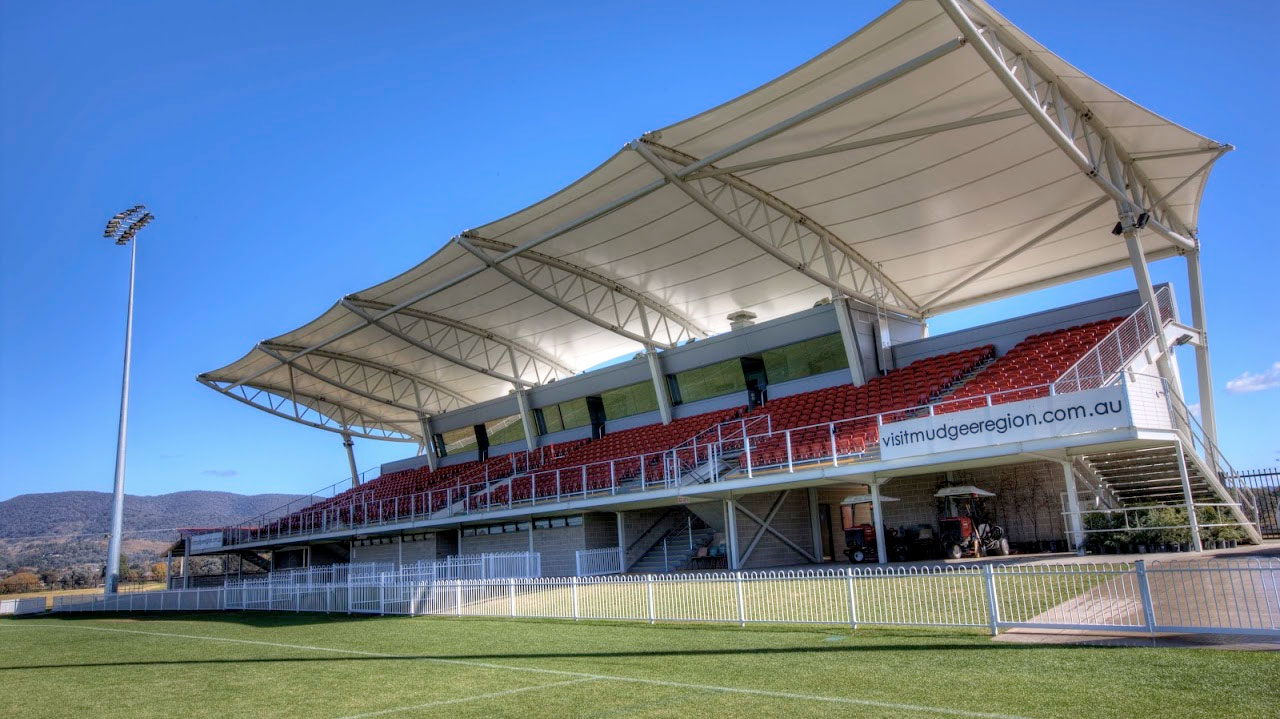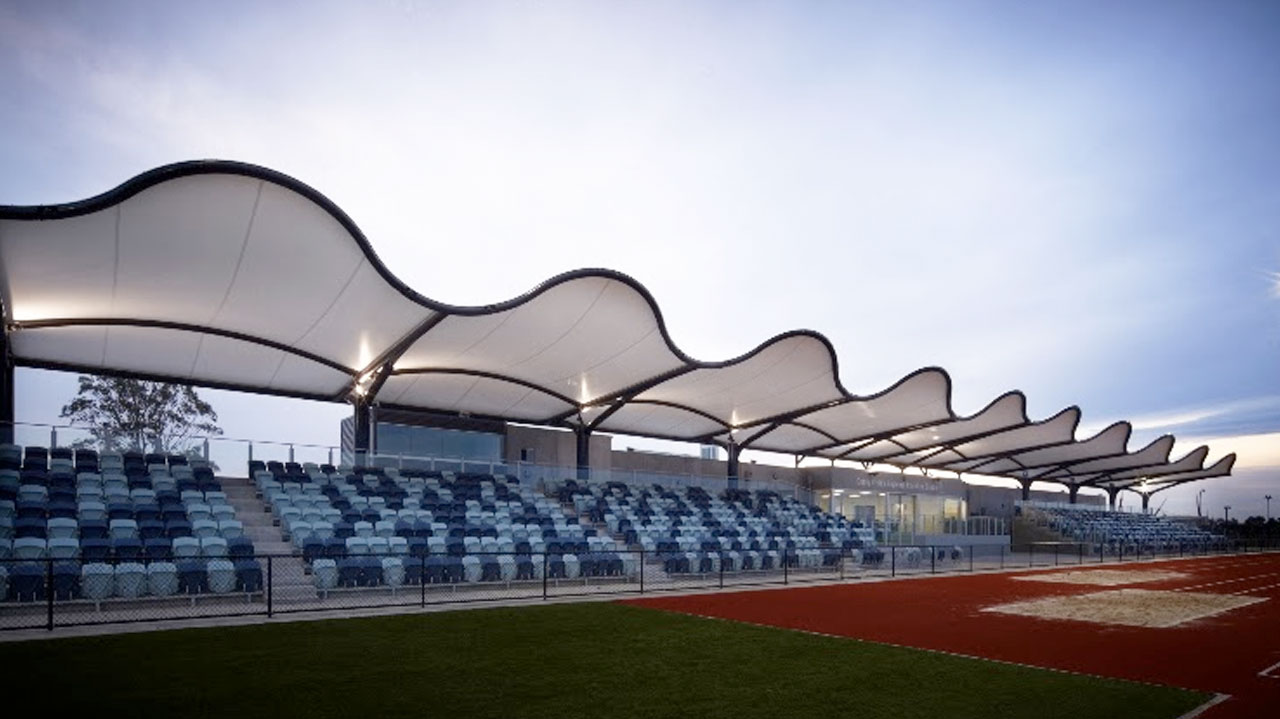 Schools & Sports Clubs
MakMax Australia has worked with a number of small sporting clubs and associations to provide shade and shelter for athletes and spectators.
Our small spectator stand covers are strong, lightweight and reasonably economical when compared to traditional buildings.
MakMax Velarium: Variable Shade System
NEW PRODUCT: The MakMax Velarium is a variable shade system.
The MakMax Velarium variable shade system is created using opposing sets of PVC mesh panels supported by a cable span steel structure. At the push of a button, the shade panels close from the outside to the centre. Able to be closed all at once, or in various sequences, the amount of shade and shaded areas can be controlled.
The MakMax Velarium variable shade system is an adaptable system that would suit any application requiring large span column-free variable shade. The Velarium variable shade system is also suited to grass sporting facilities where a full canopy would not allow enough sunlight to filter to the playing surface.
Perfectly suited for swimming pools, where some sunlight is still welcome, The MakMax Velarium variable shade system was first installed at St Margaret's Anglican Girls School in Brisbane.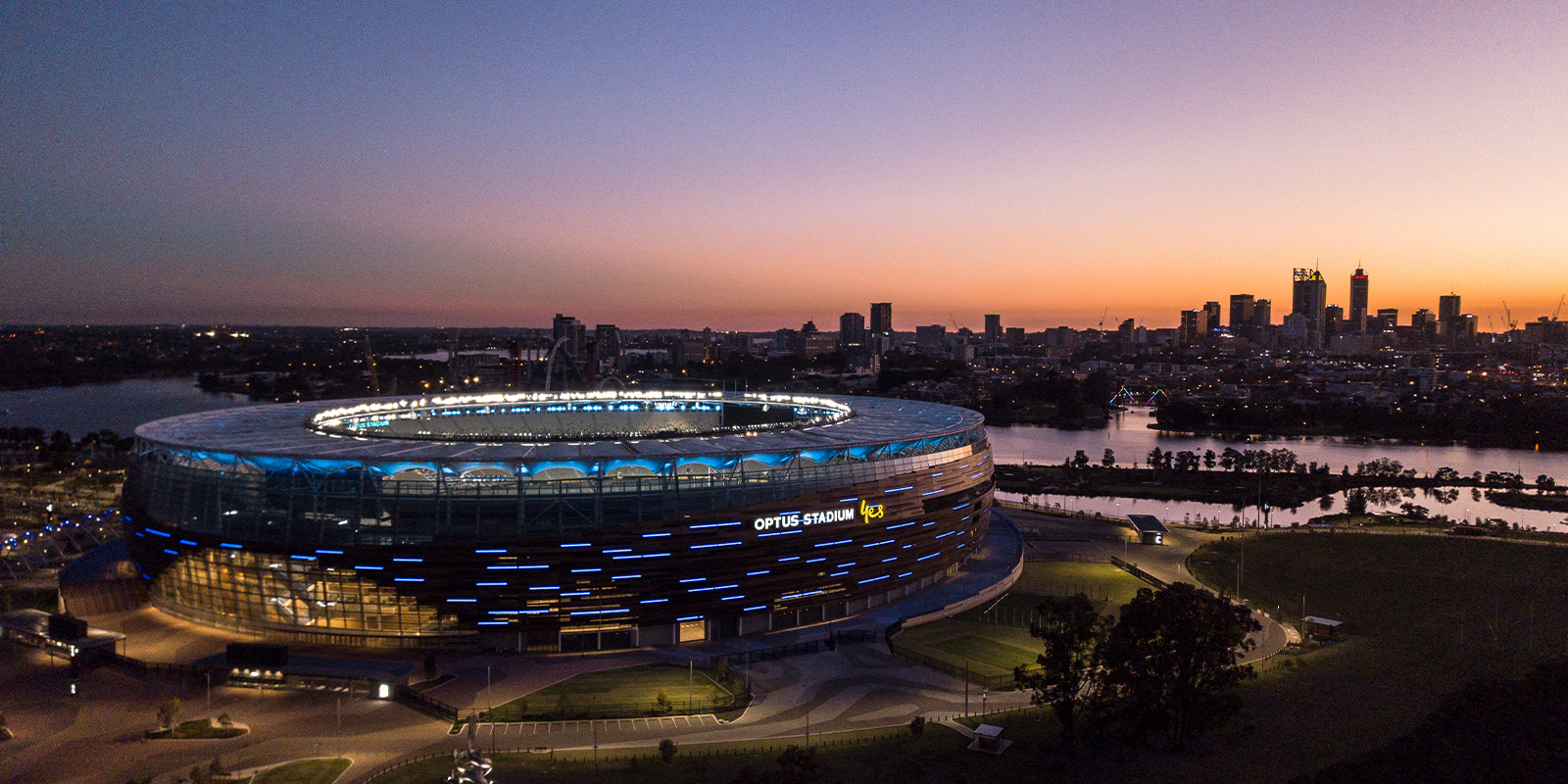 Optus Halo Stadium Roof in Perth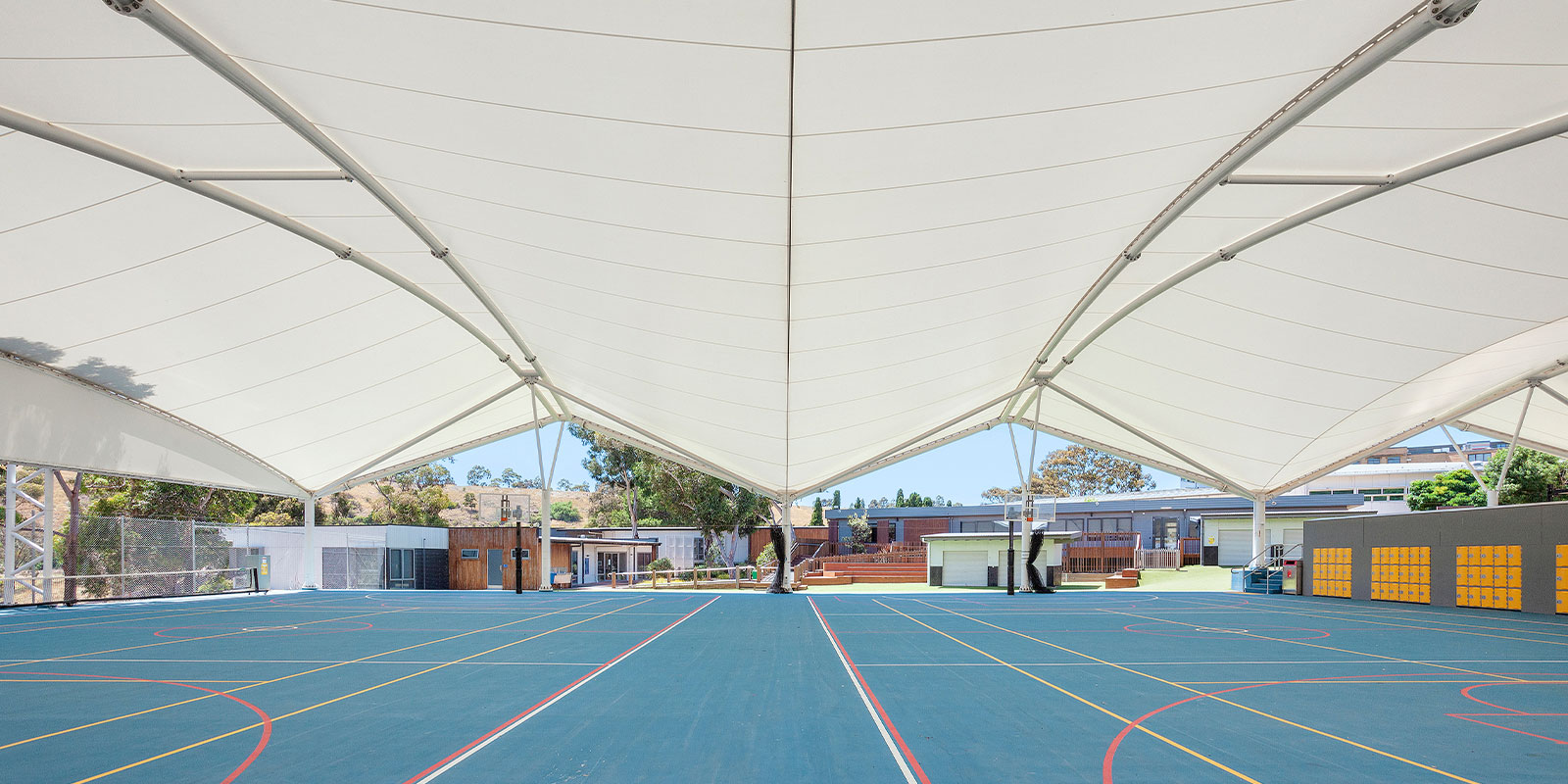 Sports Court Canopy, multi-use sports, Salesian College, Sunbury VIC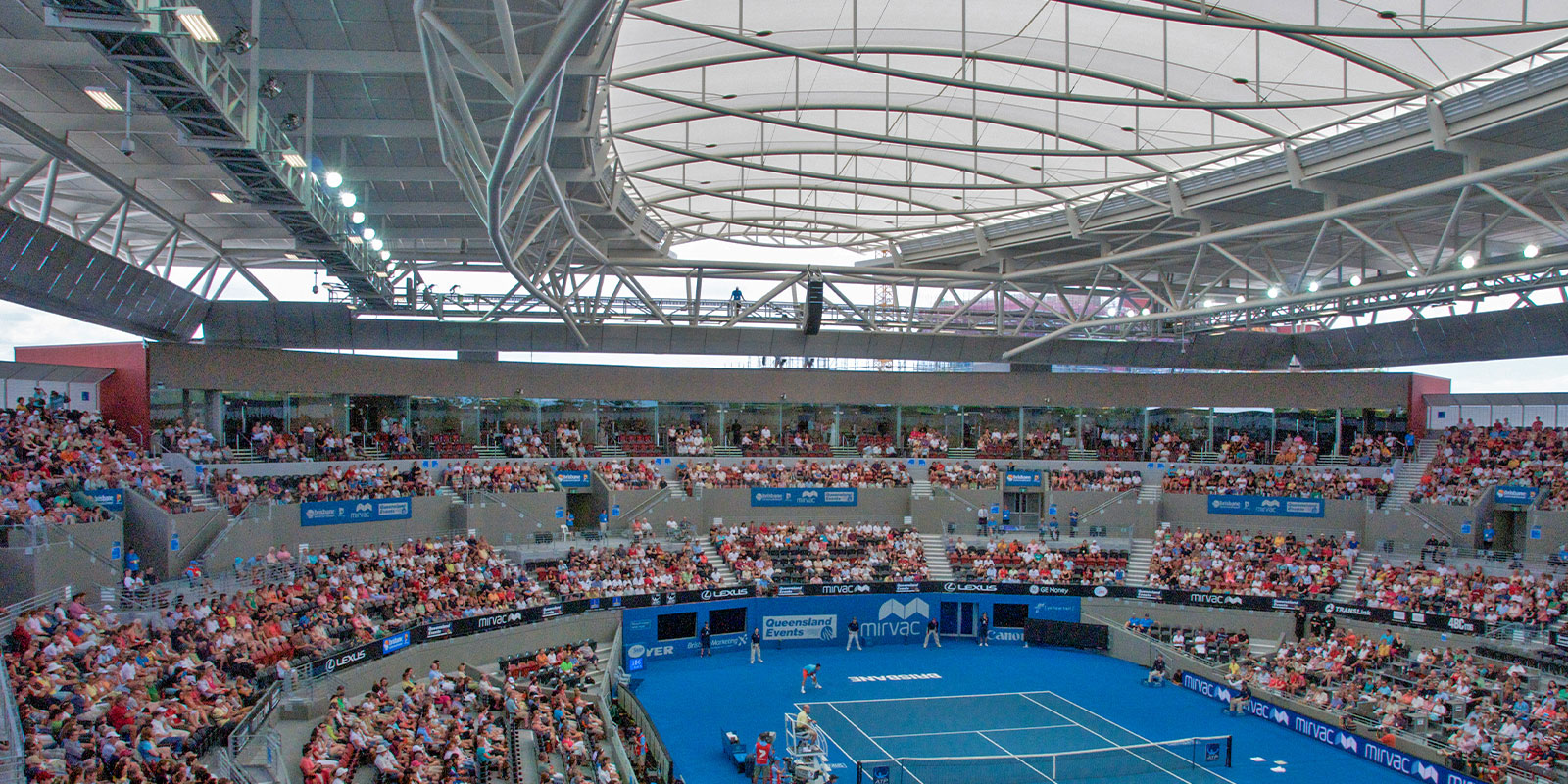 Fabric Canopy Roof, Pat Rafter Arena, Brisbane, QLD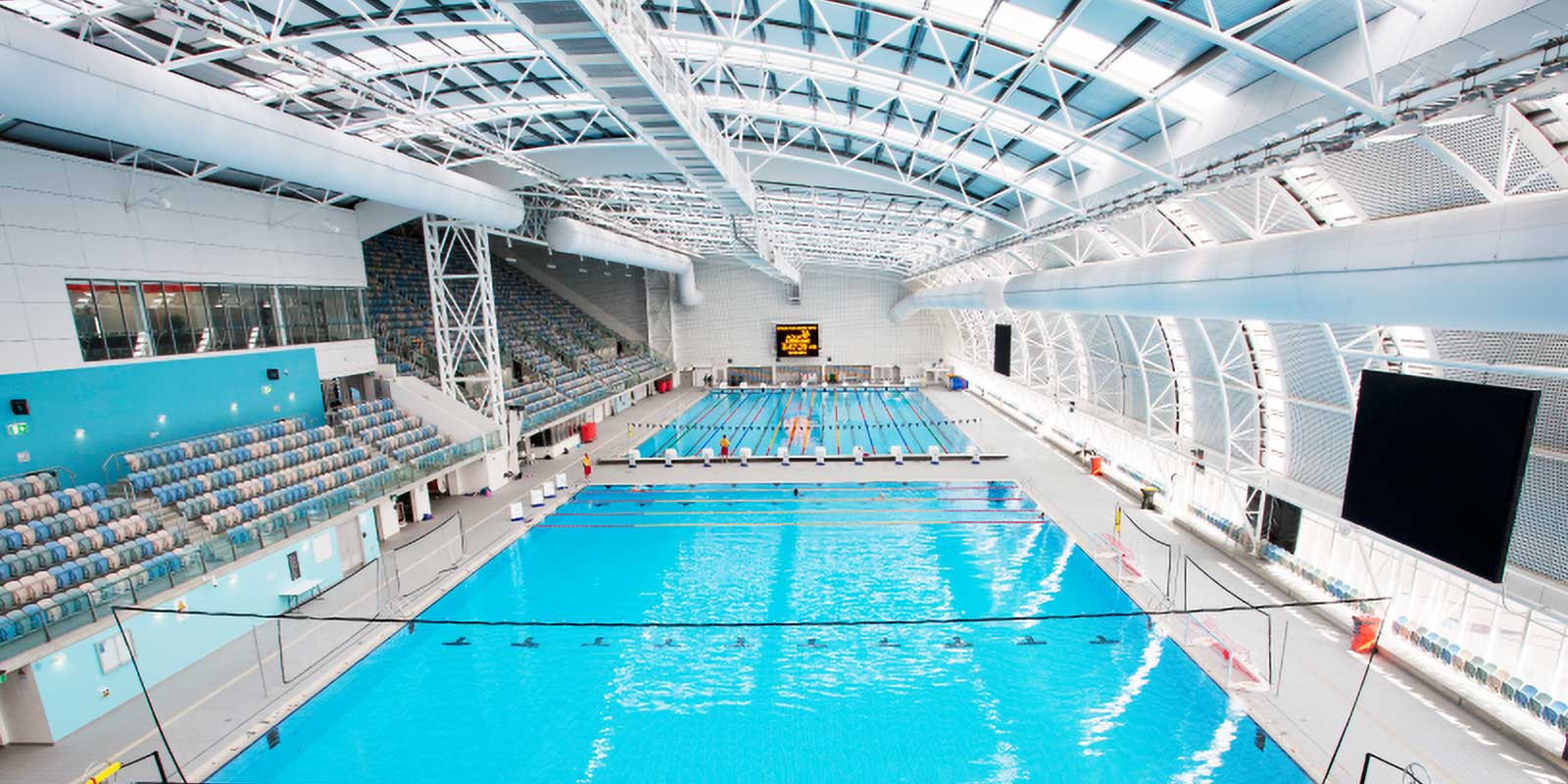 Translucent Membrane Skylight Panels, South Australia Aquatic Centre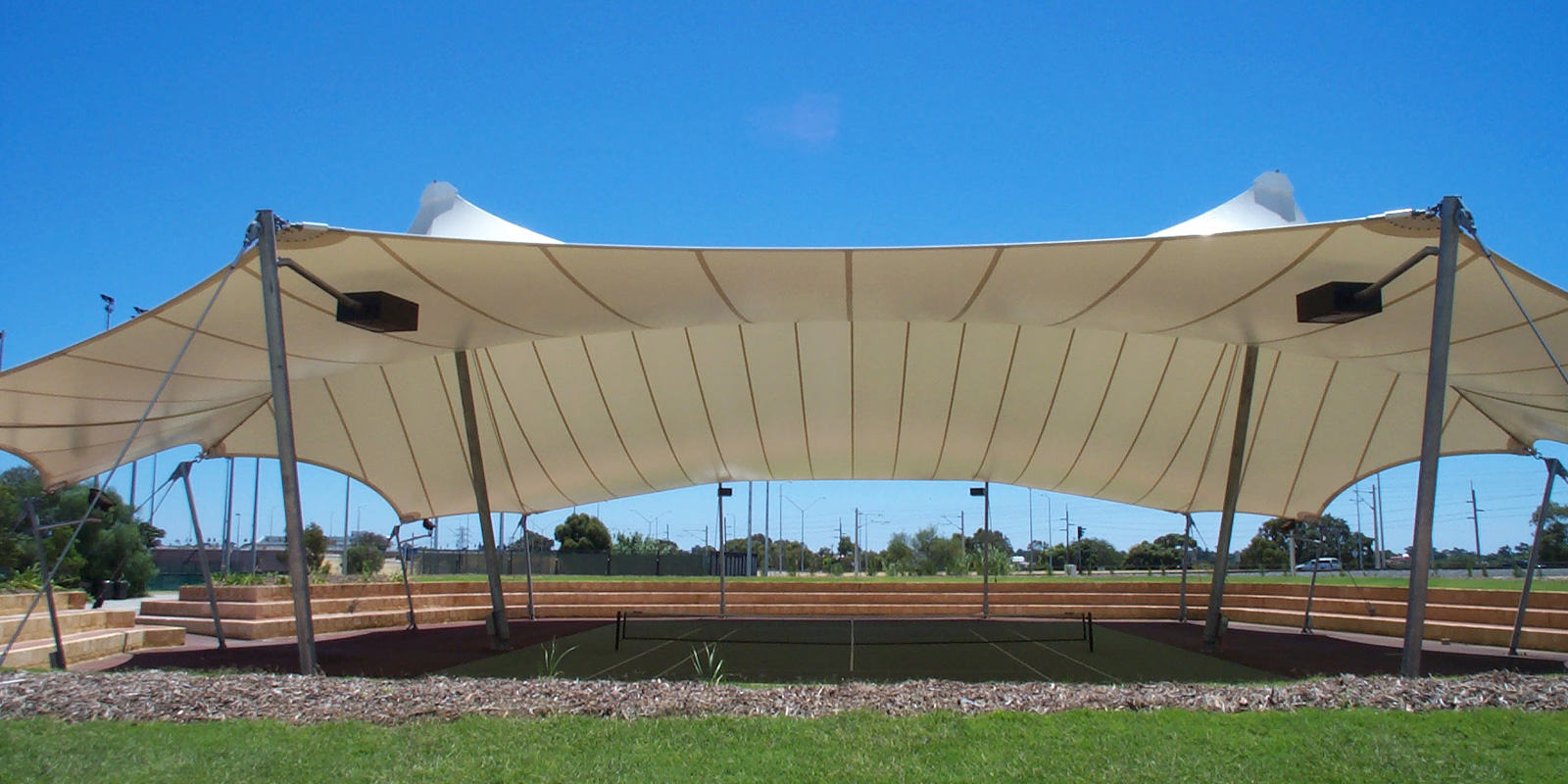 Custom fabric canopy over practice court, Burswood Tennis Centre, WA
Would You Like More Information about Stadium Roofing & Sports Club Solutions?
Contact us today to discuss your project requirements. We are the market leader in the design, engineering, fabrication and installation of custom fabric structures for a wide variety of applications and industries. We have extensive project experience and offer endless possibilities when it comes to custom design solutions to meet your needs.