World Class Stadium Roofing & Sporting Club Solutions
Boasting an unrivaled reference portfolio of projects for iconic stadium roofing and sports grandstand covers our highly experienced local staff have a key understanding of design, manufacturing, logistical and construction risks and opportunities in large-scale projects such as tensile membrane stadium roofing.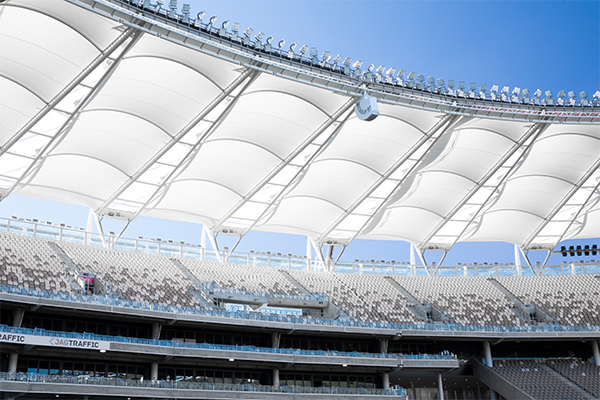 Major Stadiums
From covered bar areas and amenities blocks, to spectator shade cover and full-span stadium roofing, MaxMax Australia and our global Taiyo Kogyo Group family has been involved in some of the most stunning and iconic stadium projects around the world.
With an increased demand for stadiums to be multi-purpose, base to multiple "home" teams and sporting codes, as well as hosting concerts and events, new venues are looking to stand out with stunning facilities, player and spectator amenities and stunning architectural designs through tensile membrane stadium roofing and facades. Favoring durable and high-translucency PTFE for stadium roofing thanks to it's long life and strength, MakMax has also incorporated modern ETFE foil into our designs, creating unique and memorable stadium experiences.
Some of the major Stadiums within our reference portfolio are:
Grandstands & Grounds
World-class stadium roofing is not the only sporting facilities that can benefit from tensile membrane architecture. MakMax Australia has extensive project experience with sporting facilities of all types. Keep your players, spectators and club patrons comfortable with a range of shade and weather solutions.
Custom fabric grandstand covers
Swimming Pool Shade
Tennis Court Cover
Horse Racing Pavilion Canopies
Gate & Entry Shade Structures
Modular shade structures for bars, members & function areas
Schools & Community Sports Clubs
MakMax Australia has worked with a number of small sporting clubs and associations to provide shade and shelter for athletes and spectators.
Our small spectator stand covers are strong, lightweight and reasonably economical when compared to traditional buildings.
Would You Like More Information about Stadium Roofing & Sports Club Grandstands?
Contact us today to discuss your project requirements. We are the market leader in the design, engineering, fabrication and installation of custom fabric structures for a wide variety of applications and industries. We have extensive project experience and offer endless possibilities when it comes to custom design solutions to meet your needs.