Cost-effective & Adaptable For A Wide Range Of Applications
Architectural PVC membrane is a flexible, durable and long-lasting alternative to traditional roofing systems. PVC (polyvinyl chloride) has been a popular choice in the tensile membrane roofing industry since the early 1960s.
PVC Membrane is created by applying a PVC coating to a woven polyester fabric. Additional PVDF (lacquer) coatings are applied as a topcoat to improve the membrane's strength, durability, weatherability and flexibility.
PVC Characteristics
Huge range of membrane options, with varying thickness and translucency to match any project.
A wide range of colours available
When fabricated in bright white, this flexible fabric membrane reduces radiant heat gain, keeping interior temperatures cooler during warmer weather conditions.
Durable & long-lasting membrane fabric
Minimal maintenance required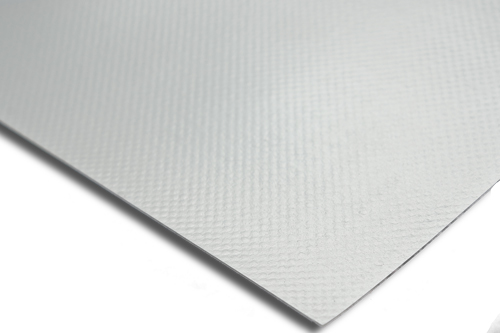 PVC Membrane: It's All About The Coating
The coating layers on PVC Membrane are the reason this material is so flexible. Different manufacturers of PVC material will use their own special blend of Top Coats in one or more layers.
PVDF (Polyvinylidene fluoride), a thermoplastic that is engineered for its excellent UV stability is the most common PVC coating material. Depending on the intended usage of the membrane, such as structure size, expected longevity or the introduction of colour or printed patterns – there is a type/grade of PVC membrane that is perfect for the job!
Single coated PVC is best for introducing a wide variety of colours, and being more flexible, it is ideal for smaller applications such a umbrellas, car parks and modular shade structures.
Multi-layer or speciality coatings (such as Mehler Texnologies Nanoparticle Lacquered surface on their premier range of membranes) are suitable to architectural applications and large-span canopies.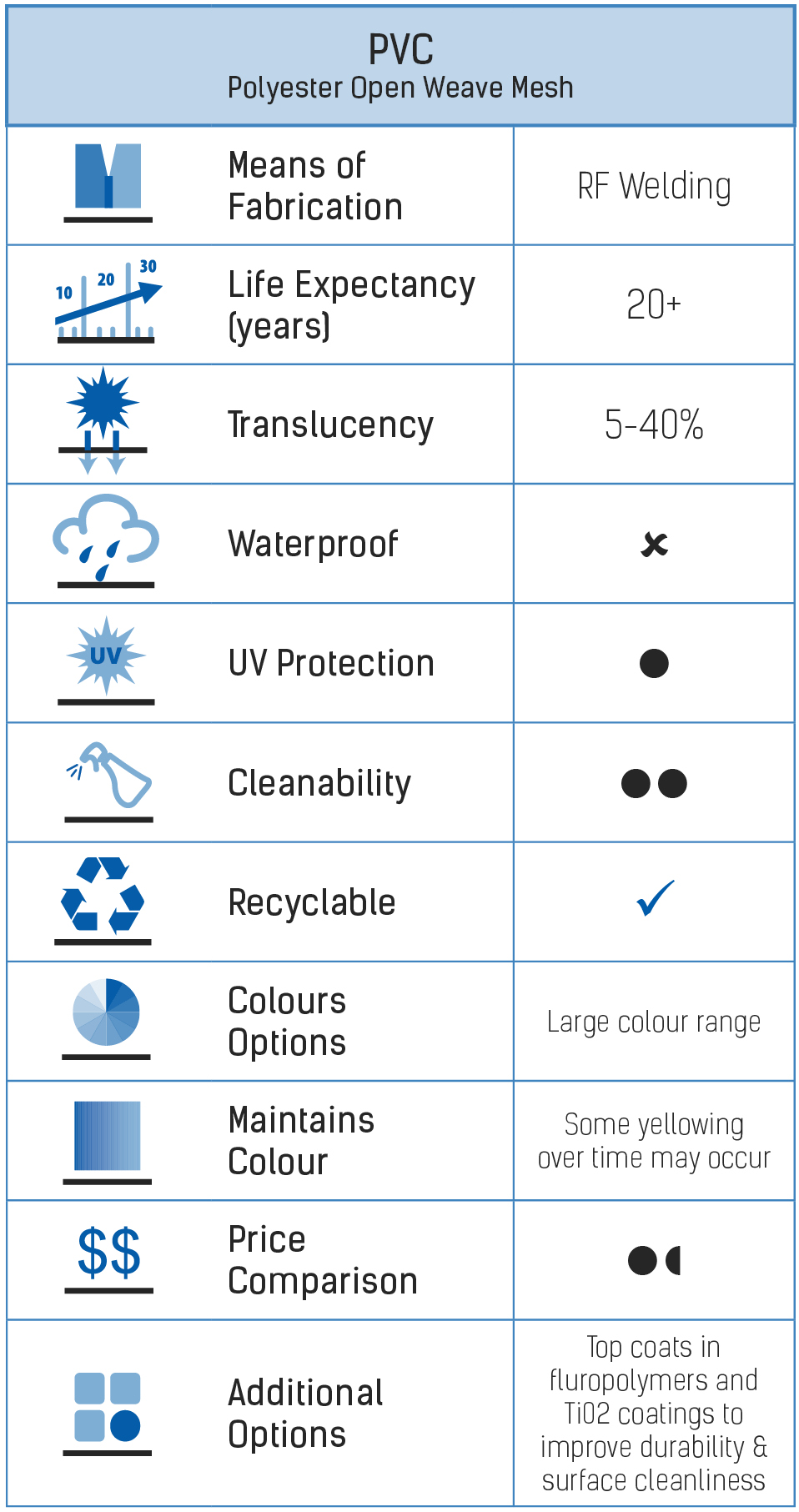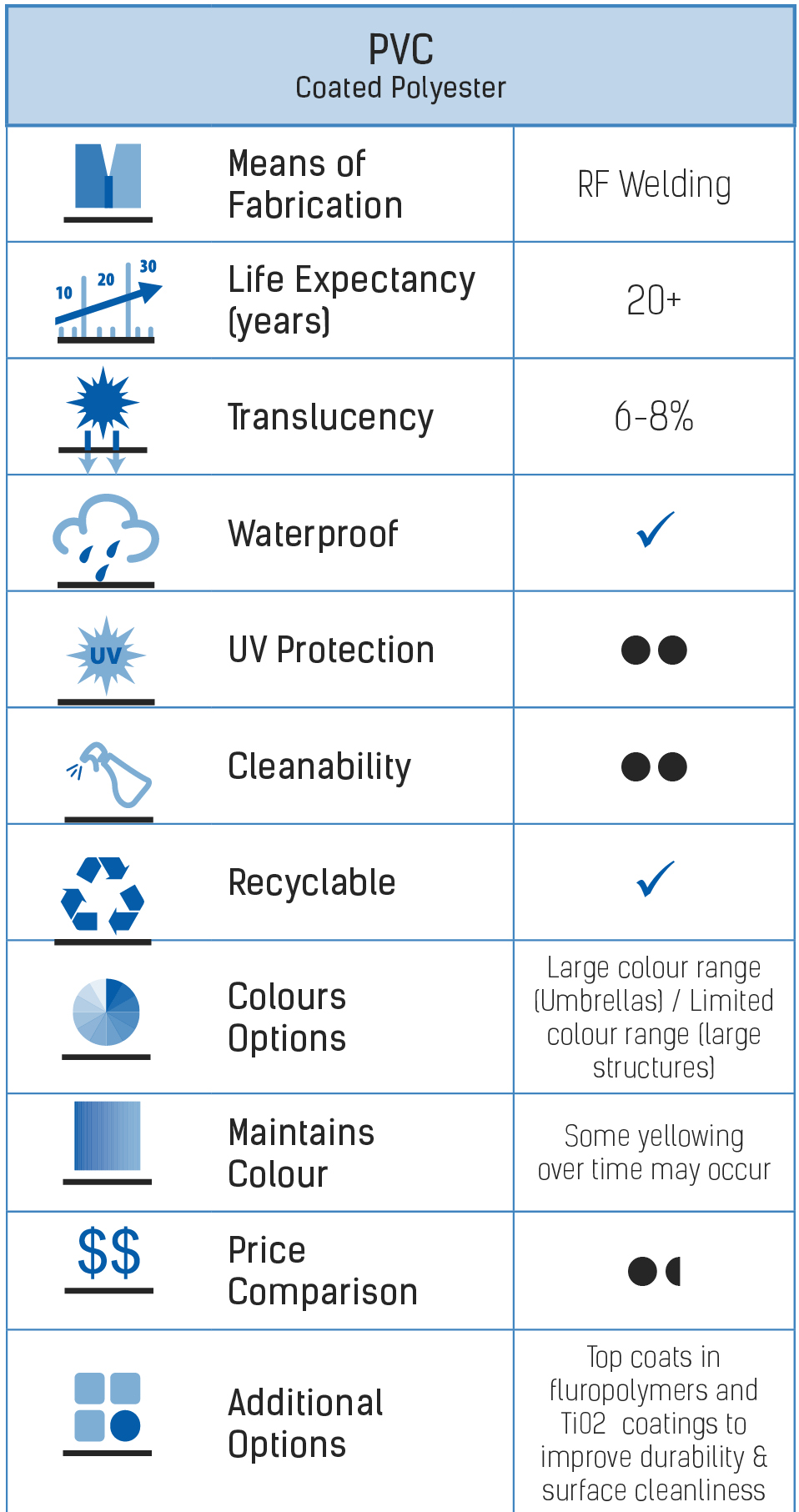 PVC Mesh
In addition to non-porous solid membranes, PVC membranes are also available as a architectural shade mesh or scrim.
PVC-mesh is created in a similar way to solid membranes, although with an open-weave base fabric. The open-weave mesh is coated in liquid PVDF, with the excess allowed to drain off – leaving an air-permeable protective membrane.
PVC mesh has greater tensile strength than other shade-cloth membranes, and this enhanced tensile material offers architects a greater versatility during the design phase of project development.
This fabric also offers aesthetic features such as partial translucency, which allows natural daylighting, increased textural interest and wide colour selection.
PVC Membrane Applications
A membrane that lends itself to myriad projects and diverse industries, MakMax Australia uses PVC/PVDF in a wide range of fabric shade structures;
PVC fabric has recently been developed for flat surface applications, lending itself to exciting graphic image printing possibilities for commercial branding purposes.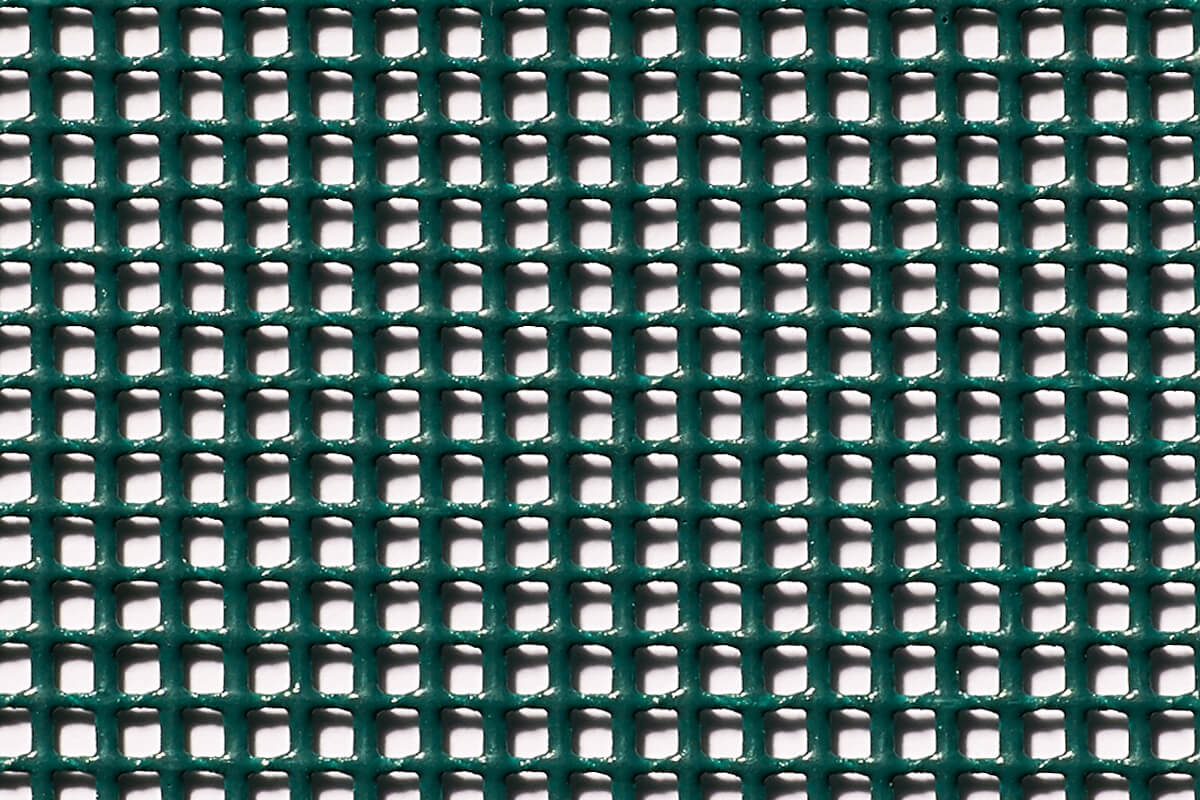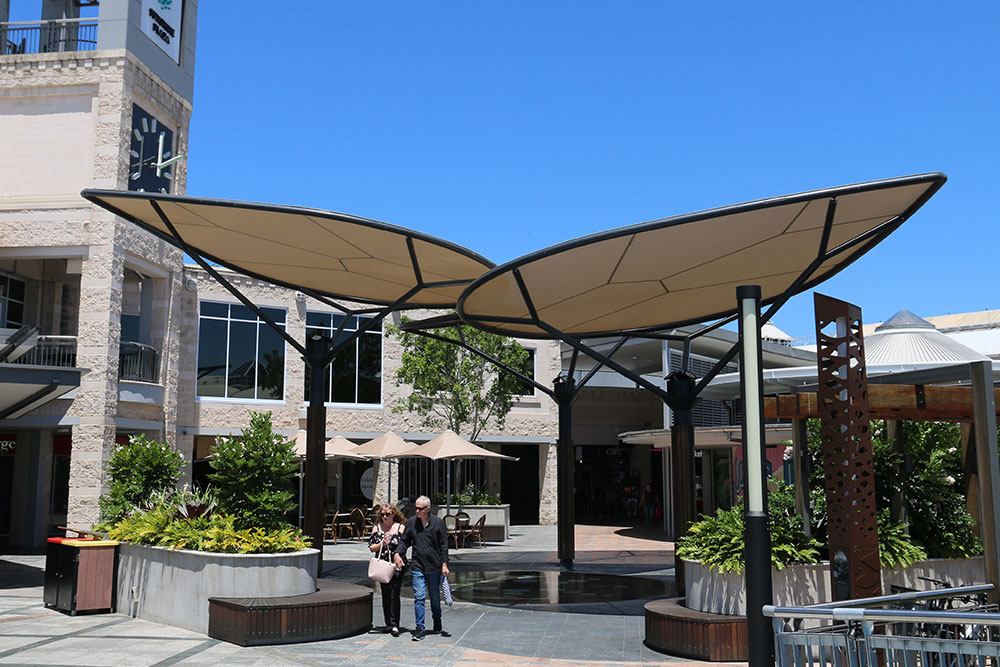 Technical Details
Technically, polyvinyl chloride is a molecule comprised of carbon, hydrogen and chlorine. The combination of these elements results in a single-ply membrane that is simple to manufacture. During fabrication, remnants can be recycled and melted down to be reproduced, resulting in less waste.
Because PVC is a thermoplastic, this membrane can be softened into a semi-solid state and infused with UV light inhibitors and anti-soiling fungicides. During installation, multiple sheets of the fabric can be overlapped and fused together in a process known as weldable seam technology. Once cooled at room temperature, these sheets form one continuous membrane.
Would You Like More Information About PVC Membrane?
Contact us today to discuss your project requirements. We are the market leader in the design, engineering, fabrication and installation of custom fabric structures for a wide variety of applications and industries. We have extensive project experience and offer endless possibilities when it comes to custom design solutions to meet your needs.