For more project videos, visit our YouTube channel and subscribe to to be the first to see new videos.
SYDNEY FOOTBALL STADIUM ROOF
It takes a huge team to raise a roof. Hear first-hand from some the MakMax Australia team involved in The Sydney Football Stadium roof project.
MAKMAX GROUP: 100 YEARS OF TAIYO HISTORY
Founded in Australia as Shade Structures Pacific, MakMax Australia joined the Taiyo Kogyo Corporation in 2003, joining a membrane company with roots all the way back to 1922. This year we celebrate 100 Years of Taiyo.
MAKMAX FROM ABOVE
Your boarding call for 2022; a collection of aerial videos from some of MakMax Australia's recent projects.
SHADE SOLUTIONS FOR EDUCATION
From a shade lunch spot to a school COLA or full-cover sports court canopy, a custom designed tensile membrane shade structure by MakMak Australia offers bespoke shade and weather solutions.
BOWLING GREEN CANOPIES
MakMax Australia design and construct a range of bowling green canopy styles for Bowls Clubs right round Australia. With a wide range of customisable options, every lawn bowls roof we create is a unique reflection of the club.
MAKMAX TENSOSPORT CANOPY
Cover your courts with TensoSport. Architectural fabric canopies designed for school and community sports court roofing.
TENSONET TIMELAPSE
Measuring in a whopping 78,000 square metres, the MakMax TensoNet Project at a vehicle distribution centre in Altona, Victoria was actually 3 separate canopies built on different lots.
BOWLS AUSTRALIA VISITS CLUB HELENSVALE
Matthew Kennedy, Bowls Australia CEO pays a visit to Club Helensvale, one of the Australian Open host clubs, to see the construction progress of the new MakMax TensoSport-MAX Bowling Green Canopy.
BARRIE LESTER SPEAKS TO WENTY LEAGUES
Wenty Leagues Bowls Coordinator Cam Curtis speaks to his Division 1 marquee player, Barrie Lester about the undercover facility at Wenty Leagues.
Barrie and Cam are joined by other Wenty Leagues Club Members telling us why they love their MakMax lawn bowls roof.
PLAYFORD BOWLS CLUB TESTIMONIAL
We spoke to Marg Linke and Andrew Walker from the Playford Bowls Club about their MakMax Bowling Green Canopy that covers three bowling greens.
SALISBURY BOWLING CLUB TESTIMONIAL
Geoff Ambler shares his thoughts on how their Bowling Green Canopy has benefited the club and ensures bowlers can play all year round.
KARINGAL BOWLING CLUB TESTIMONIAL
David Allen and Philip Crowder share their thoughts on their Bowling Green Canopy. The "Skyedome" is a state-of-the art PTFE tensile membrane lawn bowls roof.
SANDHILLS SPORTS CLUB / BARGARA BOWLS CLUB TESTIMONIAL
We spoke to Jess Cannon and Ashley Powell from the Bargara Bowls Club about their MakMax Bowling Green Canopy.
ENOGGERA BOWLS CLUB TESTIMONIAL
Dr Neil Peach, Secretary of Enoggera Bowls Sports and Community Club discusses the advantages of Bowling Green Canopy.
MERTHYR BOWLS CLUB TESTIMONIAL
Phil Shilvock, General Manager of Merthyr Bowls Club talks about the MakMax Custom Designed Shade Structure.
ST MARGARET'S VELARIUM VARIABLE SHADE SYSTEM
A MakMax Velarium Variable Shade System installed over The St Margaret's Anglican Girls School swimming pool.
ANNA MEARS VELODROME (QUEENSLAND STATE VELODROME)
CUSTOM FABRIC STADIUM FACADE
Client: Watpac for Stadiums Queensland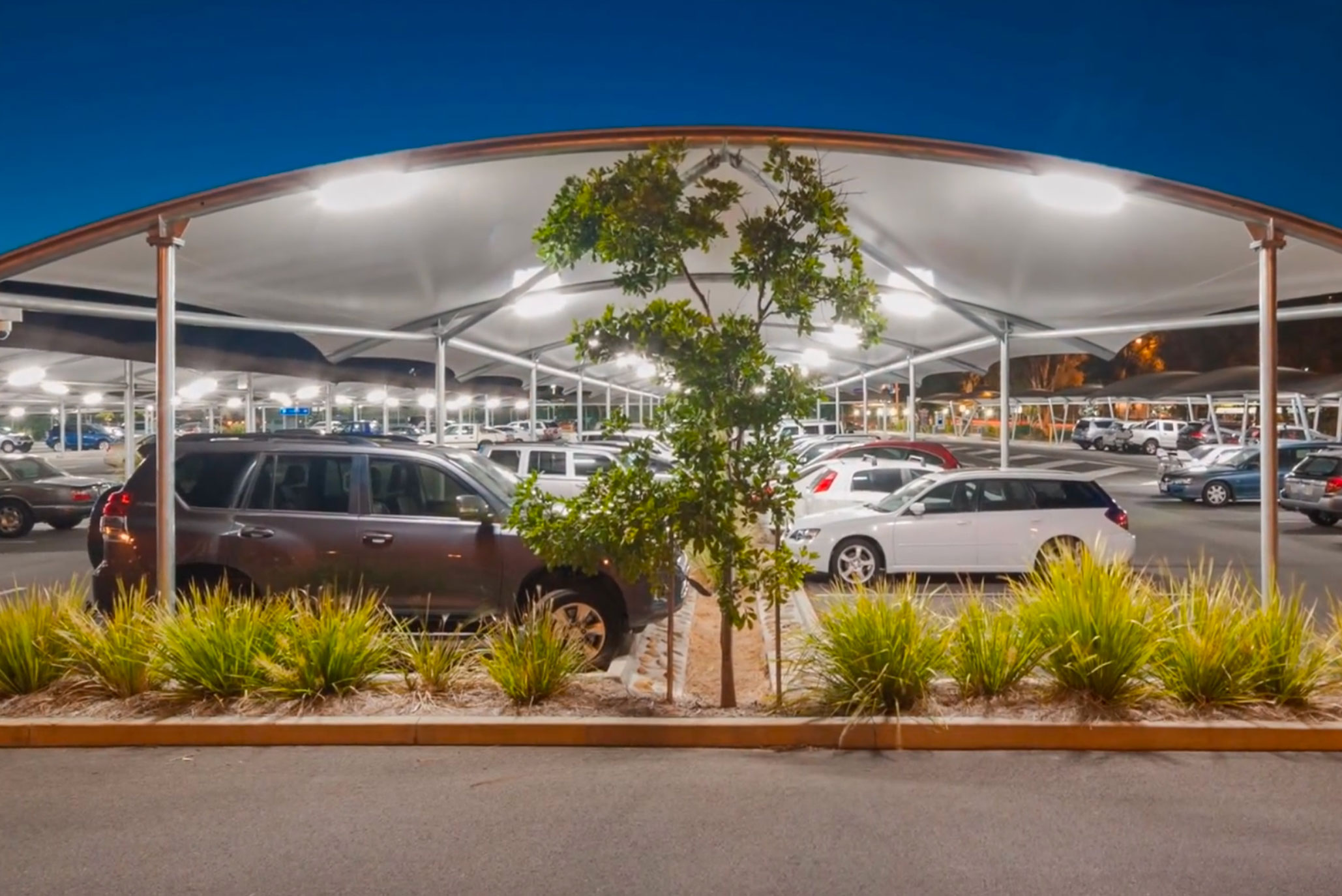 Architecturally Designed Carpark Shade Structures by MakMax
These structures are designed to protect from sun, rain, hail snow and wind. Ranging from private carparks including single bay solutions to mass coverage for large commercial building and shopping centres, all car park options are completely designed, fabricated and constructed by our in-house team.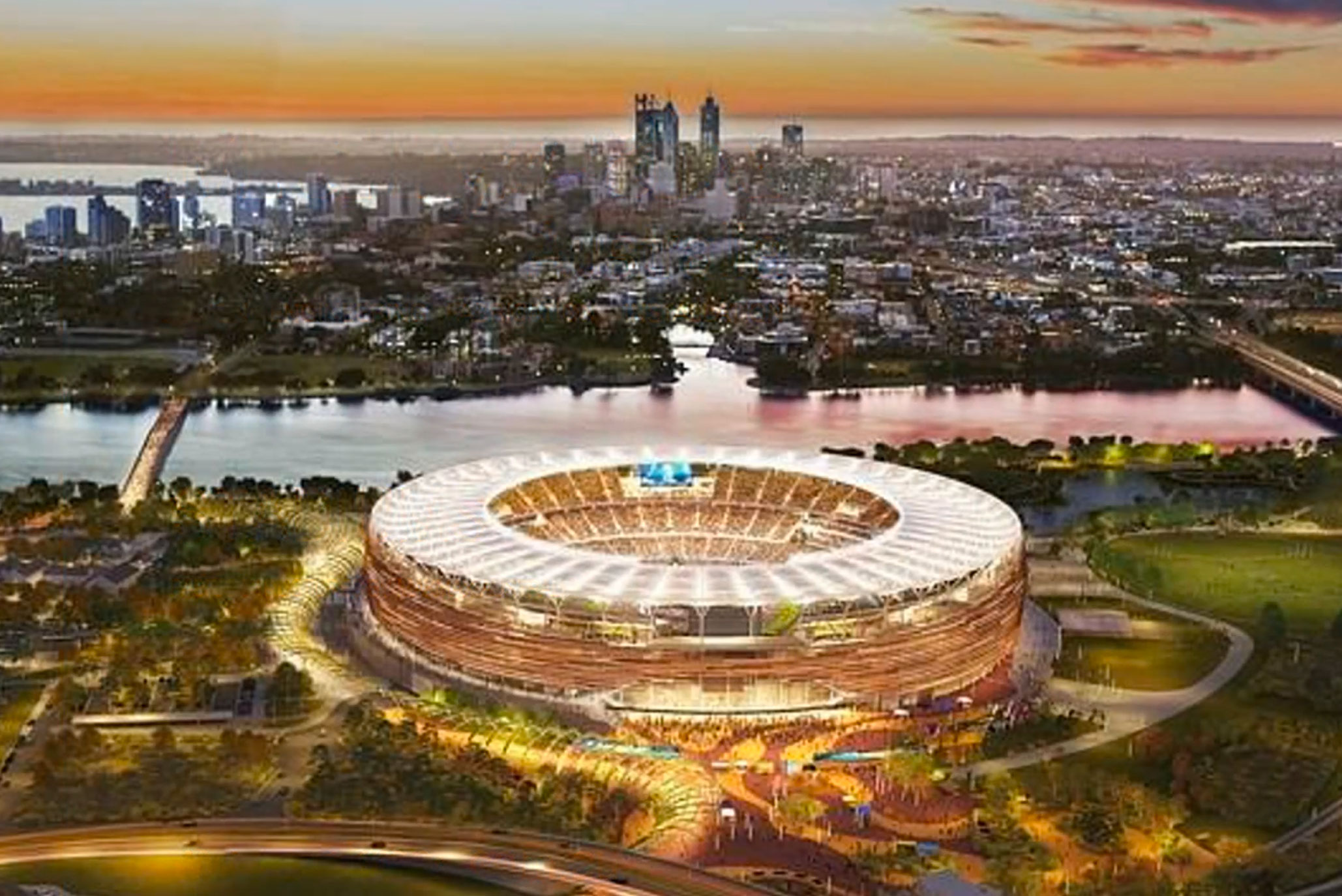 Custom Stadium Specialists
MakMax Australia has continues to deliver the iconic architecturally designed fabric structures across the globe.
Would You Like More Information?
Contact us today to discuss your project requirements. We are the market leader in the design, engineering, fabrication and installation of custom fabric structures for a wide variety of applications and industries. We have extensive project experience and offer endless possibilities when it comes to custom design solutions to meet your needs.