Protect Your Fleet With MakMax TensoNet HNPC
If your business requires vehicle protection hail net, the MakMax TensoNet HNPC (Hail Net Protection Canopy) System can provide a robust and economical hail risk-reduction solution for customers within the automotive and logistics industries.
Originally developed for the agricultural market, MakMax engineers have adapted and improved the TensoNet HNPC system to create large, simple designs which are specifically intended for use as hail netting for cars.
The cantilevered column design on our hail netting means no guy cables or back-stays are required, allowing our clients to maximise the coverage to their sites by placing perimeter columns immediately adjacent to site boundaries. The cable grid system allows for large spans and a relatively simple installation process, ensuring speedy installation and minimal site disruption.,
A MakMax TensoNet HNPC (Hail Net Protection Canopy) can range from 1,000 to 100,000 square meters coverage area.
MakMax TensoNet HNPC is Ideal For
Vehicle Storage & Auction Yards
Auto Dealer & Car Rental Companies
Long-Term Airport Parking
Building & Construction Companies
3rd Party Logistics Companies (3PL)
Original Equipment Manufactures (OEM)
The Damage and Danger of Hail Storms
Zero Gap Interface
Using a unique Zero Gap Interface system on all corners and membrane section connections on our hail netting ensures that there are no potential points of entry for damaging hail.

Redundancy Bays
In structures of significant length (such as large-span hail net canopies), failure can occur due to accumulated surface friction wind loads, particularly during severe weather events.
The MakMax TensoNet Hail Net Protection Canopy system incorporates additional wind friction-load analysis as part of the design and engineering phase. Points of potential failure are identified and addressed through the use of Redundancy Bays, where we add heavier truss-style columns to the structure at regular intervals, rather than just along the edges. The wind-load analysis conducted prior to installation helps to identify the most efficient placement of the redundancy bays.
Quad Net
Provides adequate protection against hail
Simplified installation process
Easily removed and replaced
Lower initial cost
Produced from HDPE filament
Various apertures – 12mm is preferred
Black and white available
10 Year Warranty (UV)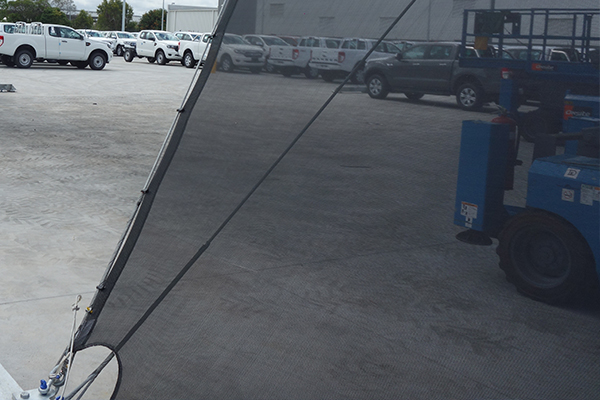 HDPE Mesh (Shadecloth)
Provides shade as well as superior hail protection
Fully engineered panels
Can be fabricated to any width, length, and shape
High initial purchase cost, but lower ongoing costs/longer lifespan
Produced from HDPE filaments and tapes
Various types and shade factors are available
Range of colours are available
10 Year Warranty (UV)
Would You Like More Information about TensoNet Hail Net Protection Canopy?
Contact us today to discuss your hail net fleet protection requirements - 1300 625 629.
We are the market leader in the design, engineering, fabrication and installation of custom fabric structures for a wide variety of applications and industries. We have extensive project experience and offer endless possibilities when it comes to custom design solutions to meet your needs.