Enjoy Year-Round Bowling
The MakMax Australia team of in-house engineers and designers specialise in bespoke bowling green canopies and shade solutions for clubs right around Australia.
A custom-designed lightweight fabric canopy by MakMax offers protection from both sun and rain, providing year-round bowling. We are the market leaders in the delivery and design of fabric shade structures for bowls clubs, with an extensive project portfolio including;
Tried and tested bowling green canopy designs
Bespoke design and engineering, and well as fabrication and installation
A range of commercial umbrellas and modular shade pavilions for for your club's hospitality and spectator areas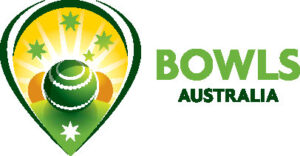 As the official shade partners for Bowls Australia since 2013, we have a history of supporting and understanding the needs of bowling clubs and can successfully deliver a world-class bowling green canopy for your club.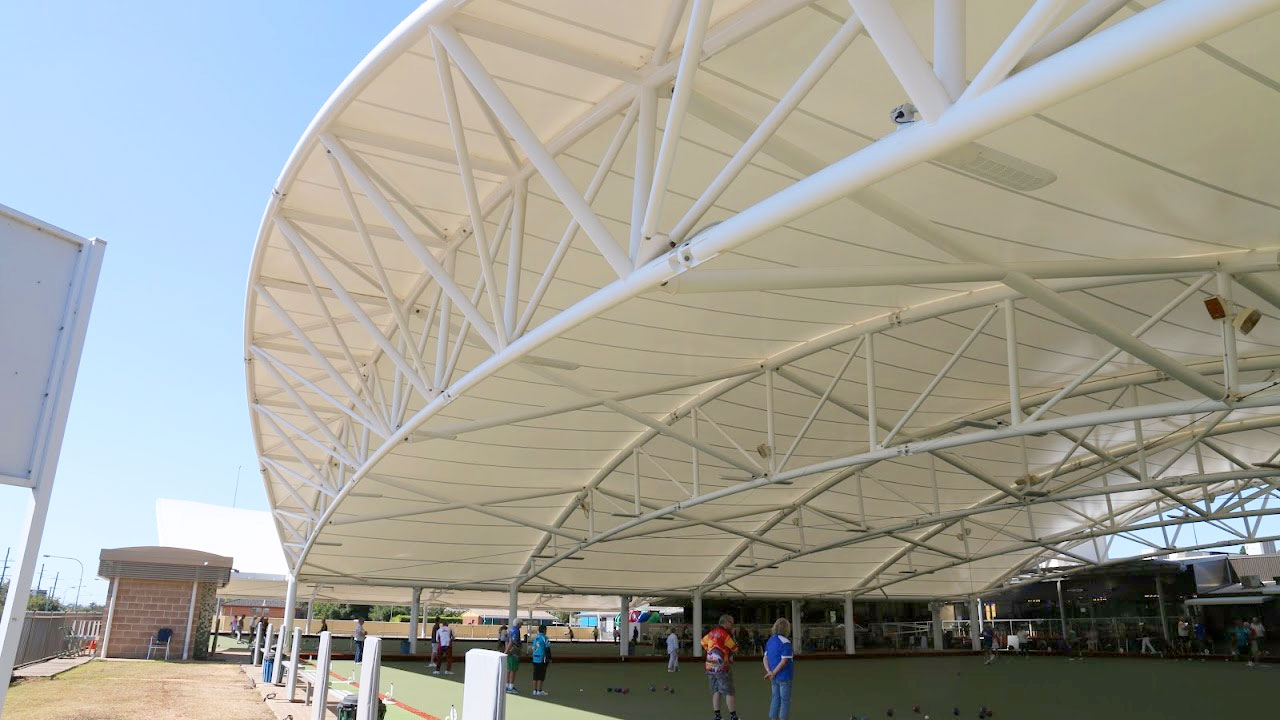 Why Install a Bowling Green Canopy?
A custom designed bowling green cover by MakMax Australia offers protection from sun, wind and rain. It also blocks 100% of harmful UV rays, allowing you to maximise the use of your bowling green.
Club competitions, as well as functions and events, can be held year-round, regardless of the weather.
Translucent membrane roofs are particularly suitable for sports like bowls, as they provide an extremely even natural light with very little shadowing during the day.
With a fully-integrated lighting system, night-time use of the bowling green adds a range of social opportunities, from barefoot bowls and social club competitions to private or community functions and events.
Designed to cover synthetic greens, a canopy will minimise maintenance and maximise the longevity of the surface
Unique and highly noticeable, a bespoke bowling green canopy will attract players, spectators and social visitors to your club and become a focal point for the local community
MakMax Bowling Green Canopies
Offering full bespoke design options for our Bowling green canopies, MakMax offers limitless possibilities in creating a unique bowling green canopy for your club. We start with a range of tried and tested canopy styles, designed and engineered by MakMax Australia's in-house team of technical experts, and then we customise each and every detail for your club. Some of our most popular canopy styles include;
The Flatback
(Barrel Vault Design)
Parallel arches and perpendicular struts create a clean, simple and efficient roof covering with a natural barrel vaulted fabric shape.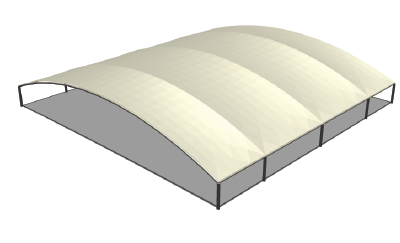 The Loggerhead
(Vertical Arched Peak Design)
Contrasting peaked central arches with valley cables and ribbed arched struts around the perimeter, this canopy style feels incredibly lightweight and open.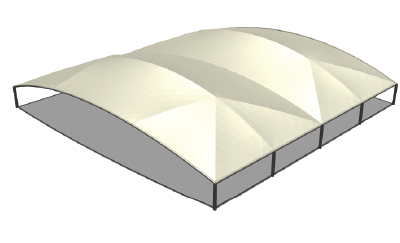 The Hawksbill
(Leaning Arched Design)
A striking visual design employs leaning arches and valley cables to create the exciting sawtooth profile.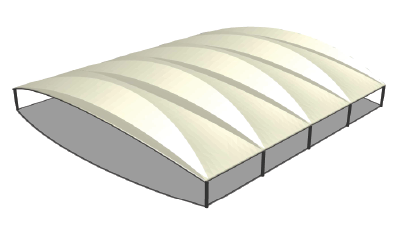 Bespoke Design
MakMax engineers and designers take a wide range of factors into account, including soil reports, annual rainfall studies, wind modeling, the amount of natural light and/or any local council recommendations to design, engineer, fabricate and install the perfect long lasting shade and weather protection for your club.
Rain Protection
Guttering and drainage are designed appropriate to annual meteorological reports
We can include additional shutters or roll down blinds if required
Side-panels or awnings can be added to connect the green to the clubhouse, offering additional protection for players and spectators
Wind Protection
Structures can be designed with low-end profiles or lower sides
Low-sides can be added to the whole structure, or just the sides facing the prevailing wind
Steel supports can be reinforced to be cyclone rated in tropical regions (Cooktown Bowls Club)
Lighting & Electrical Systems
LED lighting is used effectively to bounce light off the membrane creating an even, diffuse light
We provide a computer-analysed lighting design on every project
We can provide any level of illumination (LUX level)
Adding dimmers to the lighting system can provide even more control
Audio/PA Systems and Scoreboards can also be integrated into the design
Heating
Infrared or Gas Radiant Heaters can be installed over the bowler ends for clubs that experience cold winters
High-Tech Membranes
MakMax Australia offers a range of the best PVC or PTFE membranes in the world. Both membranes are strong, long-lasting and ideal for bowling green canopies.
Both PVC and PTFE effectively block UV rays
Both PVC and PTFE membranes are weatherproof
PVC is recyclable at the end of the usable life
PTFE membranes have a higher translucency, which will give you longer daylight playing time & more light on the green on overcast days
PTFE repels dirt and pollutants (self-cleaning properties). This results in lower cleaning & maintenance costs throughout the life of the structure.
With a 45 year+ life-span, PTFE is a more durable, long-life membrane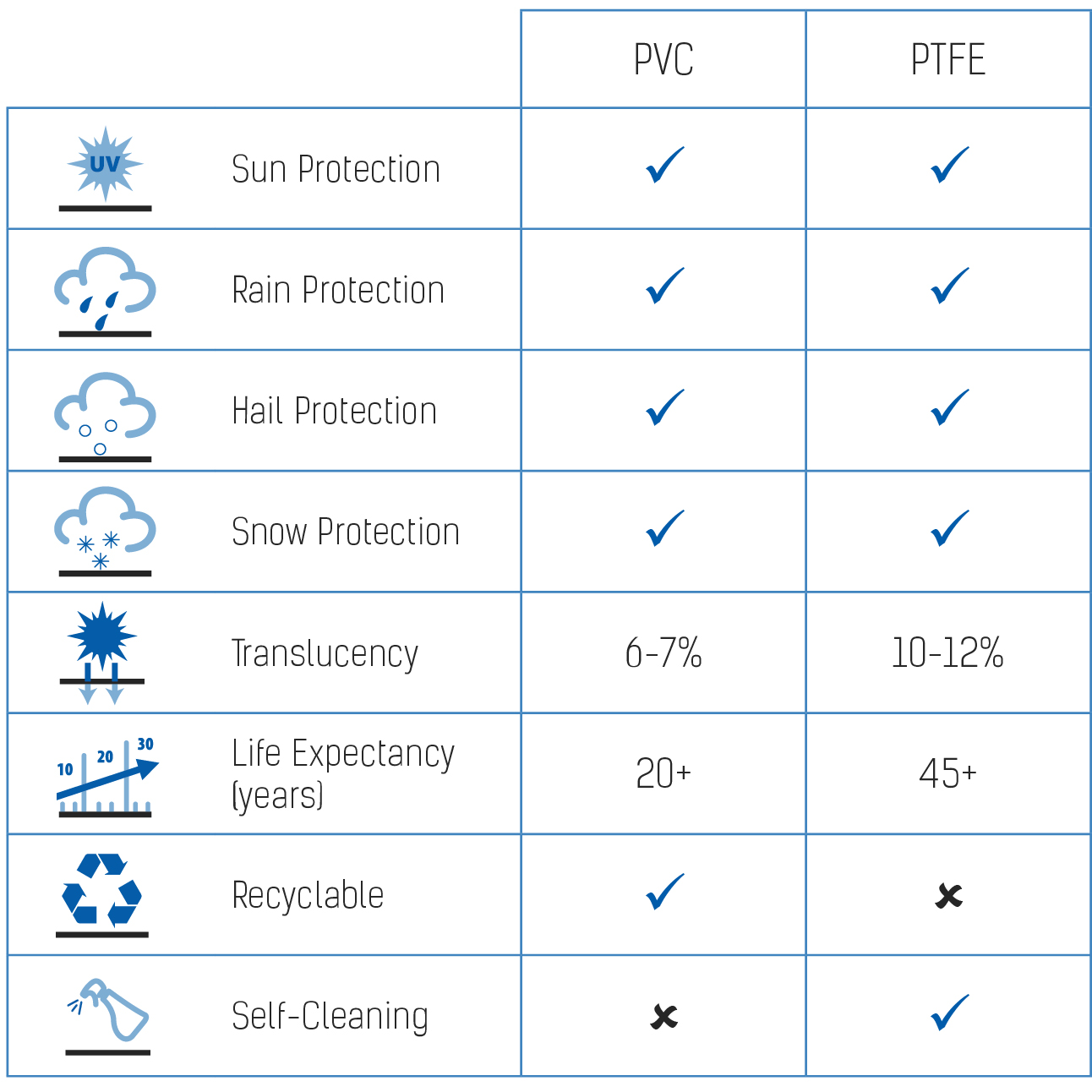 Other Shade Products for Bowls Clubs
MakMax Australia provides a range of shade solutions for your club. Maximise the use of your dining and function areas with an architectural umbrella. MakMax can also install a larger modular shade structure for players, spectators or function spaces.
Would You Like More Information?
Contact us today to discuss your project requirements. We are the market leader in the design, engineering, fabrication and installation of custom fabric structures for a wide variety of applications and industries. We have extensive project experience and offer endless possibilities when it comes to custom design solutions to meet your needs.