Public Shade Structures for Retail, Transport, and Leisure.
Large public gathering spaces such as airport, convention centres, outdoor shopping centres and pedestrian malls often require public shade structures to protect pedestrians from sun and rain. Working with architects, retail developers, local governments, and community groups, MakMax Australia has created a plethora of signature public shade structures for walkways, retail spaces, transport hubs, parks, and community areas.
Flexible design options, long-life spans, and low maintenance structures made possible through tensile membranes lend themselves to public and community projects.
For more benefits of tensile membrane structures; read our Top 5 Advantages of Architectural Fabric Structures.
Walkways & Pedestrian Area Protection
Lightweight, UV blocking and waterproof; fabric structures are easy to install and able to be shaped around existing buildings, making them perfect for connecting one place to another via covered walkways, or else providing shaded and weather-protected pedestrian zones.
MakMax Australia has a long history of creating shaded walkways. From the large entrance canopies at Mumbai Airport, to the stunning The Link Walkway at Chadstone Shopping Centre, we've protected pedestrian areas all over Australia and around the world. Some of the walkway structures we have created include;
Extended awnings or portes cochères, providing shelter for entering/exiting buildings.
Free-standing structures in pedestrian malls or outdoor shopping centres.
Covered walkways connecting a carpark or transit station to airports.
Passenger arrival zones and a covered concourse at airports.
Covered walkways connecting school and university buildings, can offer students protection as they move about campus.
Walkways that blur the lines between protection and art at major stadiums and events.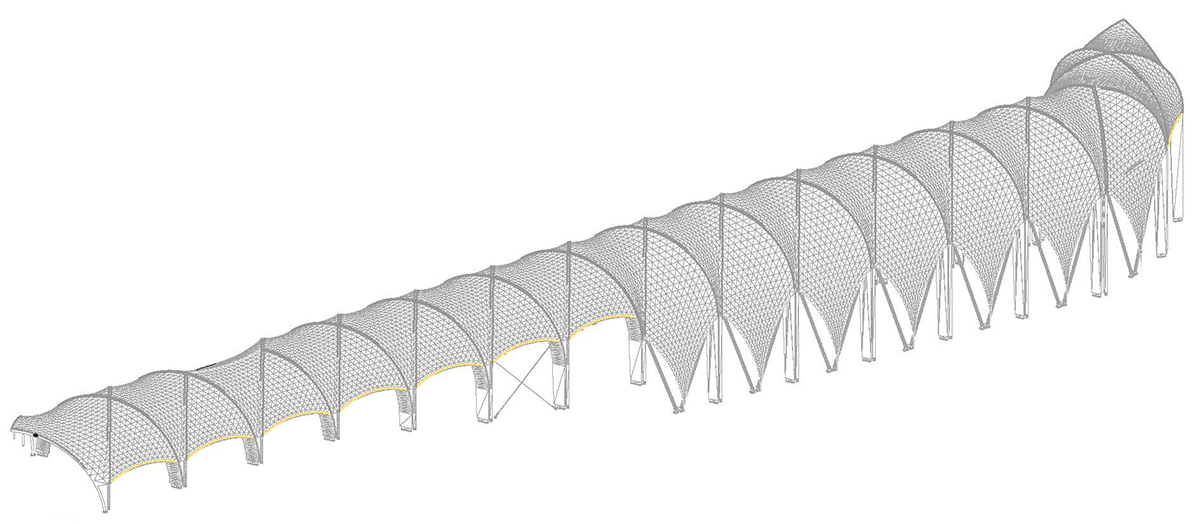 Public Transport & Taxi Rank Shelters
Train Stations, Bus Stations, Taxi Ranks and Ferry Terminals. These people-moving hubs need to be memorable and recognisable as part of an overall system, while protecting and directing patrons. Taking advantage of a bold colours, unique shapes and smart design, a transport hub can be made iconic by the use of a custom tensile membrane public shade structures.
You can see examples of some of our work for Transport Hubs at:
Brisbane Airport's ground transportation stations & linking walkway to parking
Gold Coast Light Rail; Helensvale, Parkwood & Parkwood East stations
Perth Airport Taxi Rank
Chadstone Bus Interchange
Parks, Playgrounds & Community Spaces
Working with local councils as well as private planned-community developers,  MakMax Australia has a long history of creating unique and inviting TensoShade structures for community spaces, such as playground shade, BBQ and picnic area cover, public stages and amphitheatres.
Challenging the imagination and creating exciting public spaces can be aided with the variety or forms architectural fabric architecture can take. From bright and colourful permanent umbrellas to a fully designed and engineered bespoke solution, MakMax has your covered.
Among the many park and playground projects MakMax Australia has been involved in, we worked with LendLease in 2016 to create unique shade structures for the Livvis Place Playground at Jordan Springs in Penrith, NSW. Checkout the video of the park opening to see what community parks mean to local residents.
Read more about public shade structures our Navigation Park Shade Structure or South Hedland Public Amphitheatre case studies.
Would You Like More Information About Walkways & Public Shade Structures
Contact us today to discuss your project requirements. We are the market leader in the design, engineering, fabrication and installation of custom fabric structures for a wide variety of applications and industries. We have extensive project experience and offer endless possibilities when it comes to custom design solutions to meet your needs.