TensoCar Carpark Shade: Solutions for a Range of Industries
The MakMax TensoCar Carpark shade system caters for all types of commercial carpark shade and weather protection. From pre-designed shelters to custom-designed, site-specific structures, our range of architectural carpark shade installations offer effective protection from sunlight, rain, wind, hail and snow, with solutions to suit any application and environment.
From single and double bay designs for shopping centres and commercial parking lots, to mass vehicle protection hail net coverage for fleet parking, MakMax Australia is a market leader in premium shade and weather protection.
As registered builders, we provide you with a total turnkey solution. We will assist with initial design work and surveys for council approvals, certifications, foundations, installation, lighting, electrical works and all other relevant processes, and our work can even be planned around your operating hours to ensure any disruption to your business is minimised.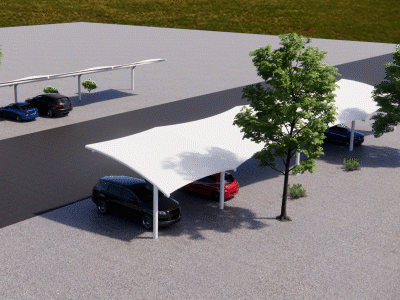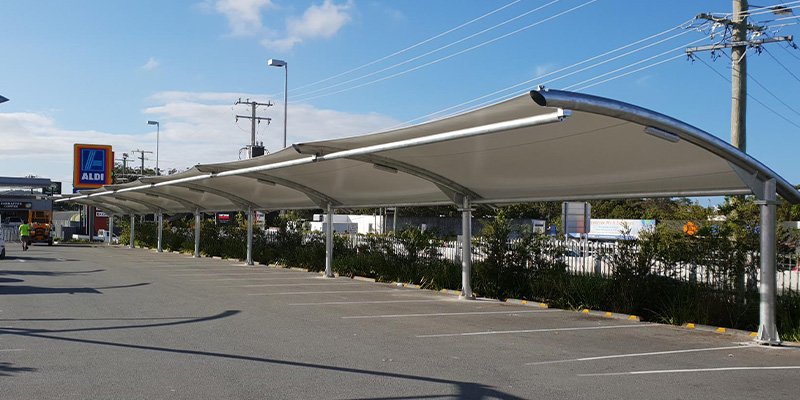 Single Bay
The standard-arch Single Bay TensoCar Carpark shade protects a single row of parked cars.
Ideal for smaller commercial property carparks or combined with Double Bay TensoCar Carpark shades to accommodate the outer edges of a retail parking area.
Available in White Architectural PVC or Coloured HDPE Mesh. Steel columns are available in a range of colours and finishes.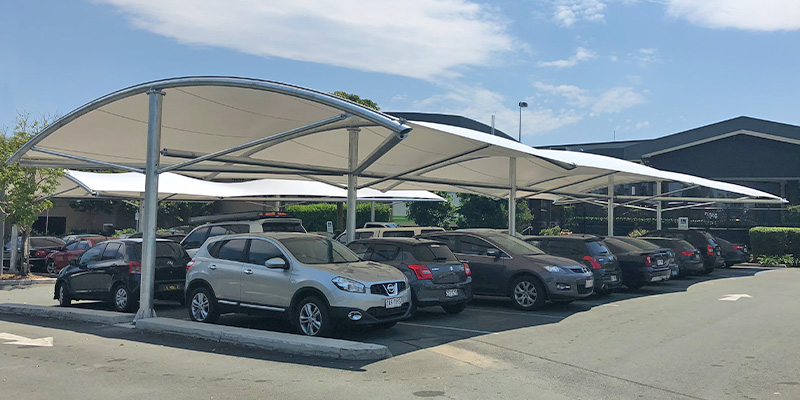 Double Bay
The standard-arch Double Bay TensoCar Carpark shade accommodates rows of parked cars two deep.
The Double Bay design provides the most cost effective $/space value for the retail market.
Generally, a Double Bay solution is used to cover large areas such as carpark shade cover for shopping centres.
Available in White Architectural PVC or Coloured HDPE Mesh. Steel columns are available in a range of colours and finishes.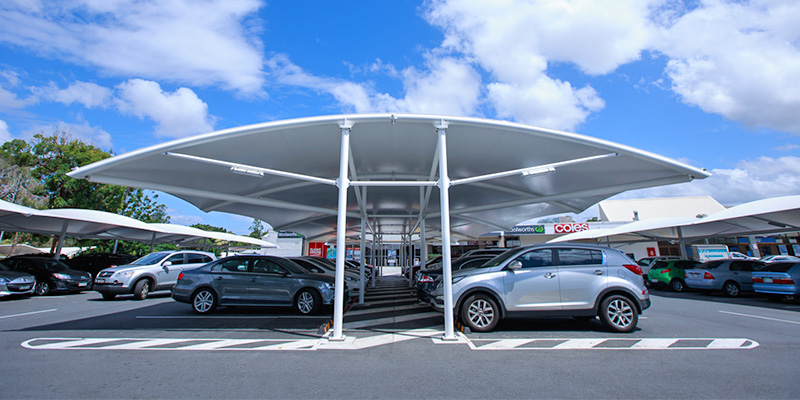 Double Bay With Walkway
Double Bay TensoCar Carparks can be designed to include a walkway in between the parking bays.
This design is popular when tied into primary shopping centre egress routes, improving weather protection for customers.
Available in White Architectural PVC or Coloured HDPE Mesh. Steel columns are available in a range of colours and finishes.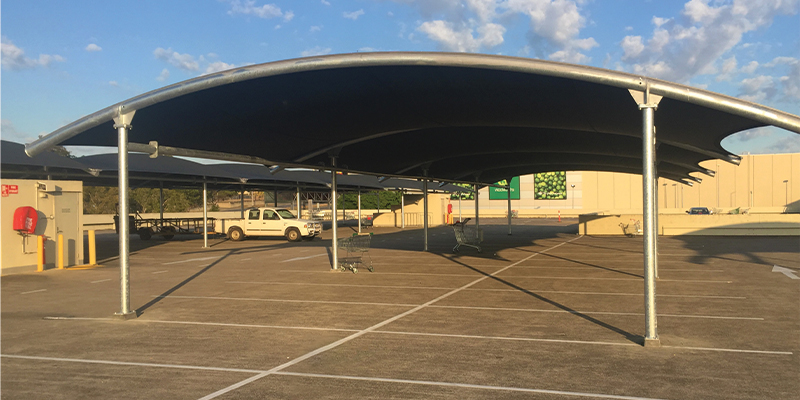 Retro Arch Carpark Shade
The Retro Arch carpark shade is designed specifically to be retrofitted onto a suspended slab, such as rooftop carpark.
The Retro Arch uses exterior columns to evenly distribute the reaction load, resulting in lighter steel columns and smaller footings.
Y-Shaped Carpark Shade
The higher leading edges on the TensoCar Y-shaped Carpark Shade are ideal shopping centres where delivery vehicles are required to transit through parking lot.
The raised front edge is also perfect for regional centres that attract higher vehicles, such as 4WDs with roof-racks laden with camping or fishing gear or Campervans.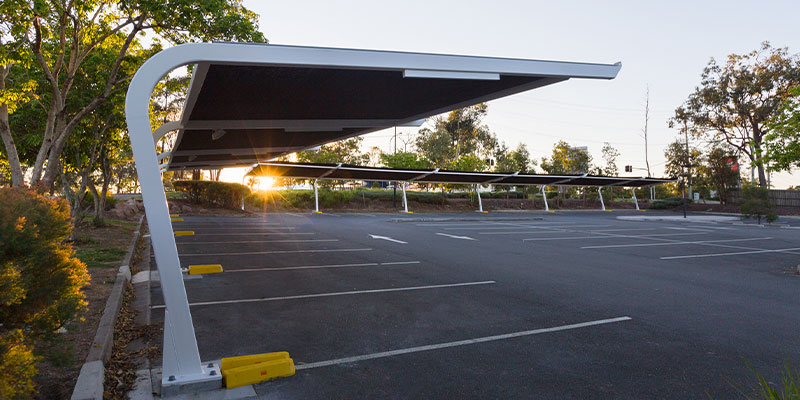 Bespoke Carpark Shade
Extending our range further, MakMax Australia is able to create custom designs to suit your venue.
Our most popular bespoke carp park shade styles is the Hockey Stick.
Speak to our team about your venue's carpark shade requirements and we can propose a bespoke solution as unique as your business.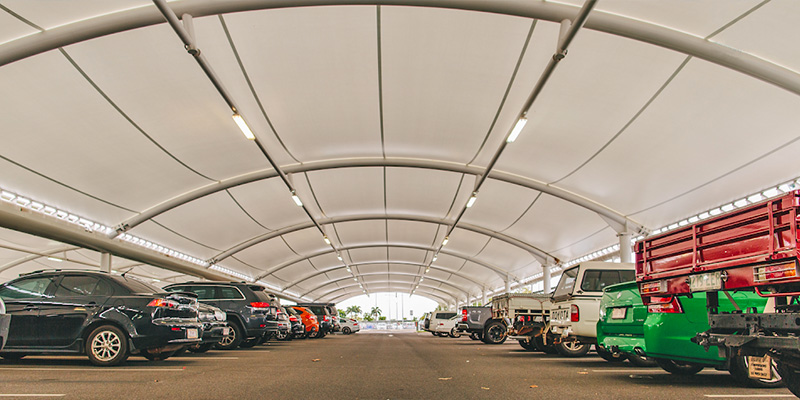 Full Cover
Ideal for longer stay carparks at airports, or more exposed rooftop shopping centre carparks, MakMax can design and engineer full cover carparks.
An extended barrel-vault design, Full Cover Carparks protect the whole parking aisle, both driveway and parking bays. Full Cover Carpark structures can be built side-by-side to cover entire parking lots.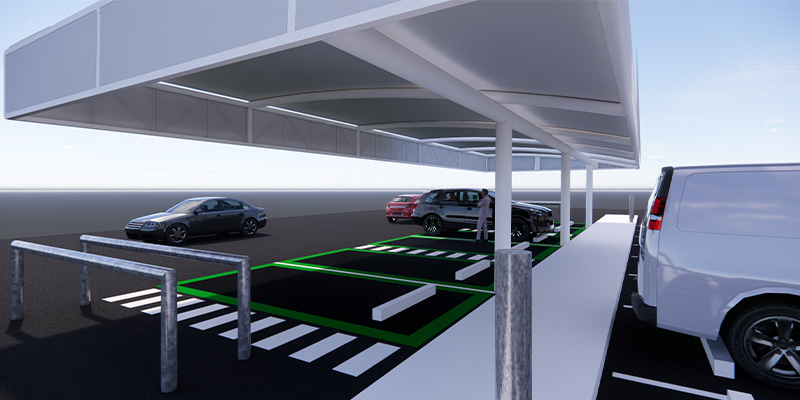 DTB (Direct-to-Boot)
Providing a weather-protected area for click-and-collect supermarket customers, the MakMax Single Bay TensoCar structure can be adapted to feature wrap-around signage.
The addition of signage adds branding and information options, while still protecting patrons from sun and rain.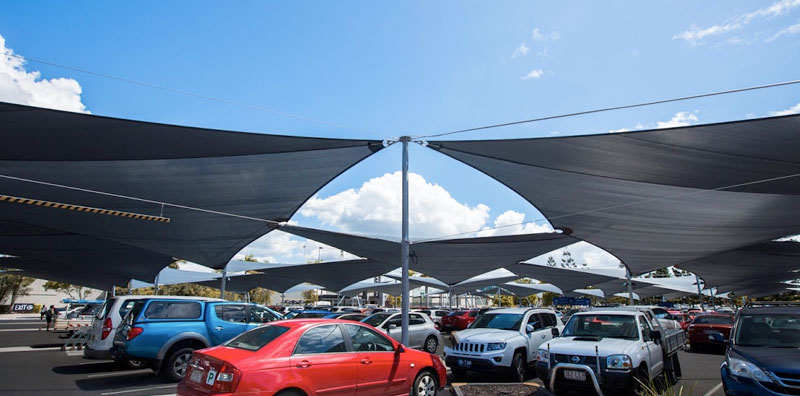 Hypar
The MakMax hypar architectural shade sail design provides large areas of cover that include carparks, walkway and driveway areas.
MakMax generally use HDPE (high density polyethylene) mesh for our hypar range, offering solar, UV, and hail protection.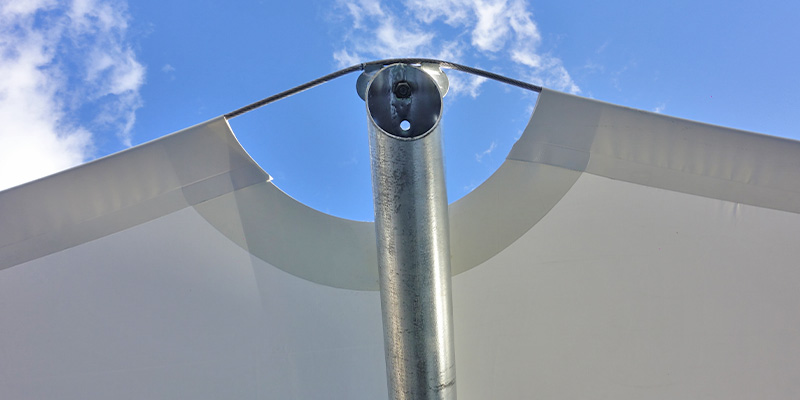 High-Tech Membranes
MakMax Australia offers range of premium fabrics for Carpark Shade Covers. Choose from heavy-duty architectural-grade HDPE Shade Cloth, or architectural PVC.
All our membranes are strong, long-lasting and ideal for carpark shade covers.
HDPE Shade Cloth and PVC Open Weave Mesh come in a range of colours.
PVC fabrics effectively block UV rays and are waterproof.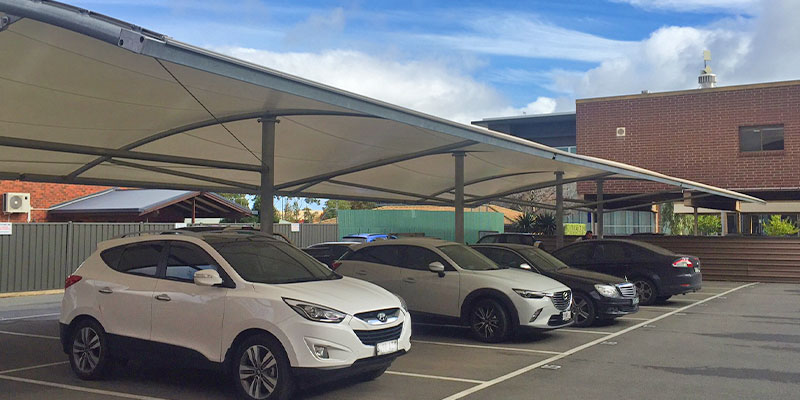 Linear Edge Carparks
Available on both the Single Bay and Double Bay carpark shade covers, the Linear Edge is our premium design solution.
The additional supporting strut at the leading edge of the shade cover provides your location with a range of advantages, including;
A more robust structure – increased resistance to the impact of a collision
Increase stability can increase the potential span, offering more coverage
Decreased water flow onto the customer carpark space
Rigid structure offers opportunity to incorporate signage, lighting or park assist
Installation time is decreased, so we spend less time on site
The MakMax TensoNet HNPC (Hail Net Protection Canopy) system offers mass coverage protective canopies and hail netting for complete cover for long-term carparks and vehicle storage. Perfect for long-term parking solutions at airports, car dealerships, car rental companies or busy shopping centres.
This product range offers complete coverage for full carparks and driveways.
TensoCar Example Projects
Would You Like More Information About TensoCar Carpark Shade?
Contact us today to discuss your project requirements. We are the market leader in the design, engineering, fabrication and installation of custom fabric structures for a wide variety of applications and industries. We have extensive project experience and offer endless possibilities when it comes to custom design solutions to meet your needs.