The MakMax TensoSky ETFE System
MakMax Australia and the Taiyo Kogyo group of companies boast an international portfolio of architecturally designed ETFE foil projects using our TensoSky ETFE System.
We have created ETFE roofing, ETFE skylights and ETFE facades for stadiums, shopping centres, leisure and recreation centres, health-care facilities, schools and universities, walkways, and distinctive public shade structures.
Single Layered Application
The MakMax TensoSky ETFE System can be applied in a single layer to form a durable, lightweight glazed roof.
Reinforced with cables, lightweight steel or aluminium to maintain shape and stability, a single-layer ETFE structure is perfect for allowing natural light into a buildings via applications such as skylights and atrium roofing.
Flexible and able to form architecturally unique shapes, ETFE foil is also popular as an architectural building façade.
Double or Triple Layered Application
MakMax's TensoSky ETFE system makes use of air-filled foil pillows to create lightweight, thermally insulated and highly translucent roofing.
The ETFE pillows, or cushions, are created with a pneumatic system which maintains low-pressure air between 2 or 3 layers of film. The cushions are restrained in aluminium extrusions and supported by a lightweight truss frame and cable system.
Under typical loading conditions, cushions can range from 1 to 5 metres wide and reach up to 60m in length.
Pneumatic cushion system
A multi-layer TensoSky ETFE system is generally supplied with one or more inflation units. Each unit consists of two redundant blowers forming a backup system for guaranteed structural stability.
The air when entering the machine will be dried to avoid condensation within the cushions. A series of pressure sensors continuously monitor the internal pressure of the cushions, maintaining them between 5 psi and 6 psi.
In case of high wind or snow loads, sensors can automatically and continuously adapt the pressure to compensate external loading.
Depending on air temperature and humidity, one unit can supply a roof of up to 1400sqm. These units are UL certified and run on an 110V power with consumption less than 1KW/h.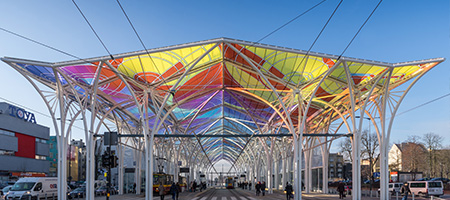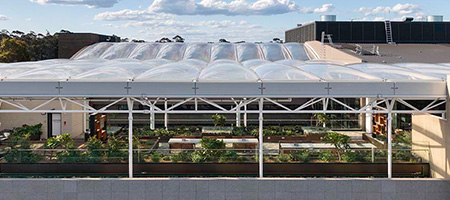 Case Study | Macquarie University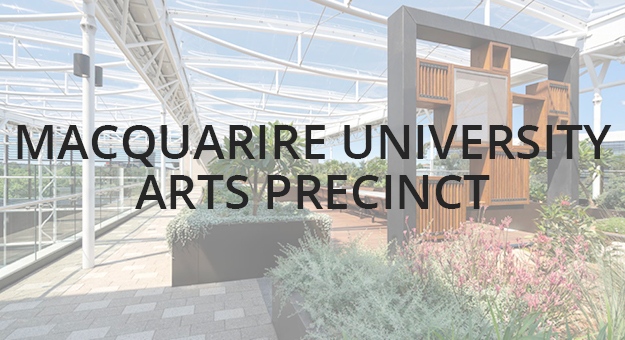 "The Rhodes Central Retail Stage 1 project by Billbergia has adopted one of the latest innovations to the Australian Construction industry with the use of lightweight ETFE tensile structures.
Located in the central concourse, the skylight spans an impressive 25m x 61m and has been designed to accommodate strict wind, rain, thermal comfort conditions to achieve an optimal 'external' appearance whilst protecting the shoppers from the harsh peak environmental conditions.
The utilisation of the TensoSky ETFE system for this structure was to prevent the need for the costly change-over of broken glass panels in the future by using an easily repairable tensile membrane. One of the key benefits in using this system is a significant reduction in loading, weighing in at only 0.874kg over a Double Glazed Unit which can weigh up to 40kg/m2.
A big congratulations to the Makmax team and all other key parties involved for the successful delivery of such an innovative product."
Alexander Allen; Project Engineer at Billbergia Group: August 2021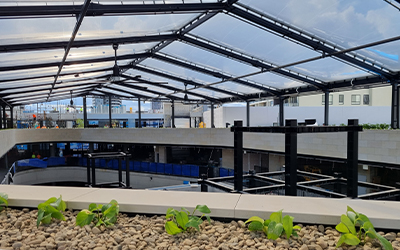 Would You Like More Information the MakMax TensoSky ETFE System?
Contact us today to discuss your project requirements. We are the market leader in the design, engineering, fabrication and installation of custom fabric structures for a wide variety of applications and industries. We have extensive project experience and offer endless possibilities when it comes to custom design solutions to meet your needs.