Sandhills Sports Club Bowling Green Canopy
Project Details
Location: Bargara, QLD
Completion Date: December 2020
Size: 3700 sqm
Fabric: PVC Mehler FR1000N
Client: Sandshills Sports Club
Photography: © Al Morris
Forming part of a multi-million-dollar redevelopment of the Sandhills Sports Club, home of the Bargara Bowls Club, MakMax Australia designed and constructed a double-green high-translucency PVC canopy to protect bowlers from the heat and summer storms of the Queensland's Coral Coast.
The Brief
Located 15 minutes from Bundaberg, on the Coral Coast region of Queensland, the idyllic beachside resort town of Bargara is home to the Sandhills Sports Club and Bargara Bowls Club.
The club approached MakMax in 2019 to replace their existing shade cloth covers over their bowling greens with a modern, tensile membrane bowling green canopy that would be strong and durable in the summer storms and cool and comfortable in the hot and humid Queensland heat.
The Concept
Covering 2 greens end on end, one of the unique challenges with the design was incorporating the existing club house at the narrow southern end of the canopy, as well as making allowances for a new club development which would run along the longer eastern edge of the bowling green canopy.
Originally designed with 8 vaulted canopy sections (9 supporting columns along each side), the design was reworked to include 7 bays, thus removing the central coloum in line with the walkway between the greens. The new Clubhouse will access the greens via this central walkway.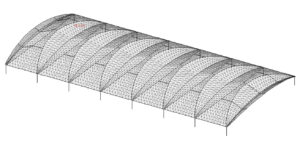 The Materials
The PVC fabric chosen for Sandhills Sports Club canopy is Mehler FR 1000N HTL (High Translucency). The fabric has translucence of approx. 10% compared to the standard PVC/PVDF translucency of 6-8% and so allows a lot of natural light to filter through to the playing surface.
The Mehler fabric has a PVDF surface coating which is a low friction fluoropolymer and has a smooth finish which is resistant to the red dust of the surrounding farmlands and sugarcane fields, and add additional durability to cope with the high humidity and salty sea air of the Coral Coast region.
The Result
When asked how the new bowling green canopy has benefited the club, Bargara Bowls Club Secretary Jess Cannon replied, "Hugely …. it's increased our membership already and we've only been bowling under the new cover for a couple of months".
"It's got the wow factor… it's just a first-class facility, as good as it gets." Ashley Powell, Bargara Bowls Men's President.