Salisbury Bowling Green Canopy
Project Details
Location: Salisbury, SA
Completion Date: May 2017
Size: 1795 sqm
Fabric: PTFE - Chukoh FGT600
Client: Salisbury Bowls Club
Salisbury Bowling Club in South Australia is a state-of-the-art bowling facility with two grass greens and one all-weather lawn bowls roof with synthetic green.  The magnificent arched roof covers a single bowling green, protecting bowlers from sun and inclement weather all-year-round.
The Brief
The Club approached MakMax Australia to design and install a complete shade and weather solution covering the entire length and breadth of one bowling green.  Salisbury Bowling Club undertook this project as an investment into the future of the club which has been part of the Salisbury community for over 90 years. MakMax proposed a PTFE membrane roof structure that is robust enough to survive the extreme weather events common to the region. Combined with synthetic greens and LED lights, the canopy would also guarantee play all year long.
The Concept
The Bowling Green Canopy design features leaning arches and valley cables to create a visually exciting sawtooth profile.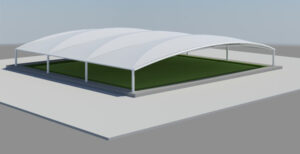 MakMax custom designed the arches to direct water on the perimeter of the structure into storm drainage with our gutter design and down-pipes at every column.  The canopy design also included an integrated lighting system mounted to the steel framework and positioned to reflect light off the underside of the canopy membrane.
The Materials
The 1795 sqm canopy, constructed with architectural-grade PTFE fabric membrane (Telfon Chukoh FGT600), covers a single bowling green. PTFE (polytetrafluoroethylene) was chosen for its aesthetics, durability, translucency and self-cleaning properties, making it ideal for the South Australian climate and weather conditions.
The high translucency of PTFE means that the lighting level achieved under the canopy is twice as much as a PVC alternative.  This means visibility for players is improved and the amount of artificial lighting required during daylight hours is reduced – resulting in energy savings for the club.
The Result
Salisbury Bowling Club is proud to be the first club in South Australia to install a PTFE Bowling Green Canopy.
When asked why the club chose to build and invest in a canopy Geoff Ambler, Club President said:
"We chose to build this canopy because we wanted to make sure that bowlers could bowl all year round. That's important. We get extreme weather here in South Australia. We get 42 degrees in heat and during the winter we get torrential rain. So, we're very, very proud of our facility. It certainly has met all its expectations. We would indeed recommend that you approach MakMax to build a canopy for you. We did, and it's been a great asset to our club."