Our Standard Product Range, Customisable To Suit You Needs
With over 35 years experience in architectural fabric structures, MakMax Australia has developed our own range of Standard Modular Fabric Structures.
Far from being 'standard', our range of Modular Fabric Structures are the core products in which we have extensive design and engineering expertise and experience.
The advantages of choosing a MakMax Standard Modular Fabric Structure;
Through years of experience and successful projects, we know what works
With the main elements pre-engineered and designed, we cut down on development time
Easily adapted to meet your needs, each structure is still customised to take into account the particular details your site
Adaptable height, width and fabric options, we can even link multiple structures together to create larger shade and weather protection areas
The ability for structures to suit different applications, we've installed Cantilever Monaco Umbrellas as a carpark, and a Single Bay carpark on the side of a bowling green as a player shade structure.
Ideal for smaller to medium-sized projects that still require a premium-quality permanent shade structure, by using products from our modular range, you can save time and money on the design and installation phase of your project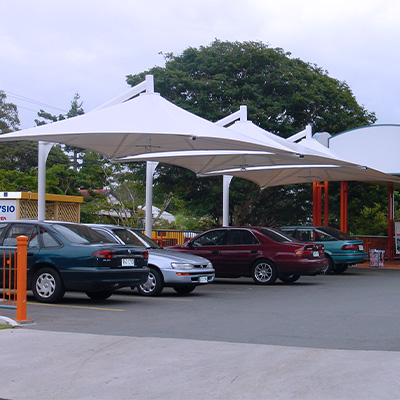 Small Modular Products
The small modular fabric range is an extension of our Commercial Umbrellas range. The Monaco even looks like our Centra Architectural Umbrellas, upgraded to be stronger, higher wind rated and adaptable for almost any circumstance.
Our other unique designs, the Pavilion, the St. Tropez and the Quasar are all ideal for creating unique and long-lasting shade and weather protection.
Large Standard Designs
The work-horses of the MakMax standard project portfolio, our carpark structures, sports-court canopies and bowling green covers have all been developed over time to ensure we have the best design aesthetic pre-engineered into the core product.
These Modular Fabric Structures can then be adapted into a bespoke design for your project. We conduct detailed site analysis to ensure all local geotechnical, weather and location-specific details are incorporated into the design. Further customisation can be made through accessories, such as in-built lighting and fabric options.
Would You Like More Information?
Contact us today to discuss your project requirements. We are the market leader in the design, engineering, fabrication and installation of custom fabric structures for a wide variety of applications and industries. We have extensive project experience and offer endless possibilities when it comes to custom design solutions to meet your needs.