Premium Sports Club Shade and Weather Solution
MakMax has built a reputation as sporting canopy specialists over the last decade, transforming the amenities, comfort and landscape of many community sporting clubs across the country. We maintain a focus on continuous improvement and refinement of our large span TensoSport-MAX designs, driven by listening to our customers and the sporting community and responding to their needs and wants.
The premium quality TensoSport-MAX Canopy has been used for various sporting application;
Swimming Pools
Tennis Court Canopies
Multi-court solutions for sports clubs and schools
Advantages of Tensile Membrane Sports Canopies
The main advantages of a MakMax Australia tensile membrane canopy (TensoSport and TensoSport-MAX) are their light-weight nature and translucent (light-transmitting) properties.
These features offers the ability to create light, aesthetically beautiful and premium-quality shade and weather protection at a fraction of the load-bearing weight required by steel, glass or aluminium roofing.
Compared with HDPE mesh, (often used for shade sails), by using PVC or PTFE materials, MakMax Australia can create a sporting canopy that provides all-round weather protection that will last much longer.
Membrane structures also create a comfortable atmosphere for patrons and customers. Fabric roofing offers a high UV reflectivity rate and so is much cooler underneath than metal, slate, polycarb or glass roofing. The soft, glare-free natural light translucency is also proven to have a positive effect on the human body and mind.
MakMax TensoSport-MAX Canopy Designs
Offering full bespoke design options for our premium-quality TensoSport-MAX canopy, MakMax offers limitless possibilities in creating a unique shade and weather protection for your sporting club, school or organisation. We start with a range of tried and tested canopy styles, designed and engineered by MakMax Australia's in-house team of technical experts, and then we customise each and every detail for your club. Some of our most popular canopy styles include;
The Flatback
(Barrel Vault Design)
Parallel arches and perpendicular struts create a clean, simple and efficient roof covering with a natural barrel vaulted fabric shape.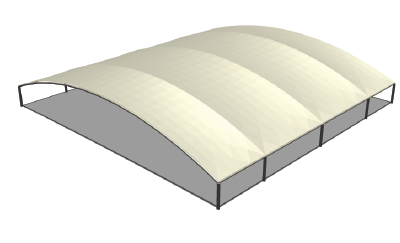 The Loggerhead
(Vertical Arched Peak Design)
Contrasting peaked central arches with valley cables and ribbed arched struts around the perimeter, this canopy style feels incredibly lightweight and open.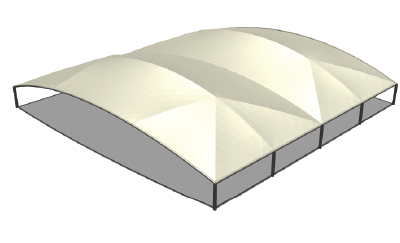 The Hawksbill
(Leaning Arched Design)
A striking visual design employs leaning arches and valley cables to create the exciting sawtooth profile.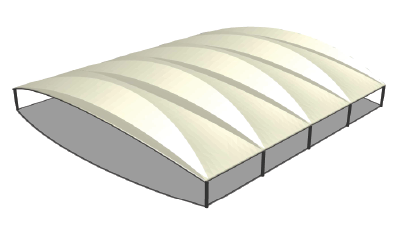 Would You Like More Information the TensoSport-MAX canopy?
Contact us today to discuss your project requirements. We are the market leader in the design, engineering, fabrication and installation of custom fabric structures for a wide variety of applications and industries. We have extensive project experience and offer endless possibilities when it comes to custom design solutions to meet your needs.