The Perfect Commercial Umbrellas For Your Venue
The MakMax Architectural Umbrella Range consists of high-quality, commercial umbrellas for a variety of industries. Designed specifically for cafes, restaurants, pubs, hotels, resorts, events venues, schools, sporting applications, commercial building and quality residential projects, the MakMax range of permanent commercial umbrellas have options to suit almost any application.
Why Choose a MakMax Architectural Umbrella
High-quality commercial umbrellas
Designed and Engineered in Australia for Australian conditions.
Architectural-grade PVC canopies.
Superior protection from direct sun and UV rays.
Wind Rated and engineered for our climate.
Easy maintenance and long life-span.
A wide range of Colours, Shapes and Sizes.
Flexible design options, PLUS a range of accessories, such as lights, heaters and roll-down blinds for year-round outdoor dining.
Architectural Umbrella Range
The MakMax Architectural Umbrella range are collapsible commercial umbrellas. Ideally suited to hospitality and tourism, they are the perfect solution for alfresco dining, with a size and shape suited to most applications.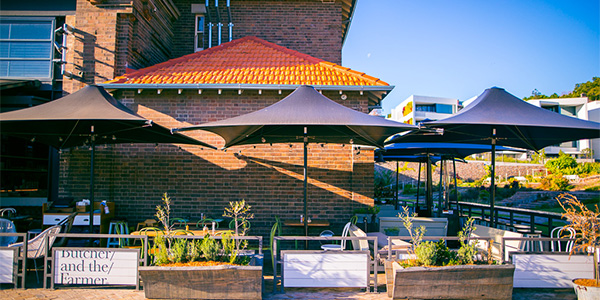 CENTRAL SUPPORT PERMANENT UMBRELLA
The most popular and versatile umbrella in the MakMax Architectural Umbrella range, Centra is the perfect entertainer – ideal for cafes, restaurants, hotels, pubs,
sports clubs and bars.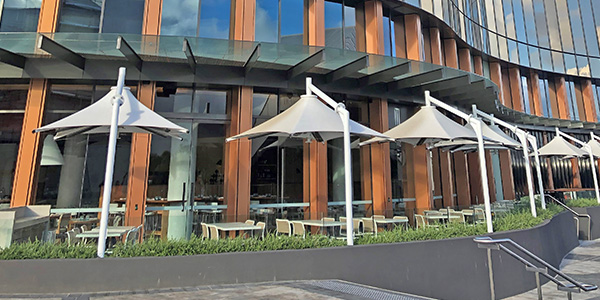 CANTILEVER SUPPORT PERMANENT UMBRELLA
The cantilevered pole on the Leva range of umbrellas allows for maximised use of space underneath the canopy. Ideal for applications where a central column is not practical,
such as over a pool. The Leva is also perfect for alfresco dining applications, offering shelter without the need for a column through the table.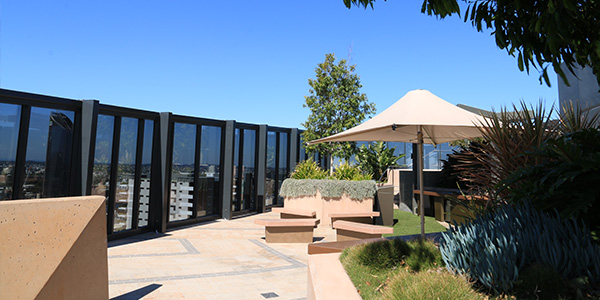 CENTRAL SUPPORT PORTABLE UMBRELLA
The Porta umbrella is collapsible, portable and ideal for applications where persistent wind in not a factor. Small and light, Porta is great for street furniture, as well as cafes, restaurants and bars without a permanent alfresco area.
Customise Your Umbrella
Make your umbrella as unique as your business with a range of customisations and umbrella accessories.
Choose your fabric and steel frame colour.
find the right ground fixing option for your umbrella.
Add lights and heating for year-round usage.
Link multiple units together with linking options and gutters.
Reskins or replacement parts are also available.
Benefits Of The Architectural Umbrella Range
Favoured by architects, designers, and developers, MakMax commercial umbrellas can be seen all over the world, enhancing businesses and attracting the attention of passers-by.
When your customers and patrons comfort is a priority, a MakMax Architectural Umbrella is the perfect solution for alfresco dining, hotel and resort pool areas, club hospitality areas, playgrounds and parks, walkways and pedestrian zones or anywhere shade and weather protection is needed.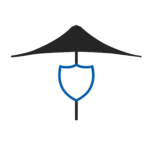 PROTECTING
MakMax Architectural Umbrellas use modern, high-tech fabrics which offer the highest levels of protection from direct sun and harmful UV rays. They are engineered to withstand a host of weather extremes including sun, rain, strong winds and hail.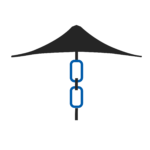 DURABLE
MakMax Architectural Umbrellas are designed and engineered for strength and durability here in Australia. Manufacturing takes place in our own MakMax Group fabrication facilities, and we stand by our quality assurance.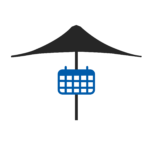 LOW MAINTENANCE
Using only the highest quality fabrics and corrosion-resistant columns and cables, MakMax Architectural Umbrellas are low maintenance and have an excellent life-span compared to standard market umbrellas.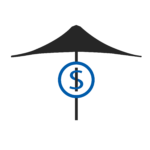 COST EFFECTIVE
Extend your habitable space at a fraction of the cost of a conventional construction with a MakMax Architectural Umbrella. Our umbrellas are also pre-engineered, so installation is quick and easy, offering further cost savings.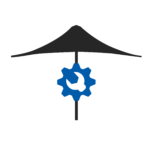 FLEXIBLE
Boasting an in-house design and engineering team, our entire umbrella range can be customised to suit your business. Choose the size, shape, height, fabric, footing or colour. Add heating, lights, side-awnings or logos. We can even link multiple umbrellas together to create larger protected areas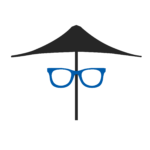 STYLISH
MakMax Architectural Umbrellas offers a range of shapes, colours and sizes and will enhance your outdoor space, providing unique and attractive shade and weather protection for your customers, patrons and staff.
Would You Like More Information About Commercial Umbrellas?
Contact us today to discuss your project requirements. We are the market leader in the design, engineering, fabrication and installation of commercial umbrellas and modular fabric structures for a wide variety of applications and industries. We have extensive project experience and offer endless possibilities when it comes to custom design solutions to meet your needs.