Make your umbrellas as unique as your business
Are you looking for something that specifically reflects your project and makes your business stand out from the rest? You can choose to customise your umbrella in a number of ways.
We believe in a limitless possibilities culture and are open to customisation upon request. Our team are excited by the challenge of creating non-standard umbrella sizes, shapes and other weird and wonderful ideas. Share your vision with us and together we can craft something new and exciting to make your business stand out.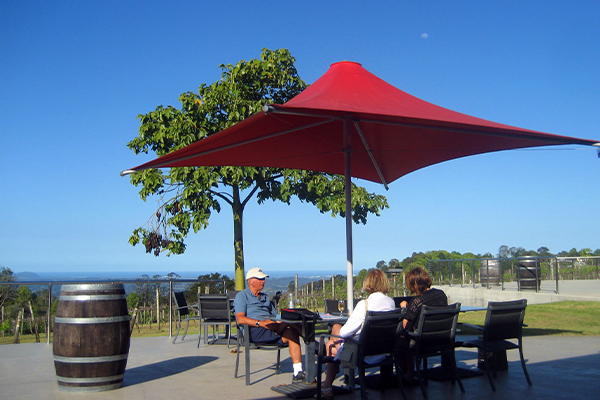 Fabric Colours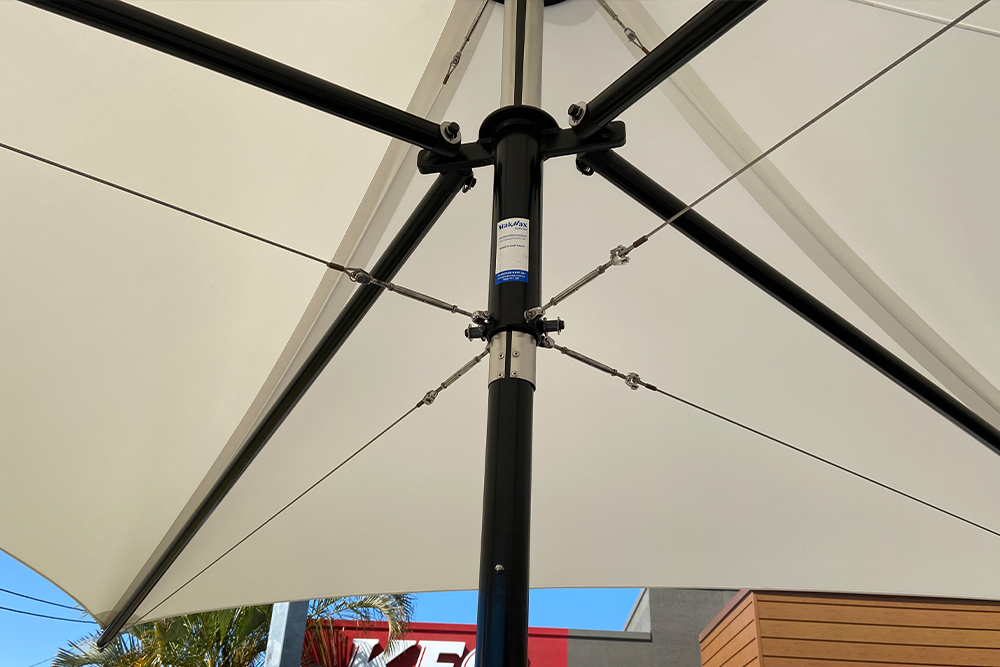 Steel Options
MakMax Architectural Umbrella models are built with steel frame components finished with multi-layer paint system using only premium quality paint for a high-quality and longer-lasting finish. Choose from a range of steel powdercoat colours.
You can choose to upgrade to polished stainless steel frame on selected Centra models.
See our Colour Range for options.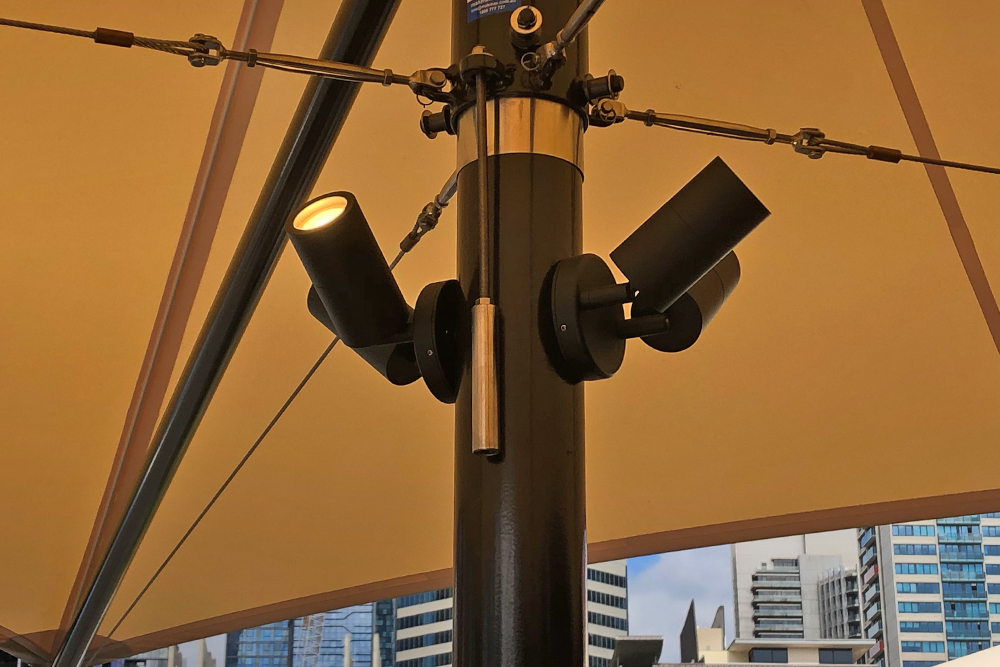 Lighting
Your MakMax umbrella can be upgraded to include an Electrical Ready Pole, which makes it possible to including lighting under your umbrella.
LED lighting options, such as strip lights or small flood lights, are available through our lighting partner supplier. An electrical contractor can install a standard power outlet onto the electrical-ready frame for you to add your own lights, such as festoon or fairy lights.
Note: Electrical Ready Pole requires an electrical connection to the Umbrella footings.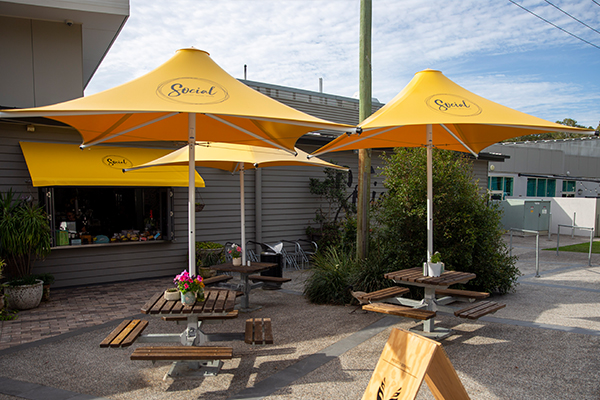 Logos & Branding
Add your own branding to your umbrella through colours and logos.
MakMax can source vinyl cut logos to be added to your PVC canopy, and a range of PVC colours sourced from two premium-quality manufactures ensures a huge range of colour possibilities to match or complement your corporate identity.
Speak with our umbrella team to explore what we can achieve together.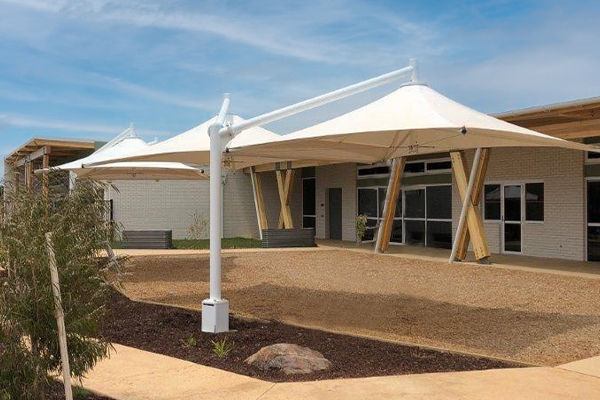 Height Adjustments
This is a popular option for umbrellas designed to shade pedestrian areas. A higher canopy allows patrons to easily walk under the shaded area.
Every project is different and we can adjust the height of the umbrellas by manufacturing a longer central pole, or by adding a height increase section during installation.
Speak to our team to discuss your project specifications.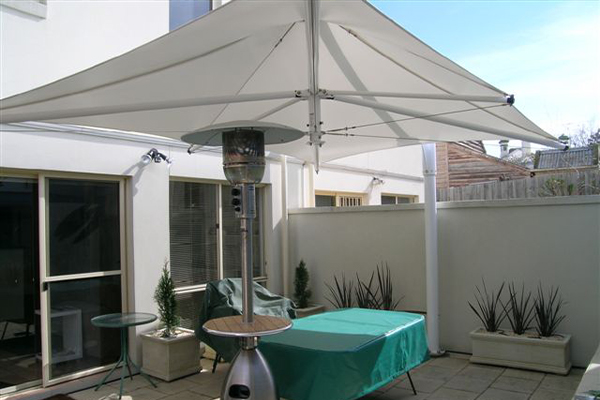 Leva Rotating/Swivel Boom
Based on a cantilever design, the Leva model umbrella is ideal for covering pool areas or outdoor dining.
Upgrading to a Swivel or Rotating Boom offers even more shade flexibility by allowing the canopy to move around the support pole by upto 360 degrees.
A swivel boom can also add the option of collapsing the canopy and rotating it out of the way during times when shade is not required.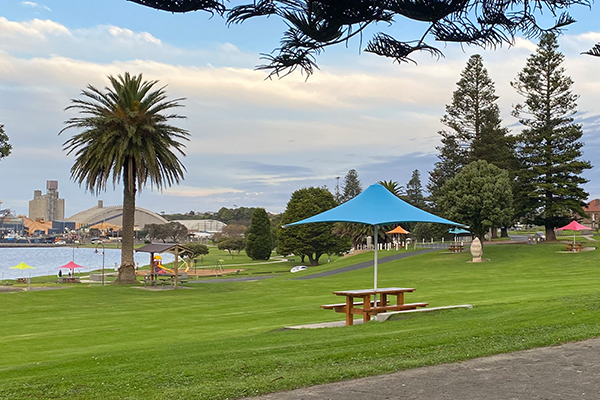 Wind Rating Upgrade
MakMax Centra and Leva Umbrellas are engineered to withstand average wind-speeds of up to 120km/h. For high-wind zones, such as unsheltered coastal areas or in some city environments where surrounding buildings create a wind-tunnel effect, MakMax can engineer your umbrella for greater wind-loads.
Note: even with a wind-rating-upgraded umbrella, we still recommend closing and securing your umbrella for any severe weather event.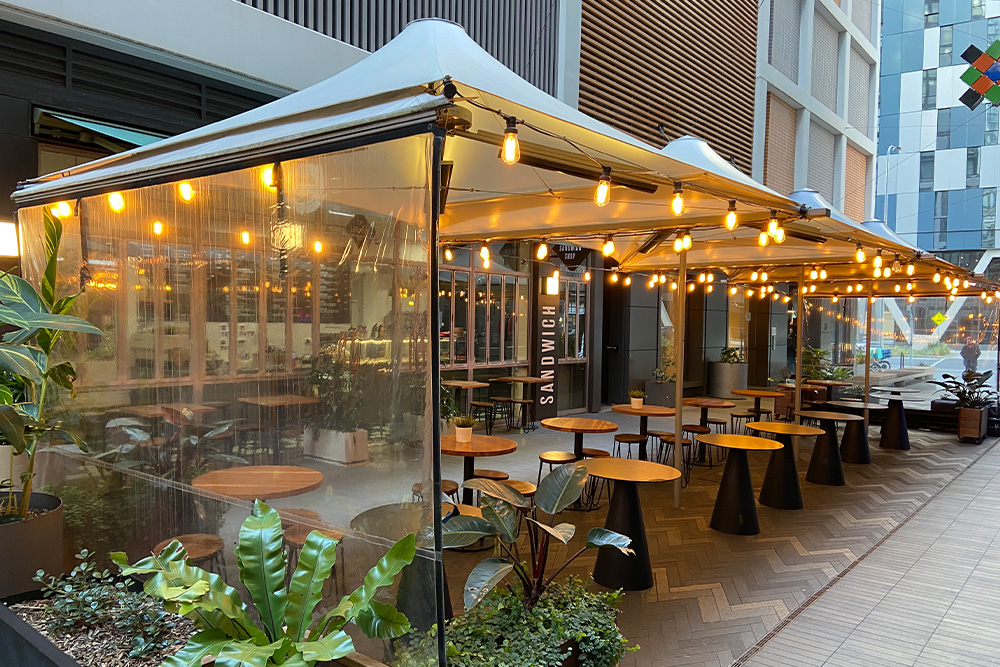 Blinds
Provide extra protection for your covered area by using blinds or side curtains.
MakMax can recommend a range of third-party supplied options including clear, tinted or a perforated colour PVC blinds for rain and weather protection.
Whatever solution you choose will give your project a more unique look while encouraging air flow to ensure your customer's comfort.
Repairs & Replacement Parts
If your umbrella has suffered damage or if you've inherited a location with umbrella already installed and you're thinking of an upgrade – the first step for any repairs or replacements is to take photos of the existing umbrella (including any damage), a photos of the product sticker (located on the collar) and email us info@makmax.com.au so that we can assess the damage and age of the structure.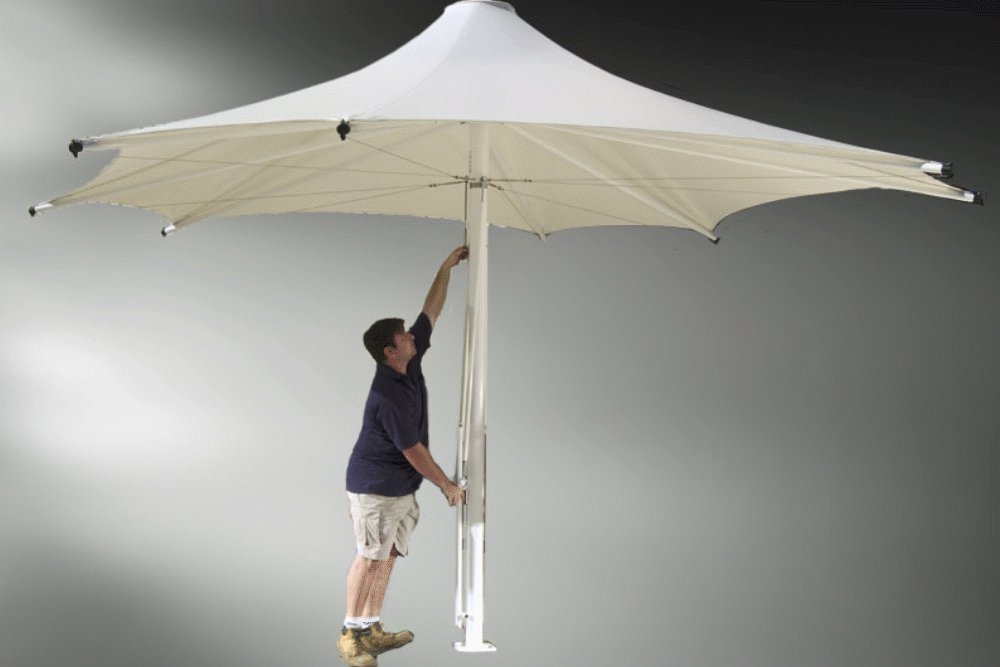 Umbrella Opening Kits
A must have for general use / opening & closing of your collapsible umbrella. Please speak to our umbrella specialist for what erection kit is appropriate for your umbrella model.
New Skins
Do your existing umbrellas require an upgrade? We can manufacture and replace your existing canopies and you can take this opportunity to change your colour, branding or printing options.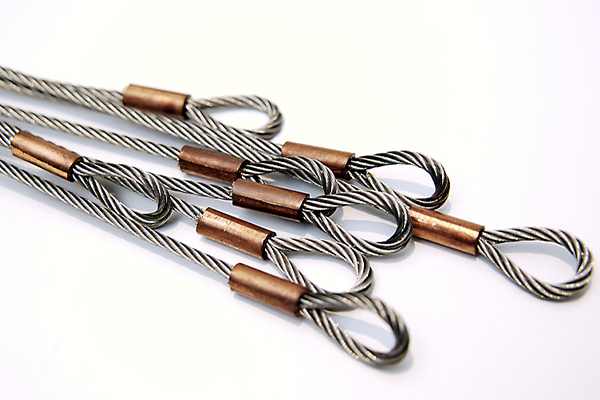 Umbrella Replacement Parts
Whatever replacement parts you need, our spare parts inventory incorporates small and large items including replacement bolts, cables, umbrella arms or columns. Just contact us with your needs and we will suggest the best solution for you.
Would You Like More Information?
Contact us today to discuss your project requirements. We are the market leader in the design, engineering, fabrication and installation of custom fabric structures for a wide variety of applications and industries. We have extensive project experience and offer endless possibilities when it comes to custom design solutions to meet your needs.