GCLR Stage 2 Station Awnings
Project Details
Location: Gold Coast, QLD
Completion Date: July 2017
Size: 840sqm (3 x Stations)
Fabric: PVC - Serge-Ferrari 100S2S (Mandarin)
Client: GoldlinQ / Brezac Constructions Pty Ltd
In 2017, the GCLR (Gold Coast Light Rail) Stage 2 expansion introduced three additional light rail stations, enhancing transport options for commuters at Helensvale, Parkwood, and Parkwood East. Creating a bold and vibrant statement, the bright coloured GCLR Stage 2 Station Awnings provide shade and weather protection for passengers on the platforms of the three new stations.
The Brief
The project aimed to provide effective shade and weather protection for passengers on the platforms of the newly established stations. Matching awnings were also installed over Bike Racks at Parkwood and Parkwood East as part of the project scope.
MakMax Australia was chosen to design, fabricate, and install the tensioned PVC membranes in collaboration with Brezac Constructions, responsible for manufacturing and installing the awnings' support structures.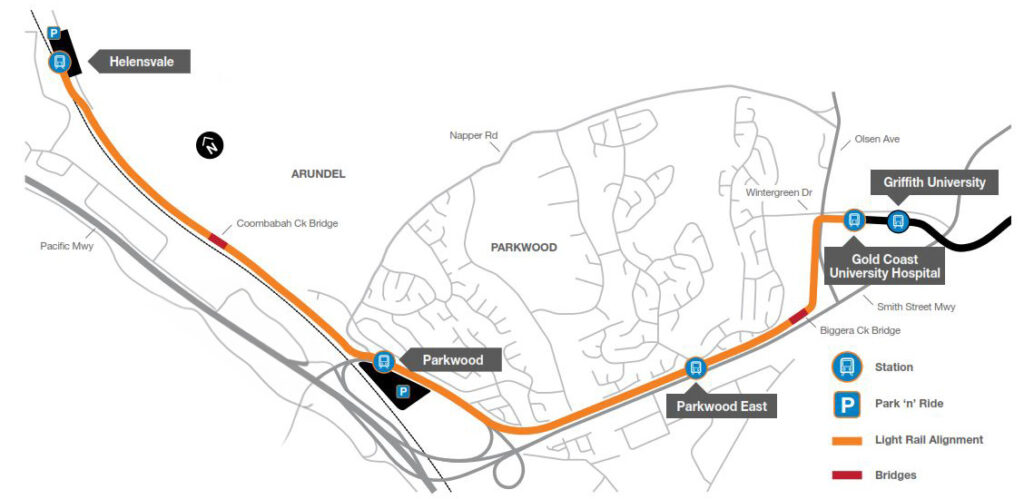 The Materials
Serge Ferrari Flexlight Advanced 1002 S2 PVC membrane was chosen for the GCLR Stage 2 Station Awnings. The vibrant 'Mandarin' colour of the fabric customised to match the existing station awnings. Flexlight 1002 S2 PVC fabric was the perfect choice for the awnings due to its long-lasting nature, low maintenance requirements, and superior dimensional stability due to its Précontraint® technology.
The awnings were secured to the structural steelwork using linear aluminium membrane extrusions along three sides and a catenary cable edge at the front.
The Result
The execution of the GCLR Stage 2 Station Awnings project culminated in the successful integration of durable and visually appealing shade solutions that seamlessly complemented the architecture of the Gold Coast Light Rail system. Passengers now enjoy enhanced comfort and protection from the elements, thereby facilitating a more convenient and pleasant commuting experience across the Gold Coast region.