From Walkways & Shelters To Community Festivals and Events
Across the country and the world, MakMax Australia has designed public shade structures to suit the feel, space and intent of community spaces. Working with architects, local governments and community groups, MakMax Australia has created signature shade structures for walkways, retail spaces, transport hubs, parks, and performance areas.
MakMax Australia can work with you to design bespoke tensile membrane canopies to add or enhance the features of your space. From architectural umbrellas or cable mesh structures through to large weatherproof amphitheatres or transport shelters, let us work with you to develop your concept to reality.
Council Leisure & Recreation Centres
Without a doubt, Australians love swimming and outdoor pools. Lightweight shade structures and umbrellas are essential for public swimming pools and leisure centres, whether they are council run or privately run. MakMax offers a range of shade solutions, from permanent commercial umbrellas, a bespoke shade structure or a full canopy, trust MakMax products to protect swimmers and visitors from harsh UV rays.
View our case study on Rockhampton's Southside Memorial Pool Shade Canopy.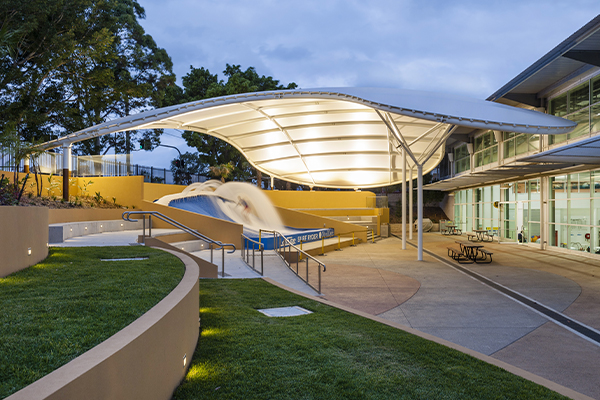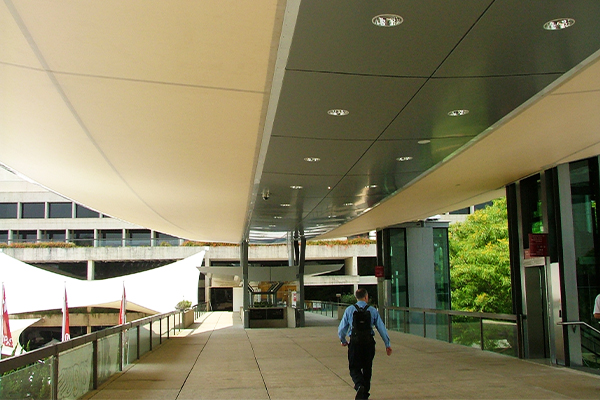 Walkways
Lightweight, UV blocking and waterproof, fabric structures are easy to install and able to be shaped around existing buildings, making them perfect for connecting one place to another. MakMax Australia has a long history of creating shaded walkways. From our quasar modular walkway outside the Australia Pavilion at Expo 88 in Brisbane, to the stunning PTFE over Glulam The Link Walkway at Chadstone Shopping Centre, we've protected pedestrian areas all over Australia and around the world.
Some of the walkway structures we have created include;
Extended awnings or porte cochère, providing shelter for enter/exiting buildings
Free-standing structures in pedestrian malls or outdoor shopping centres
Covered walkway connecting a carpark or transit station to airports
Covered walkways connecting school and university buildings, allow students protection as they move between buildings
Walkways that blur the lines between protection and art at major stadiums and events
Retail Centres & Pedestrian Malls
Outdoor shopping centres and pedestrian malls need cover to protect shoppers from sun and rain. We work closely with retail centre management and local city councils to create public spaces with a difference.
Our popular St. Tropez Modular Shade Structures add a touch of elegance to outdoor malls, or fully-covered atrium are made possible with a lightweight fabric canopy.
You could also choose to opt for a more unique custom shade structure. Contact our team to and we can show you how to make your retail precinct stand out.
Don't forget our range of carpark shade solutions for outdoor parking areas, protecting cars from harsh sun, rain and hail storms is important to attract visitors to your retail centre.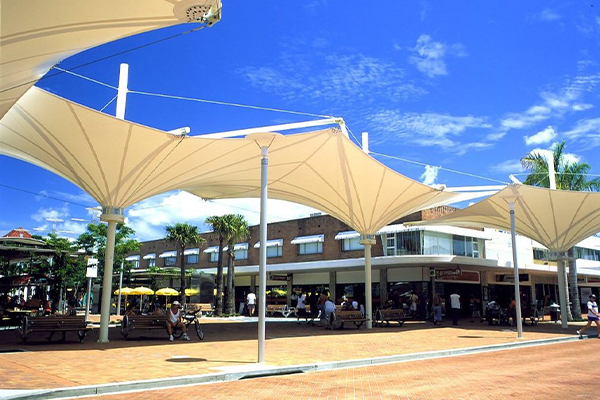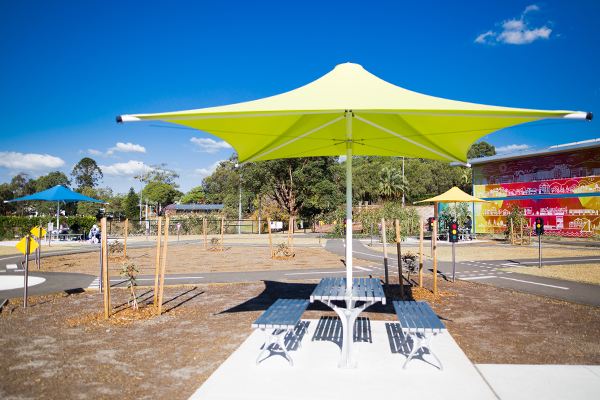 Parks & Community Spaces
Working with local councils as well as private planned-community developers,  MakMax Australia has created some of our most unique structures in parks and community spaces.
Challenging the imagination and creating exciting public spaces can be aided with the variety or forms architectural fabric architecture can take. From bright and colourful permanent umbrellas to a fully designed and engineered bespoke solution, MakMax has your covered.
Among the many park and playground projects MakMax Australia has been involved in, we worked with LendLease in 2016 to create unique shade structures for the Livvis Place Playground at Jordan Springs in Penrith, NSW. Checkout the video of the park opening to see what community parks mean to local residents.
Read more in the case study on our Navigation Park Shade Structure.
Public Transport & Taxi Rank Shelters
Train Stations, Bus Stations, Airport Walkways, Taxi Ranks and Ferry Terminals. These people-moving hubs need to be memorable and recognisable as part of an overall system, while protecting and directing patrons. A transport hub can be made iconic by the use of tensile fabric – whether by colour, shape or design.
You can see examples of some of our work for Transport Hubs at:
Gold Coast Light Rail
Perth Airport Taxi Rank
Chadstone Interchange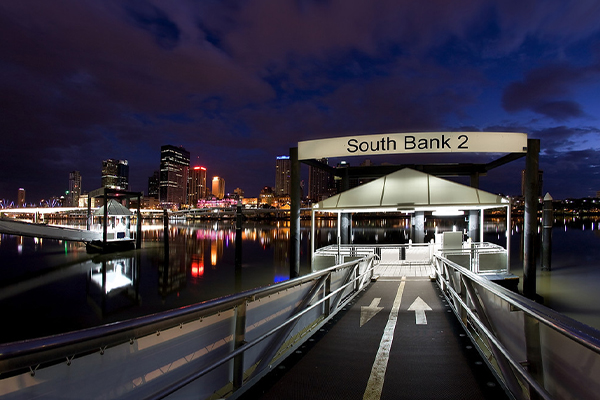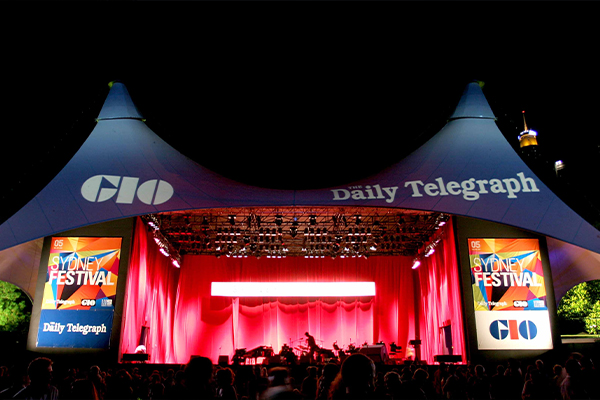 Events & Festivals
Short-term temporary structures for festivals and events or permanent community amphitheaters for annual outdoor concerts are no strangers in the MakMax Australia project portfolio.
Among our varied project poftolion, we've created innovative lycra sculptures for VIP marquees for the Melbourne Cup and a stunning sets for the live MTV awards, we've created stages in the Sydney Domain, and fabric and light sculptures for the Myer Music Bowl in Melbourne.
Some of our favourite works include;
Would You Like More Information?
Contact us today to discuss your project requirements. We are the market leader in the design, engineering, fabrication and installation of custom fabric structures for a wide variety of applications and industries. We have extensive project experience and offer endless possibilities when it comes to custom design solutions to meet your needs.