In our continuous pursuit of limitless possibilities of membrane architecture, MakMax Australia pursues the latest trends arising in the tensile membrane industry to create innovative architectural fabric structures for all industries.  Looking at 5 top trends in tensile membranes, the industry continues to grow and more architects and project developers are turning to lightweight fabrics instead of traditional building materials.
Lightweight fabrics have many applications from architectural umbrellas at a local café to gigantic roofs cover stadiums and sporting arenas.  Tensile membrane structures offer many benefits such as cooling public spaces to combat the effects of urban heat islands and creating healthy, safe communities by providing shade and weather solutions.
As we look forward to the middle of the decade and beyond, there are exciting new opportunities that lay ahead.
Table of Contents
1. Combating the Urban Heat Island Effect
The first 'hot' trend of the early 2020's was the Urban Heat Island Effect, a phenomenon where a metropolitan area is on average several degrees hotter than surrounding rural areas.
What causes Urban Heat Islands to occur?
In addition to the energy created by urban industries and human activity, this localised warming is caused by use of dark building materials, lack of vegetation and the density of the built environment.  Heat is absorbed by dark building materials used in infrastructure such as roads, concrete playgrounds, roofs, carparks and buildings.  Darker materials reflect less sunlight and absorb more heat, causing the surface and ambient temperatures to rise in highly urbanised areas.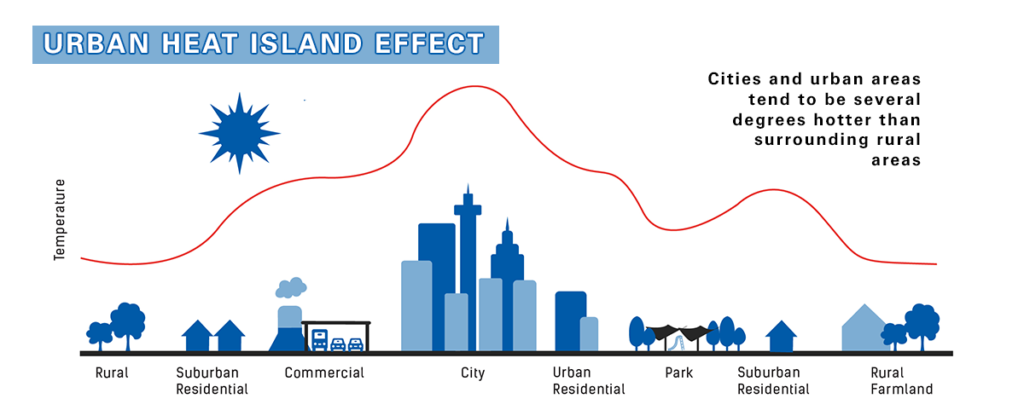 Ways to cool urban spaces and reduce the Urban Heat Island Effect
Natural vegetation is an effective solution to mitigate the impact of the Urban Heat Island Effect.  Trees provide natural shade for cooling and use solar energy to drive photosynthesis and evapotranspiration (a process that releases moisture back into the atmosphere).  Trees can be unpredictable due to seasonal changes, or they can be damaged from the increasing instances of severe weather, reducing their cooling effects.
Architectural cooling solutions include the incorporation of green roofs or the use of reflective materials and surfaces into the built environment.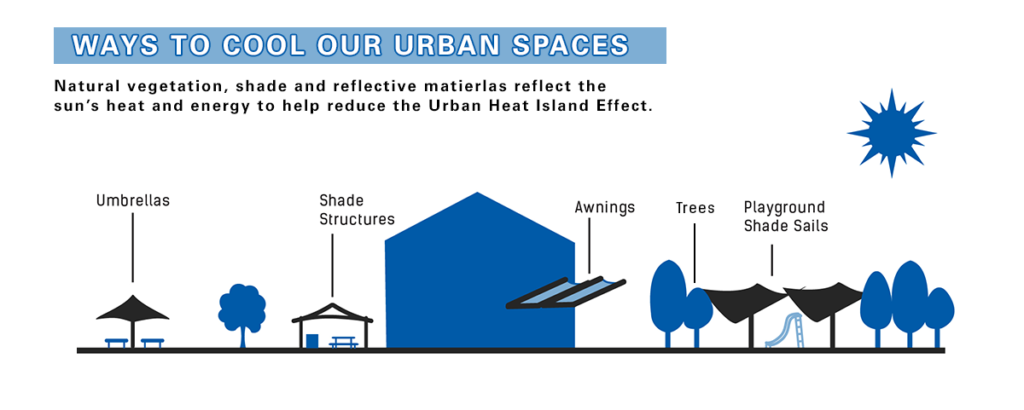 Tensile membrane shade structures are a perfect solution with high translucency and reflective capabilities as well as being durable and strong.
Made from highly reflective materials, tensile membrane roofing and shade structures can reflect up to 80% of the sun's energy back into the atmosphere. The remaining solar radiation is mostly transmitted through the translucent membrane in the visible light spectrum rather than being absorbed as heat. This makes the under-surface area of a membrane roof much cooler than metal, concrete, or slate roofing.
The addition of a MakMax Tensile Membrane roof or shade structure will not only protect you from the sun's harmful UV rays but also help to cool the surrounding urban area.
We provide architectural shade and weather solutions for all industries: sports and recreation facilities, retail and commercial developments, hospitality and entertainment venues, schools, community spaces, transport hubs, mining and industrial sites and more.
2. Shady Schools are Cool Schools
Shade plays an important role in the prevention of skin cancer, especially in Australia (which has one of the highest rates of skin cancer in the world). High quality shade material provides a barrier of protection against direct and indirect sources of UV radiation and can reduce UV exposure by up to 97% under a shade-mesh canopy or 100% beneath a solid-fabric structure.

The benefits of Tensile Membrane Shade Structures for schools
High quality, well-designed and correctly positioned shade has many benefits to keep your school community safe and healthy. As well as offering protection against harmful UV rays, providing shaded areas helps create comfortable outdoor spaces and enhances the learning environment.  Adding a unique tensile shade structure to your school campus demonstrates your commitment to student welfare by designing learning environments that will stimulate young minds and attract new students to your school.
Shade and weather solutions for education
There are many different types of shade materials and shade structures.  Tensile membrane shade structures create sun-safe, weather-protected areas suitable for a wide range of applications specific to schools, learning centres and education facilities. Whether your requirement is a fully weatherproof school COLA, a shady lunch area, or a sports canopy, MakMax Australia has a shade solution to suit your specific need.
For more information about our shade solutions for education click here.
3. Play Sport Year-Round with an all-weather TensoSport Canopy
Sport is a significant part of Australian culture and lifestyle but how often has your sporting activity been impacted by extreme heat-wave conditions or unpredictable weather events, especially during the summer months?
Maximise your team's time on the court with an undercover urban sport facility
Tensile membrane roofs and canopies, designed to cover larger spans without any internal pillars, are perfectly suited to all forms of sports facility shade and weather protection. We specialise in designing and engineering custom-made sporting canopies and shade solutions for clubs right around Australia.  You can practice or play sport in any weather under a MakMax full-coverage TensoSport canopy.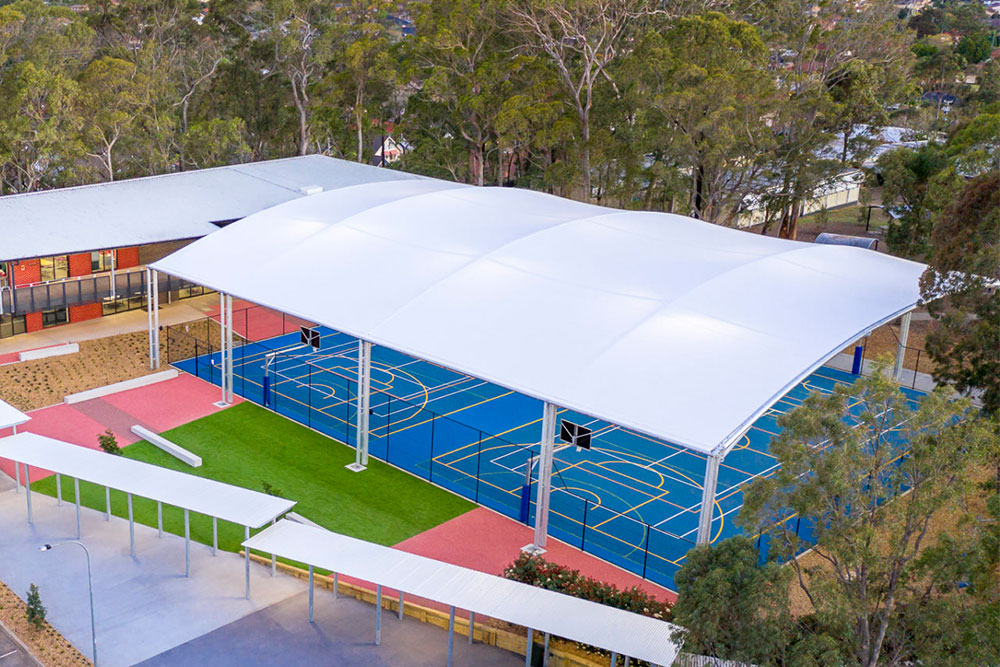 Made from premium-grade architectural fabrics, TensoSport canopies are light-weight and translucent (light-transmitting). Translucent membrane roofs are particularly suitable for sports, as they provide an extremely even natural light with very little shadowing during the day.
A tensile membrane canopy also blocks 100% of harmful UV rays, allowing you to maximise the use of your sporting facility, even in the height of summer.
Membrane structures also create a comfortable atmosphere, keeping athletes and spectators cool in hot conditions, and dry during inclement weather. The use of free-standing tensile membrane canopies also assists in maintaining air flow, while still providing effective sun and weather protection.
A MakMax TensoSport canopy can be adapted to a wide range of sports.
Lawn Bowls Roofs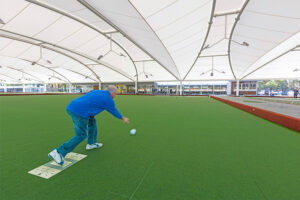 Custom designed bowling green canopies offer protection from sun, wind and rain, providing year-round bowling. Maximise your time on the bowling green with a fully integrated lighting system that reflects off the canopy to provide an iconic architectural structure at night. Night-time use of the bowling green adds a range of social opportunities, from barefoot bowls and social club competitions to private or community functions and events.
Designed to cover synthetic greens, a lawn bowls roof will minimise maintenance and maximise the longevity of the surface. The addition of a new Bowling Green Canopy will attract more people to your club and creates opportunities to host competitions and events.
Tennis Court Roofs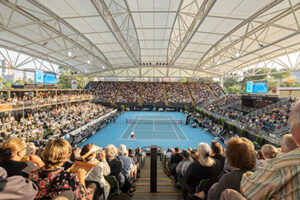 Our long history creating award-winning stadium and sports shade structures clearly demonstrate our capability and understanding of shade and weather protection for tennis clubs all over Australia.
One of our standout projects is the Memorial Drive Tennis Centre Canopy with its incredibly long span (5800m2 canopy), supported only by four perimeter columns. The highly translucent canopy creates a visually impressive structure that is a highly visible feature of the Adelaide skyline.  The addition of the Memorial Drive Tennis Centre Canopy allows international tournaments to be played during the day or at night. The weatherproof protection given to clients enhances the tennis experience for both day and night visitors.
Pickleball Sport Canopy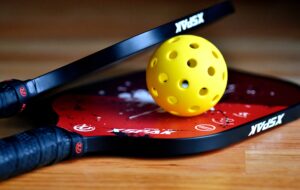 One of Australia's fastest growing sports, Pickleball combines tennis, badminton and table tennis.
Pickleball is a low-impact racket sport played by two or four players on a badminton-sized court.  Players use solid paddles made of wood to hit a perforated polymer ball (like a wiffle-ball) over a net.  The sport is has gained popularity in America and been described as the fastest growing sport worldwide.  Pickleball had a gradual introduction in Australia in 2015 with a small group of enthusiasts playing.  Since then, Australia has seen a rapid growth of pickleball with associations and playing groups in every state and territory.
A MakMax TensoSport canopy can cover one or two tennis courts or even more pickleball courts.
4. State-of-the-art Stadiums around the World
With an increased demand for stadiums to be multi-purpose, base to multiple "home" teams and sporting codes, as well as hosting concerts and events, new venues are looking to stand out with stunning facilities, player and spectator amenities and stunning architectural designs through tensile membrane stadium roofing and facades.
Optus Stadium Halo Stadium Roof and Skywalk Platform
The VERTIGO viewing platform is creating a whole new viewing experience for fans at Perth's Optus Stadium.  The 42-meter-high skywalk takes you above the stadium roof, giving a spectacular view of the city and the stadium below.  The platform extends five meters over the edge of the stadium roof, creating a memorable experience for thrill-seeking sports fans.

Sydney Football Stadium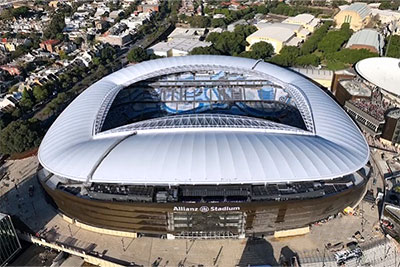 The Sydney Football Stadium (Allianz Stadium) opened with much fanfare in the second half of 2022.
The new 26,000 square metre roof, façade and interior design has enhanced the game day experience and atmosphere with the 42,500 seats, all undercover and closer to the action than ever before.
MakMax Australia was proud to be a part of the John Holland Group stadium development project helping to design, engineer and install the spectacular roof design.
We interviewed some of the key project MakMax project team about the stadium project and they had some fascinating aspects of the project to share: watch the video.
FIFA World Cup 2022 Stadiums
Qatar 2022 FIFA World Cup was held in November 2022 will be across 8 venues. One of the host stadiums was Khalifa International Stadium which was originally built in 1976. The stadium underwent a renovation in 2017.  Birdair Inc and Taiyo Middle East were selected to design, fabricate, supply and install the new membrane roofing system as part of the renovation project.
5. ETFE: the clear winner in modern architectural design
ETFE foil is the new generation material which goes beyond glass and has gained recognition as the premium material for transparent cladding applications for roofing or façade construction. The flexible nature of the membrane offers an elegant and modern design alternative.
Global ETFE Projects
Globally, the Taiyo Kogyo group of companies have completed some iconic ETFE structures, including the sail-like façade panels on the Embassy of the US in London, the incredible 6-piece oculus and façade on the Mercedes-Benz Stadium in Atlanta and The ARC Cultural Center in Korea.

MakMax Australia's ETFE Projects
Closer to home and built a decade ago in 2012, the Clarence Integrated Care ETFE skylight was MakMax Australia's first ETFE project in Australia. Built in collaboration with MakMax's European division, Taiyo Europe, the dual-layer ETFE skylight perfectly integrated into the redevelopment of a modern health-care facility in Tasmania.

MakMax Australia has since used ETFE in a several projects including Singapore's Institute of Technical Education ETFE Atrium Roof, Rhodes Central ETFE Skylight, Macquarie University Arts Precinct ETFE Roof and Shore School Pool ETFE Skylight.
MakMax currently has several ETFE projects in development including an ocean research centre, an aquatic centre roof and a new retail precinct. We're excited to see where this new generation material will go next.