Offering even more avenues to express creativity and individuality in architectural design, the integration of custom patterns and artwork into printed fabric structures provides architects, designers, and clients with a versatile canvas to showcase visually striking designs that also serve practical purposes.
Shade Structures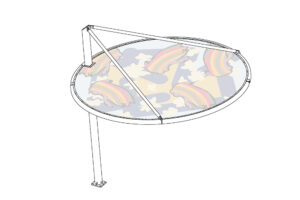 One of the primary applications for printed fabric structures is their use in creating dynamic and imaginative play spaces for parks, playgrounds, and community centers. The infusion of vibrant colors and designs into shade structures not only establishes sun-safe environments but also transforms these areas into captivating realms for young adventurers.
Typically, patterns are printed on the underside of the structure, where the design remains visible, while the topside retains a brilliant white appearance to reflect heat and enhance the cooling effects of the shade structure.
Distinctive Building Envelopes
Printed fabrics also offer the opportunity to craft a distinctive visual identity for a building. A noteworthy example of this can be seen in the Souk Okaz Public Theatre project, which integrated traditional Arabic designs into the tensile membrane roofing through the use of a bespoke printed membrane.
Optimal Fabric Selection
Given the array of protective coatings available from membrane manufacturers, not all fabrics are suitable for carrying printed patterns. Among the most commonly employed printable fabrics, blockout-style PVC Mesh stands out as the most adaptable and user-friendly option. This fabric type features a coating designed specifically for the printing industry. Utilizing a blockout-style base cloth facilitates double-sided printing with no show-through. Specially formulated UV-activated inks ensure resistance to color fading over time.
Fabrics are manufactured in rolls with predetermined widths (e.g., 2.5 meters). Consequently, for shade structures exceeding the roll width, visible seams (where shade panels are welded together) become unavoidable. It is imperative to account for these seams in the design to ensure the uninterrupted flow of the pattern – you can see how we achieved this on the Eliston Family Community Centre project.
An alternative creative approach for managing seams in printed shade structures involves constructing a cable grid framework that supports smaller printed shade panels, eliminating the need for welded seams. For a practical illustration of this technique, explore the North Melbourne Circle Shade Structures project, where we successfully extended a unified pattern across 66 distinct panels, each measuring 1m x 1m.
Printed ETFE Structures
Using a printed pattern on ETFE foil is a common way of controlling shading and light transmission while preserving the transparent properties desired in an atrium roof or skylight. Standard print patterns, such as dots or hexagons arranged in different sizes and density of patterns offer a level of control of light diffusion.
For more distinctive roofing and shade structure designs, custom printing can be applied to ETFE foil. A remarkable instance of this approach is evident in the Singapore Institute of Technical Education ETFE atrium. The custom-printed leaf motifs on the flat ETFE roof cast intricate shadow patterns on the floor below, simulating the ambiance of a treetop canopy. This innovative use of two-layer ETFE pillows harnesses light and shadow to evoke the sensation of a serene rainforest setting.
Printed Fabric Structure Examples