Rhodes Central ETFE Skylight
Project Details
Location: Sydney, NSW
Completion Date: July 2021
Size: 1300 sqm
Fabric: ETFE - Dual-Layer AGC Fluon® with H90X13 printed frit
Client: Billbergia Constructions
Photography: © Billbergia Constructions
Flooding the new retail centre with natural light, the Rhodes Central ETFE Skylight connects shoppers, commuters and residents of the new high-rise development with the sky.
The Brief
Billergia Construction worked to develop the stunning new addition to Western Sydney's skyline – Rhodes Central. Located on the shores of the Parramatta River, opposite the Sydney Olympic Park, Rhodes Central is a mixed-use development, with residential towers sitting atop a new lifestyle dining and shopping precinct, and all connected to the Rhodes Central train station. Situated at the base of the two towers, the shopping centre and food court design called for a highly translucent architectural feature skylight to crown the retail zone.
The Concept
The open-air skylight is created with the MakMax TensoSky ETFE System, and features 29 Dual-layer ETFE cushions. The cushions are installed on a raised steel frame, allowing fresh air to enter the atrium below, but still providing protection from direct sunlight and rain. The unique shape of the frame required a range of different geometric shaped ETFE cushions and with varying lengths.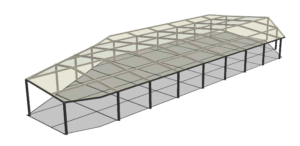 The Materials
The Rhodes Central ETFE Skylight is created with 29 dual-layer ETFE pillows – 250 micron layer top and bottom.
Printed with a high density H90X13 frit pattern, the ETFE achieves a high UV protection rating. The skylight appears silver when viewed from the towers above, but is highly translucent from the shopping and food court area below, and provides the perfect combination of natural lighting and solar heat gain protection.
The pillows maintain internal air-pressure via an Elnic air-blower unit, featuring 2 independent running fans for redundancy, adsorption dryers (dehumidifier), air intake filtration system and a programmable control panel with continuous feedback to the shopping centres BMS.
The utilisation of the TensoSky ETFE system for Rhodes Central ETFE Skylight was to prevent the need for the costly change-over of broken glass panels in the future by using an easily repairable tensile membrane. One of the key benefits in using this system is a significant reduction in loading, with the dual-layer ETFE weighing in at less than 1kg per square metre, compared to a double-glazed glass roof which can weigh up to 40kg per square metre. This also allowed the client and their architect to have a steel frame structure significantly lighter and more elegant than would have been required for glazed solution.
The Result
The project manager at Billbergia Construction was over the moon with the final Rhodes Central ETFE Skylight installation:
"The Rhodes Central Retail Stage 1 project by Billbergia has adopted one of the latest innovations to the Australian Construction industry with the use of lightweight ETFE tensile structures. Well done MakMax Australia team on the successful delivery! It was an absolute pleasure working with your team!"