Toowong Village Atrium
Project Details
Location: Toowong, QLD
Completion Date: 2012
Size: 750 sqm
Fabric: PTFE - St Gobain SHEERFILL® V
The Toowong Village atrium PTFE membrane structure covers the main thoroughfare of the shopping centre. The atrium roof provides some natural light to the shopping centre space as well as creating a domed, spacious feel within the mall.
The Brief
Originally built in the 1980s this covered shopping centre atrium project presented a few challenges that had deterred the owners from replacing the weathered fabric for some years.  The replacement project, located in Brisbane, had been under discussion with the client for some years prior.
Challenges faced in design included fitting to existing steel work. Fabric needed to be precisely pattered to fit the existing steel of which we did not have drawings.  The detailing was quite primitive, new fixings needed to be designed to allow tensioning and permanent fixing. The new fixing details also needed to compliment the steel design and remain easy maintain.
Working with old, outdated fixings and steel design was the obvious challenge. Another challenge was installation hours, being a busy shopping centre all works needed to take place during closed hours. Also access to the aging shopping complex proved a logistical challenge.
The Concept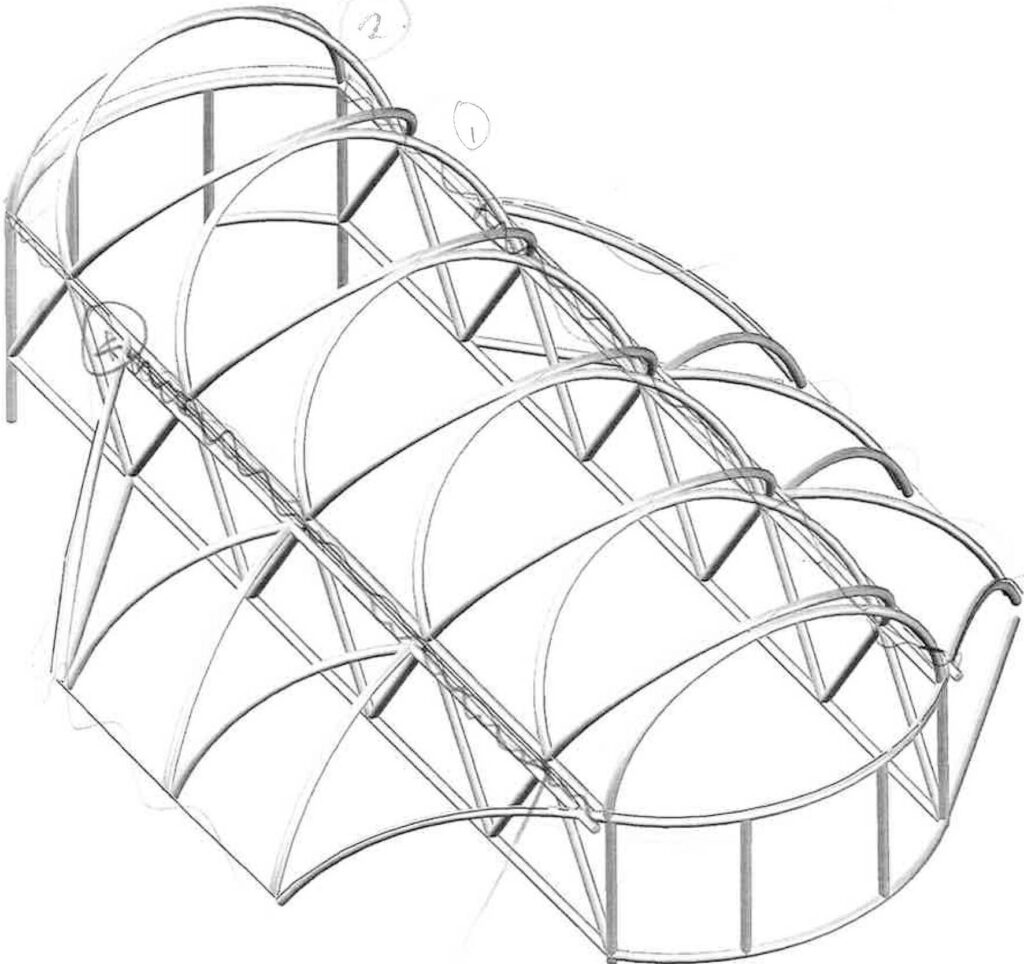 The Materials
When the Toowing Village centre management decided to replace the original fabric in the atrium, was due to be replaced, they requested a higher level of light transmission from any new solution – a high-translucency PTFE atrium roof was suggested as a replacement to the original PVC canopy.
The centre management was very happy with the project on the whole. The previous fabric was quite old and had begun to discolour with age,  whereas the the new crisp white PTFE caps off the older building nicely. The client also noted the higher level of light transmission through the new fabric. Existing lighting within the centre really glows from the outside of the building now, and because the structure is atop the shipping centre it appears as a beacon of light globe from neighbouring suburbs.
Noted for it's longevity and reduced maintenance costs, as well as the ability to increase natural light inside the shopping centre, the new PTFE atrium roof contributed to Toowong Village's efforts towards sustainability.
The Result
The result of the Toowong Village Atrium replacement was a clean, crisp roof over the shopping centre.  We leave our client feeling more at ease having resolved some of the maintenance and security issues previously faced with the aging fabric structure.