Tariq Automated Retractable Umbrellas
Project Details
Location: Tariq Bin Ziad School, Doha Qatar
Completion Date: July 2016
Size: 6 Automated Umbrellas: 780 sqm
Fabric: PVC - Sefar 4T20
Client: Tariq Bin Ziad School / Taiyo Middle East
Tariq Bin Ziad School is the first installation of our Zahra Automated Retractable Umbrellas, an innovative solution for the provision of shade within an educational facility.
The Brief
This Automated Retractable Umbrellas project required the development and manufacture of a hydraulic powered system that would enable easy retraction of the six umbrellas (either in a group or individually). The emphasis was placed on providing an innovative design that could be easily retracted as required.
The Concept
Given the automated retractable umbrellas are collapsible and use a wind sensor to control the retraction and deployment, it offered a unique opportunity to design the structures according to a sensible wind load instead of the local design wind load.
Therefore the structures were designed to a 100km/hr gust wind, but the retraction process is set to start at a much lower wind speed in order to fully retract prior any storm event reaching that wind speed. In their retracted state the structures are designed for the full local wind loading and have bespoke shrouds that conceal and protect the membrane in its collapsed, untensioned state.
The defining geometry is a product of the retraction and deployment process – the structures range of motion could not overstress any components at any stage. Discovering this geometrical solution is a multistep process using a multitude of software.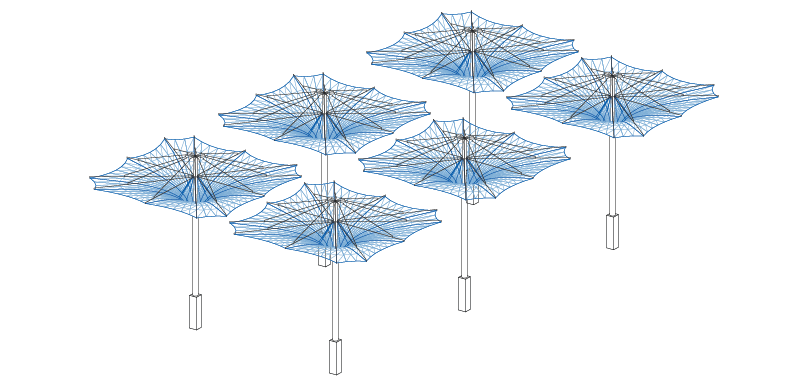 The Materials
These structures, employed a wide range of disciplines inclusive of steel, membrane, cable, electronic and hydraulic.
As the structures integrated a significant number of disciplines and materials, the tolerances and methods of fabrication for many components were quite stringent. For example, as the geometry of the steelwork needed to be precise through the full range of motion (from collapsed through to deployed), the standard steel welded connections were not able to be fabricated within tolerance, so alternative detail connections were devised that allowed for each strut to be individually adjusted to suit during installation.
The Result
Another example of global cooperation with the Taiyo Kogyo Group/MakMax family of companies, MakMax Australia worked hand-in-hand with Taiyo Middle East to develop and install this innovative automated shade solution. The combination of the resources and experience of our design, engineering, drafting, project management and fabrication facility created this new product – the Zahra Automated Retractable Umbrella system.
The Tariq Automated Retractable Umbrellas project was awarded the Winner of the Product Innovation category at the 2017 Specialised Textiles Association Awards For Excellence.