Sunshine Plaza Leaf Structures
Project Details
Location: Maroochydore, QLD
Completion Date: December 2018
Size: 165sqm (6 leaf structures)
Fabric: PVC Mesh - Serge Ferrari Soltis 86 (Bronze)
Client: Lendlease Building
Photography: © Al Morris
The Sunshine Plaza Leaf Structures project entailed the installation of six PVC mesh shade structures at the Maroochydore shopping mall. These leaf-shaped structures were designed by Buchan architects and delivered by MakMax, enhancing the aesthetics and functionality of the mall's central Riverwalk section.
The Brief
Sunshine Plaza is the largest shopping centre on the Sunshine Coast in Queensland and the centre is managed by Lendlease Property Management Australia (LLPMA). As part of the Sunshine Plaza Exterior Centre Ambience Upgrade project in 2018, the aim was to integrate aesthetically pleasing and functional shade structures that would not only protect shoppers from the sun, but also contribute to the overall visual appeal of the area.
MakMax was chosen to engineer, fabricate and install the six leaf-shaped structures; a main cluster of three large structures in the central piazza, and a further three shades along the boardwalk, harmonising with the surrounding architectural theme.
The Concept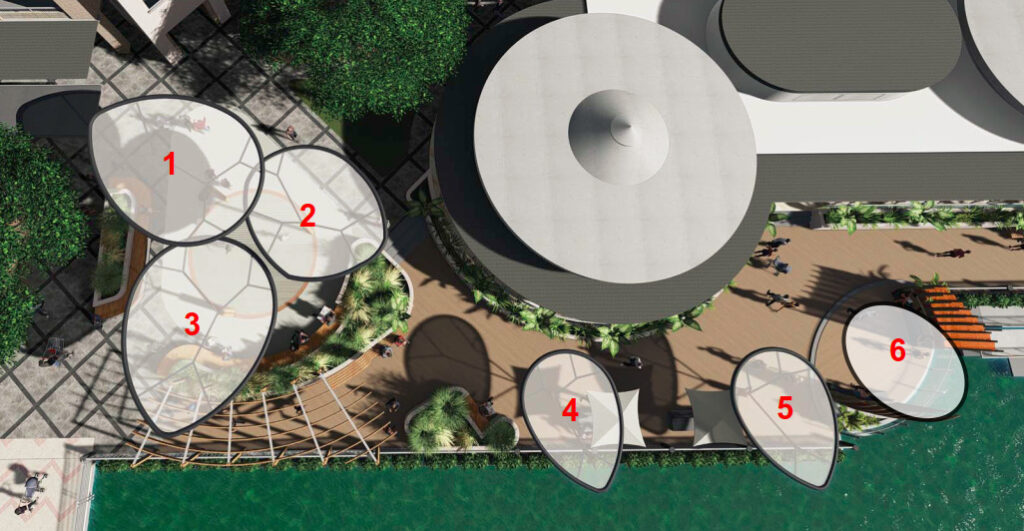 The Materials
The Sunshine Plaza Leaf Structures boast a robust build, featuring a rolled steel frame painted in Dulux Monument colour, while the central steel columns are adorned with wooden slats that seamlessly blend with the boardwalk decking.
The shading is provided by a durable PVC Mesh, Serge Ferrari Soltis 86 in Bronze Colour, ensuring effective sun protection while maintaining an elegant appearance.
The addition of a nine MakMax MS27 Monaco Modular Shade Structures, which were installed at the same time, has further amplified the functional and aesthetic benefits of the Riverwalk ambience project.
The Result
The Sunshine Plaza Leaf Structures have significantly transformed the ambiance of the mall's Riverwalk section, providing shoppers with a comfortable and visually appealing environment. The seamless integration of the architect's unique leaf-shaped design with MakMax's skills in delivering membrane structures, has enhanced the overall aesthetic appeal of the Sunshine Plaza, attracting positive attention from both visitors and passersby.