St John's Primary School COLA
Project Details
Location: Dapto, NSW
Completion Date: September 2020
Size: 585 sqm
Fabric: PVC- Mehler FR700N
Photography: © Peter Izzard Photography
An example of the MakMax TensoColaTM canopy, the school COLA at St John's Catholic Parish Primary School is fitted in and around the other school buildings to provide a shaded outdoor playground and sports area.
The Brief
The 30m x 17.5m school COLA at St John's was constructed as part of a refurbishment and extension program.
The project included the removal of an older building and replacing it with an all-weather, multi purpose covered outdoor learning area.
The Concept
The barrel-vault design is both functional and structurally study. An additional side-awning was included in the design in order to cover the entrance to the school building.
A new wooden deck area was built at the school-building end and the canopy has a gentle overall rise to accommodate this seating area – providing a shaded and weatherproof space for school lunches, assembly or for spectators watching the games area.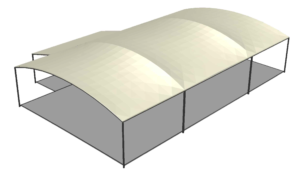 The Result
Complementing the school's new modern look achieved through refurbishment program, the addition of a MakMax TensoColaTM, has provided the school with a new sun-safe learning and play area. The school and the students love the new area.
More information: School COLAs & Shade Solutions for Education.