St Francis Of Assisi School ETFE Atrium
Project Details
Location: Mill Park, VIC
Completion Date: October 2023
Size: 144 sqm
Fabric: ETFE - AGC Fluon 250um
Client: Devco
Photography: © Skyskills Industries
Creating a light-filled, weather protected entrance to the new STEAM building, the St Francis Of Assisi School ETFE Atrium provides an aesthetically stunning entrance to this ultra-modern architectural school facility. MakMax Australia was engaged to design, fabricate and install the 144 square meter transparent entry-way atrium.
The Brief
Designed by Co-Op Studio, the new St Francis Of Assisi Primary School STEAM (science, technology, engineering, arts and mathematics) building will focus on sparking imagination and creativity through the arts in ways that naturally align with STEM learning.
This modern, architectural addition to the Mill Park school employs the latest in technology for both the classroom, and also the building materials, including an ETFE atrium.
The Concept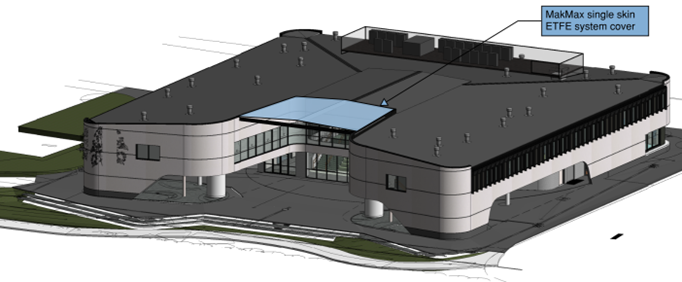 The Materials
MakMax worked with Co-Op Studio to propose an alternative to a glazed roof entrance. ETFE (Ethylene Tetrafluoroethylene) is durable, highly transparent, and extremely lightweight in comparison to glass structures.
This modern membrane is considered the material of choice for skylight applications and architectural building facades, and increasingly used as an alternative to glass for roofing, skylight and atrium structures. The flexible nature of the membrane offers an elegant and modern design alternative.
For the St Francis Of Assisi School ETFE Atrium, a clear ETFE with 16mm Dot Frit pattern was used in a single-layer application for this project. The ETFE panels were fabricated with cable pockets to enclose the supporting stainless-steel cables. An additional 40 metre of bird-wire was installed over the ETFE to protect the surface.
The Result
MakMax collaborated with head contractor for the STEAM building project, Devco, to design, engineer, fabricate and install the ETFE entry canopy. The MakMax team worked with our specialty installation partners, Skyskills Industries.
The St Francis Of Assisi School ETFE Atrium seamlessly blends innovation and aesthetics, offering a modern gateway to creativity and STEAM exploration. MakMax's TensoSkyTM ETFE system, a lightweight marvel, transforms the entrance into an inviting space that beautifully marries form and function.