Split Airport Bus Terminal
Project Details
Location: Split Airport, Croatia
Completion Date: June 2018
Fabric: PTFE - Sheerfill V
Client: Taiyo Europe
Split Airport Bus Terminal membane canopy project is one of a string of successful projects installed by our sister MakMax company, Taiyo Europe.  MakMAx Australia contributed design and engineering input in the tree-like structures and membrane canopy, based on our unique Flemington Racecourse Entry structure design.
The Brief
Thanks to MakMax Australia experience in connected canopies over inverted conical structures, we were approached by our European partners to assist in the design and engineering aspects of this stunning transport gateway shade structure.
The Concept
Designed to look a forest of trees greeting arriving and departing passengers from the airport, the delicate steel 'tree' support the waterproof bus station membrane canopy.
The inverted cones funnel rainwater through the columns directly into stormwater runoff, creating an even more passenger-friendly canopy.
The use of inverted cones also helps to provide a much higher-protected area, with buses able to transit underneath the rafters of the 'trees'.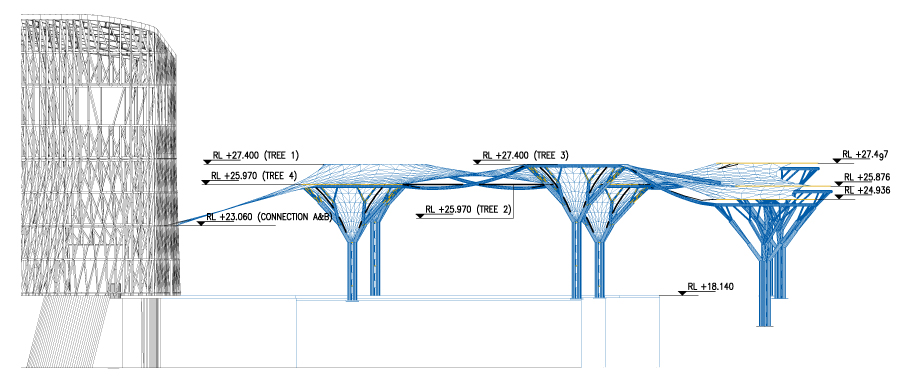 The Materials
The Split Airport Bus Terminal is canopy is clad in PTFE, a high-translucency fabric that also offers superior waterproof and sun-protective characteristics. Also important for an airport situation, where jet fuel-fumes and air-borne pollutants are more likely, the low-surface tension on PTFE makes it an excellent self-cleaning membrane.