MPavilion 2022 STFE Layer
Project Details
Location: Queen Victoria Gardens, Melbourne VIC
Completion Date: December 2022-April 2023
Size: 150 sqm
Fabric: STFE by Serge Ferrari
Client: Tensys Engineering * Analysis / MPavilion
Photography: © Natasha Walker | John Gollings | Casey Horsfield
MakMax was excited to be involved in the amazing MPavilion 2022 temporary structure in Melbourne. Designed by Bangkok-based architecture and design practice, all(zone), the MPavilion is a community and art space home to season of free events from 8 December 2022 to 8 April 2023.
The Brief
A unique structure made up of many elements and many contributors working together to realise the ultimate vision, MakMax worked with specialist engineering consultancy Tensys, and Serge Ferrari to produce the translucent tensile middle layer of the MPavilion.
The Concept
Designed to celebrate being outdoors, the vibrant, textural MPavilion's standout feature is its ingenious canopy—comprising three layers that explore the potential of fabric and tensile architecture at every step. The outermost layer is built from fishing nets, giving the structure a stunning tactile texture that defines the MPavilion's profile from afar. The middle layer is crafted from a cutting-edge STFE membrane supplied by French manufacturer Serge Ferrari. It's the first time STFE technology has been used in Australia. Last, but certainly not least, the bottom layer features a waffle of coloured fabric, made up of 48 individual sections, that move with the breeze and filter light, evoking the feeling of gently resting under trees.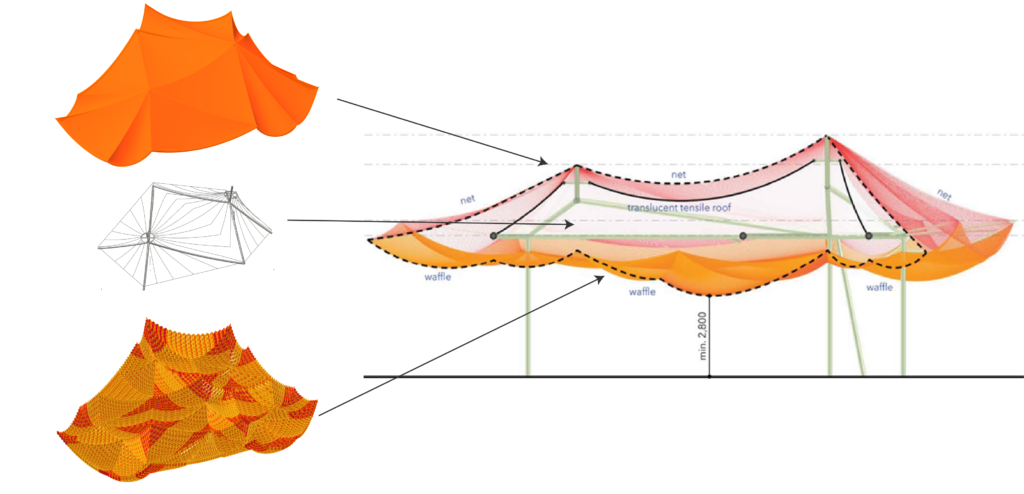 The Materials
MakMax was excited to play a small part in the project as the first Australian fabricators of Serge Ferrari's innovative new membrane – STFE. As transparent as glass but 10 times lighter, STFE is clear foil with an embedded polymer mesh for strength and durability.
The clear foil allows natural light into the MPavilion structure, while the fine black mesh helps to reduce glare. The membrane itself is waterproof, helping to keeps the stunning MPavilion structure filled with light and protected from the elements. It's the first time STFE technology has been used in Australia.
The Result
The MPavilion is a very unique commission. It is a temporary structure in Queen Victoria Gardens for about five months, before being gifted to the city by the Naomi Milgrom Foundation and relocated to a permanent home. While the structure has to be light and temporary, it also has to serve a series of unprecedented conditions in its second life. It should be adaptive with the very minimum elements of architecture while offering a unique experience for its visitors.
READ MORE: Architecture AU; Poetry and Pragmatism 2022 MPavilion
---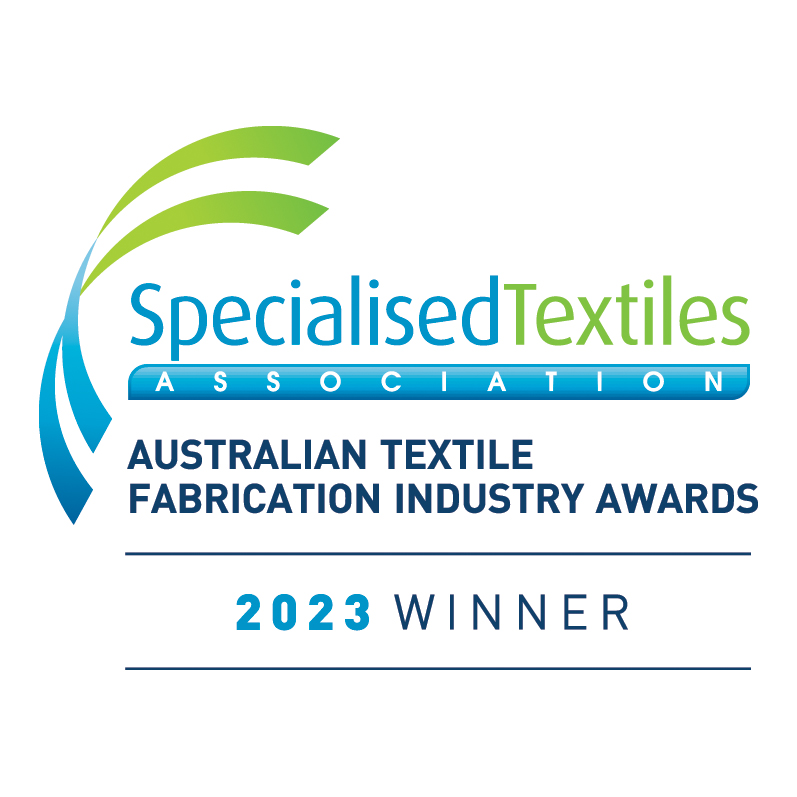 Winner STA Australian Textile Fabrication Industry Awards 2023
Tension Structures – Less than 250sqm