Glendale Shopping Centre Market Canopy
Project Details
Location: Glendale, NSW
Completion Date: June 2022
Size: 4300 sqm
Fabric: PVC - Mehler FR900N
Client: Mainbrace Construction / Stockland
Photography: © Mark James (Edge Commercial Photo) / Stockland
Lake Macquarie's largest shade structure, located at The Glendale Shopping Centre Market Canopy has been designed as a multi-purpose shade and weather protection structure.
The 4,300 square metre shade canopy covers 160 parking bays during the week, and doubles as a huge undercover area to host the Glendale Farmers and Artisans Market on the weekend.
The Brief
We were brought in very early in the project to help design a large shade canopy for the Glendale Shopping Centre. The project aim was to provide a large, covered area for weekend markets, which would then double as an undercover carpark during the week.
At first proposed by the architect as a series of shaded areas, with a village green, permanent food and beverage area and a place for weekend food trucks. The shopping centre management company requested the design in favour of having a larger fully covered area that did not reduce parking space when not in use.
For the Glendale Shopping Centre Market Canopy, we proposed a massive 4300 square metre membrane structure made up of two conical peaks and an integrated barrel-vault running the entire length. The conical sections help to create the high open-air feel for the weekend markets, with the extra-high barrel-vault canopy creating a promenade-style market alley.
The Materials
Combining a MakMax TensoCar full cover parking run with a double conical-peaked tensile membrane structure into one giant canopy has created an eye-catching bespoke shade structure for the Glendale Shopping Centre.
Supported by a galvanised steel frame the PVC canopy, which was fabricated in Brisbane, was shipped to site in 3 stages. The first part of the canopy, the 1500 square metre barrel-vault run, was fabricated in panels and installed section-by-section with site welding and closures to seal the canopy onsite. Installation was a breeze and completed on time and without incident.
Each fabric cone is just over 1400m2 of fabricated Mehler FR900N PVC and weights roughly 1650kgs. A full weighted 55t. heavy-life crane from Wilson Lift Cranes was required to lift each of the cone sections to a height of around 30m before being lowered onto the steel structural frame. Severe weather conditions made what was to be MakMax's largest ever single fabric lift a challenge, with strong winds making the first cone lift precarious, and torrential downpours adding significant extra weight to the fabric for the second left.
The Result
The new Glendale Shopping Centre Market Canopy has proved to be extremally popular during the week as a covered carpark, however the real benefit to the local community has been to create an exciting open-air cover for the Glendale Artisan and Farmers Markets.
Check out the Facebook video to see it in action.
---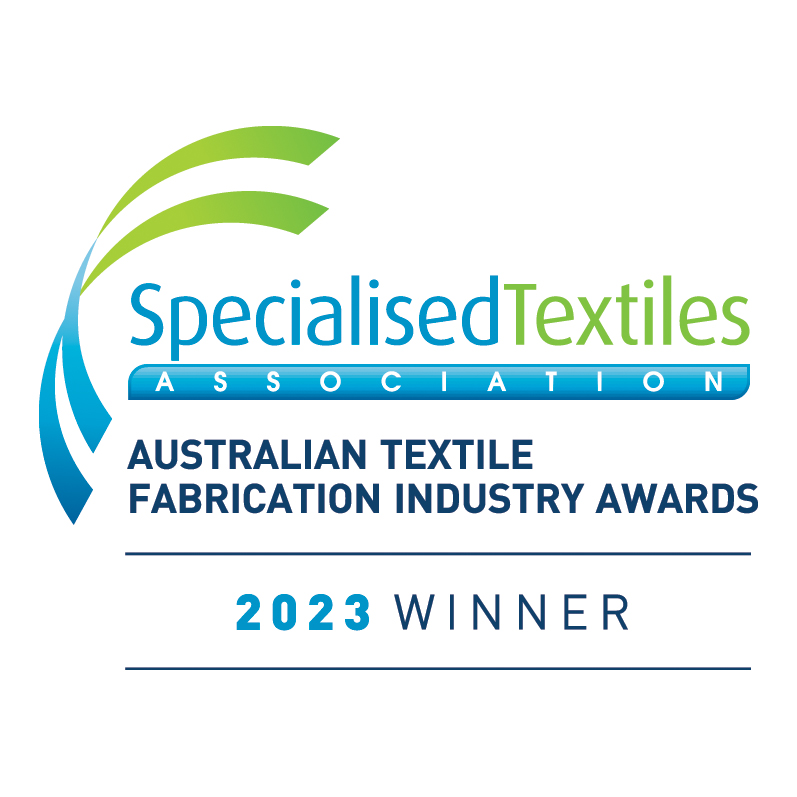 Winner STA Australian Textile Fabrication Industry Awards 2023
Tension Structures – Greater than 2000sqm