EXPO Milano 2015 Main Walkway
Project Details
Location: Milan, Italy
Completion Date: 2015
Size: 68,000 sqm
Fabric: PVC - Mehler FR1000 F
The EXPO Milano 2015 Main Walkway was a series of cable suspended PVC shade panels. At the time of the Milan World EXPO, the covered walkway represented one of the biggest PVC roof structures in Europe.
The Brief
In ancient Rome, the main street that crossed the villages from East to West was called Decumano and the perpendicular one from Nord to South was called Cardo. The Decumano was the main axis of the Milan Expo 2015. It was a pedestrian walkway that ran through the center of the Expo site, connecting the different pavilions and exhibition areas. The Decumano was lined with shops, restaurants, and other amenities, and was a popular spot for visitors to the Expo to explore and experience the different pavilions and exhibits.
These are also the names of the two main streets of the Expo exhibition area. Taiyo Europe, our MakMax sister company was chosen to cover these walkways , which are 1.7 km long, with a covered surface close to 70,000m2 with cable-suspended curved PVC shade panels.
The Concept
The EXPO Milano 2015 Main Walkway shade cover was designed as a series of modular sections that could be repeated along the length of structure. The project was subdivided in 3 sub-projects named to reflect their location in the Expo grounds; Decumano (the main full-length walkway), Cardo (a shorter perpendicular section), and Secondario (smaller and lower secondary sections leading off the main thoroughfare).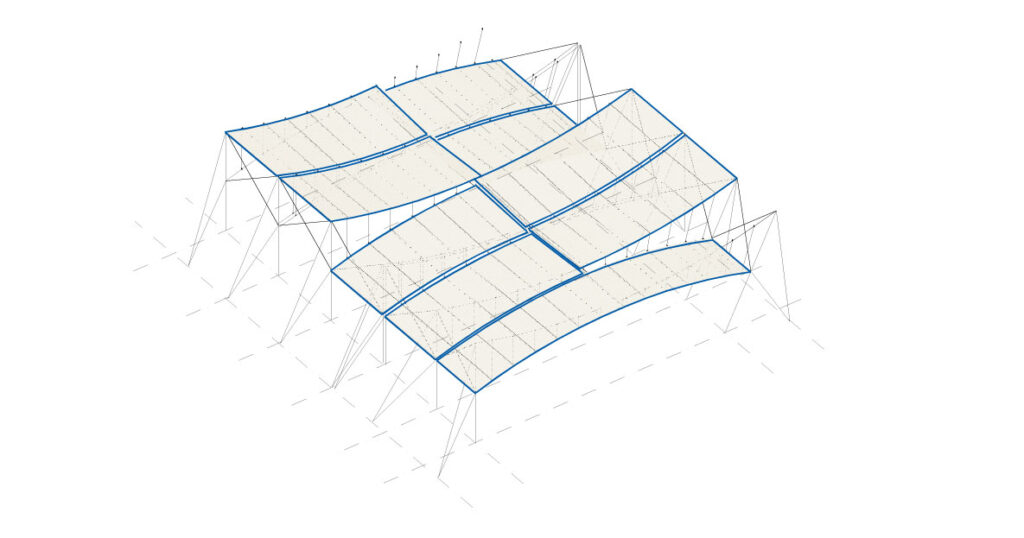 Each section comprised of:
Decumano 260 PVC membrane panels
Cardo 33 PVC membrane panels
Secondario 14 PVC membrane panels
The Materials
Working from the the project designs from Taiyo Europe, PVC membrane fabrication for the Milan Expo walkway shade cover, including all patterning, compensations, plotting and marking, cutting, welding, punching and eyeleting was by MakMax Australia in our Brisbane factory.
Once fabricated with keder edges and eyelets for the cable connections, we packed and wrapped the completed fabricated membranes according to a detailed folding plan prepared by Taiyo Europe.  This included marking the membrane sections in accordance with the Taiyo folding plan and marking the shipped sections with identifying information about content and orientation. This detailed folding plan and identification of the multiple sections made the complex installation in Milan possible.