Coomealla Club Bowling Green Canopy
Project Details
Location: Dareton, NSW
Completion Date: October 2022
Size: 3238 sqm
Fabric: PTFE - Chukoh FGT600
Client: Coomealla Memorial Sporting Club
The Coomealla Club Bowling Green Canopy, a state-of-the-art MakMax TensoSport-MAX membrane canopy, was installed over 2 greens at the Coomealla Memorial Sporting Club in 2022.
Located in the Murray River border town of Dareton, the 'Coomie' (as the club is affectionately known by it's members) is a local community sports club. The addition of a full-cover bowling green canopy over both the lawn bowling greens will provide locals and visitors alike with a world-class, all-weather bowling facility for many years to come.
The Concept
The 78m x 40m canopy is the MakMax Loggerhead design, a large-span barrel-vault canopy with diagonal struts supporting the arches. Combined with valley cables, the Loggerhead creates an open-airy feel underneath the canopy, while still offering an architecturally interesting profile.
Click below (or use your phone) to enter a VR view of the early concept design.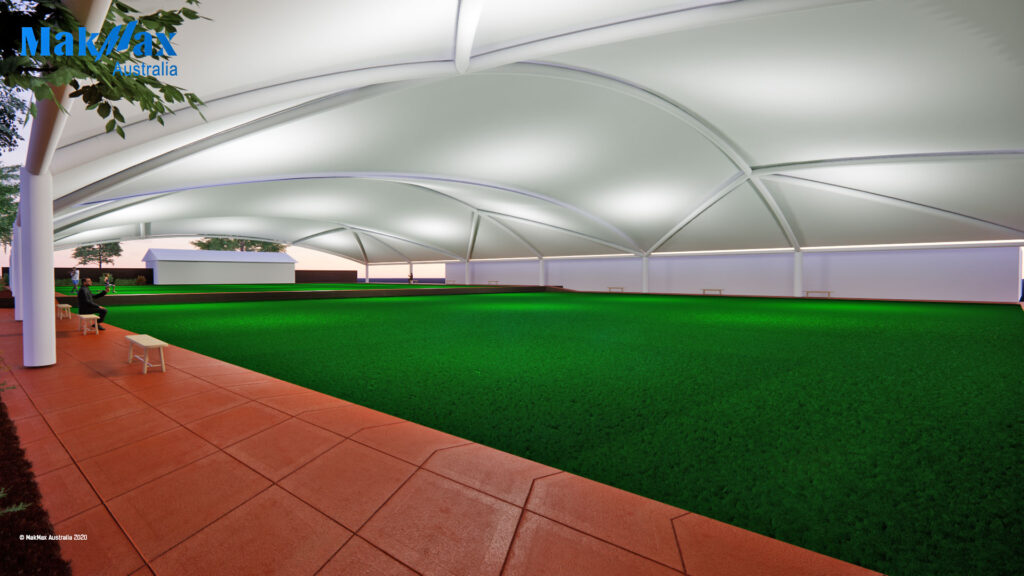 The Materials
The Coomealla Club Bowling Green Canopy is clad in 3238 square metres of architectural PTFE membrane.
PTFE roofs feel much brighter and lighter underneath due to the significantly higher light transmission properties. The PTFE coating is inert and does not degrade under UV, so it retains its crisp white colour over time along with its natural self-cleaning properties. A premium roofing option, the main advantage of PTFE over other sports roofing materials is longevity – the additional investment of choosing a PTFE roof will reap benefits over the extended life of the structure.