Coles Currambine TensoCar
Project Details
Location: Joondalup, WA
Completion Date: May 2022
Size: 850sqm
Fabric: PVC - Mehler Valmex FR700N
Client: Focus Building Company Pty Ltd / Coles
An exciting new retail development in the popular southern Perth area of Joondalup, the Coles Currambine TensoCar Car Park Project includes five TensoCar Car Park Shade Structures, designed to provide shade and weather protection for shoppers.
The Concept
Working with Focus Building on the brand new retail development, MakMax Australia designed and installed the three Coles Currambine TensoCar Car Park Shade Structures in retail centre carpark.
The central run is a TensoCar Double Bay with Walkway, covering 20 patron car parks.
The 2 outer runs are TensoCar Double Bays, covering a total of 40 patron car parks.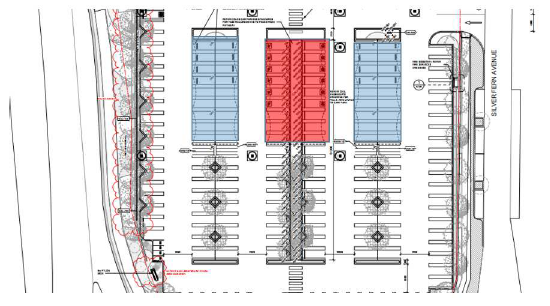 The Materials
The Coles Cummabine TensoCar shade structures are covered in Mehler Valmex FR700N PVC. Offering both UV protection for shoppers and their vehicles, the waterproof PVC membrane also protects shoppers as they get in and out of their vehicles on rainy days.
PVC coated polyester fabrics are an excellent economical weatherproof membrane. They offer a medium level of light transmission and should last 15-25 years before needing replacement. The PVDF nano-coating lacquer on both sides of the polyester fabric offers good dirt repellent characteristics.