Botanica Salamanca Square Pavilion
Project Details
Location: Hobart, TAS
Completion Date: December 2019
Size: Double Pavilion 6.9m x 10.4m (90sqm)
Fabric: PVC - Mehler FR700N
Client: Hurricane Marine
Modern aesthetics meets rustic charm under the Botanica Salamanca Square Pavilion. Nestled within the transformed confines of Hobart's historic Georgian sandstone warehouses, this unique outdoor dining space captures the essence of Tasmania's allure and the mystique of the Salamanca district. At the heart of this captivating venue lies Botanica, a culinary gem that proudly celebrates the finest offerings from Tasmania's local distilleries, breweries, and food growers.
The Brief
With an option to expand their outdoor dining facilities, the architects of the Botanica redevelopment approached Hurricane Marine, a local authorised MakMax representative, to craft a robust weather-protection canopy for their alfresco area.
Originally envisioned as four conical umbrella-shaped sections with infills, MakMax worked with Hurricane Marine to propose a value-engineered solution, combining two modified Pavilion Modular Shade Structures. This design adaptation, covered with a single full-cover canopy, exemplifies the adaptability and ingenuity of the MakMax Modular Shade Structure range.
The Concept
The original concept art showing the 4 umbrella-style conical peaks. Using the same external framing proposed, MakMax was able to fabricate a single canopy to cover the whole area using our Pavilion Modular design.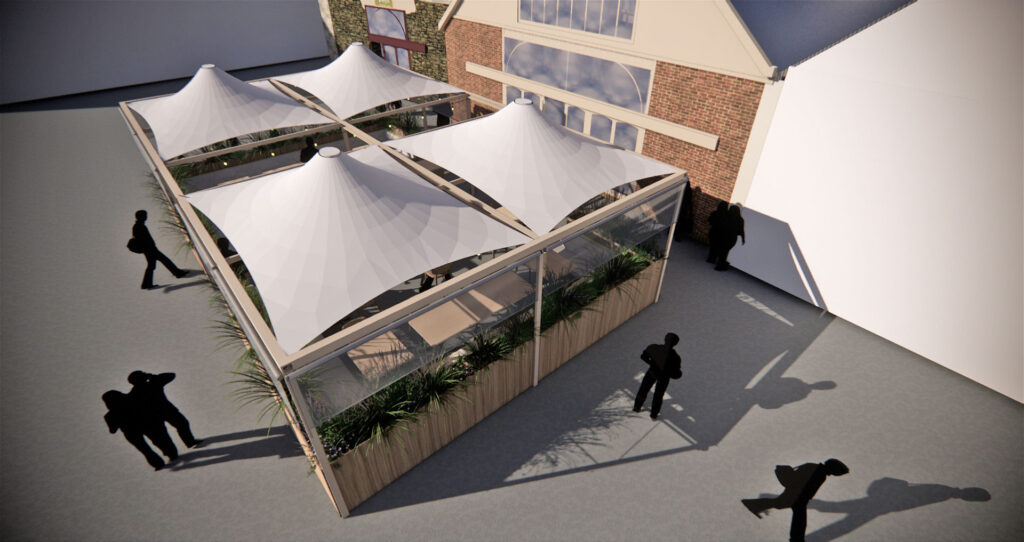 The Materials
The Botanica Salamanca Square Pavilion is covered in a 90 square metres of Mehler FR700N PVC membrane. Fabricated as a single canopy, the bright white tensile membrane ensures not only an elegant and contemporary aesthetic but also guarantees exceptional durability, safeguarding the outdoor dining space from the harshest of elements while maintaining its pristine appearance for years to come.
The central column of each conical section was engineered to support Celmec ceramic heating and LED lighting, allowing the restaurant to offer year-round dining. The integration of our Linear Edge version into the Pavilion Modular Shade structure further facilitated the weather-protection of the outdoor dining by allowing for the seamless addition of guttering. The Linear Edge design also accommodated the subsequent installation of ZipTrek blinds, providing further shielding against the chilly Hobart winter winds.
At the core of the Botanica Salamanca Square Pavilion lies a engineered structural steel framework designed for unparalleled strength and stability. This robust nature of the MakMax Pavilion structure even allows for the additional loading of steel wire cables suspended under the rafters, supporting a lush array of hanging plants.
The Result
The Botanica Salamanca Square Pavilion joins a long list of MakMax Architectural Umbrella projects that can be seen in and around Hobart's Salamanca area. The stone walls of the historic warehouse district are complemented by the clean, modern architectural fabric structures.