Big Top Shopping Centre
Project Details
Location: Maroochydore, QLD
Completion Date: October 2014
Size: 4500 sqm
Fabric: PVC - Mehler FR1000
Photography: © Dave Kan Photography
Located in the heart of Maroochydore, the refurbishment of the Big Top Shopping Centre was designed to be an "open marketplace".  The iconic Big Top fabric sails were replaced by MakMax Australia, allowing natural light to flood into the centre adding to the open market atmosphere.
The Brief
The Big Top Shopping Centre underwent a multi-million dollar redevelopment which included replacing the then-existing conic fabric roof.  The four cones form part of the roofing structure to create stunning high ceilings and flooding the centre with natural light.  The client requested the design of the new fabric structures to model the shape of the original structures with higher valleys between the cones.
The Concept
The project itself is unique, in that it involved the removal and reinstallation of the fabric of an iconic structure in the Sunshine Coast region.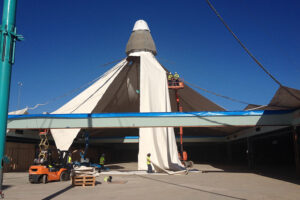 One of the main challenges during the construction was the weather, due to the large size and significant weight of the fabric. The engineering team took coastal conditions into account and project management navigated difficult logistical decisions that accompanied the large size and weight of the fabric. As a result, the success of the project depended highly on coordinating with the client and cooperating with other contractors working on unrelated projects as part of the redevelopment.
It was the strong skills and extensive industry experience of the MakMax team who allowed for such a large project to be carried out so smoothly.
The Materials
MakMax Australia replaced the 25 year old deteriorated fabric with a bright white new membrane (Mehler FR1000 PVC fabric) to give a fresh new look to the shopping centre. The fabric matched the existing shape of the four conical peaks, with the height of the cones increased by an extra meter to achieve greater internal clearance.
The Result
The client was very impressed with the reinstallation of the roofing structure and received many compliments from both centre management and centre customers in response to the new fabric.
Read more about this project in this article: Big Top sails removed for facelift