Belmont Bowling Green Canopy
Project Details
Location: Marks Point, NSW
Completion Date: Sept 2019
Size: 3900 sqm
Fabric: PTFE - Chukoh FGT800
Client: Sports Build & Belmont Golf & Bowls
Working with specialty sports surface supplier, Sports Build,  MakMax Australia designed and supplied the 3900 square metre PTFE TensoSport-MAX Belmont Bowling Green Canopy.
The Brief
Specialty sporting surface contractor, Sports Build, were chosen by to install 2 brand new synthetic bowling greens at the Belmont Golf & Bowls Resort on the NSW Central Coast. One of a number of projects MakMax Australia and Sports Build have collaborated on, our scope was the design and supply of the structural steelwork, tensioned fabric roofing and above ground roof water drainage system for the bowling green roof proposed at Belmont Bowls Club.
The Concept
Our most popular canopy style, the double green Hawksbill-style TensoSport-MAX canopy has been designed to cover two greens end-on-end. The lawn bowls roof is long open-ended roof structure, covering 8 rinks on each green. The Belmont Bowling Green Canopy has created a world-class, all-weather bowling facility for the local residents of Belmont and Marks Point.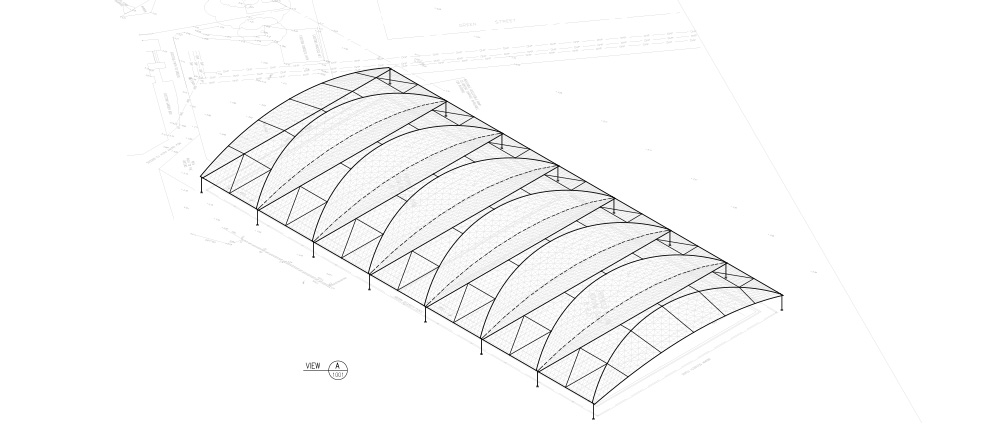 The Materials
Located along a narrow spit of land between the Pacific Ocean and Lake Macquarie, particular engineering attention was focused on the footing and steel coloum sizes. Capable of standing up the the brisk ocean breezes coming over the open golf-course between the canopy and the beach, the steel frame is also coated in a 4-layer protection system to guard against the salty sea air.
Famed for it's longevity and translucency, the Belmont Bowling Green Canopy is covered in almost 4000 square meters of PTFE.