EXTEND THE LIFE OF YOUR TENSILE MEMBRANE STRUCTURE
To maximise the lifespan and maintain warranties of your tensile membrane structure, a regular routine inspection and maintenance program will help identify potential environmental impacts and standard wear and tear.
Our commitment to clients extends beyond the project completion date with a range of additional services offered throughout the life of the structure.
Routine Engineering Inspections & Reports
MakMax tensile membrane structures are designed to be long-lasting and low maintenance, however we recommend ongoing engineering inspections at least every 3 years, or after any severe weather event. We offer detailed maintenance inspections and reports by our qualified building inspectors and/or structural engineers for a small fee.
Warranty Inspections
Most of our fabric manufactures stipulate regular maintenance inspections by an engineer or qualified person in order for the membrane warranty to remain valid. MakMax Australia offers these services through our inhouse building inspectors and structural engineers.
Programmed Cleaning & Maintenance
While tensile membranes offer greater 'self-cleaning' properties than other roofing materials, various environmental impacts, dust in rural areas or pollution in urban areas and surrounding foliage can cause contaminant build up. MakMax can arrange cleaning of your membrane roof directly through our partner subcontractors.
Engineering Repairs
With appropriate maintenance, structural steel and hardware components in your structure are designed to last for the expected life of your project. Should any structural element begin to show damage through environmental influence or external impacts, it is important to have those sections replaced or repaired, along with a full engineering analysis of the structure to confirm the tensioned membranes are safe.
Repairs, Re-skins or Replacements
The various membranes used by MakMax offer different life-spans depending on their quality and construction, and from time to time, external factors may cause damage to your the membrane structure. MakMax can inspect your membrane and propose a solution to either repair or replace the membrane. In many cases the supporting steel frame can be kept in-situ and the replacement costs can be quite economical.

Big Top Shopping Centre Membrane Replacement 2014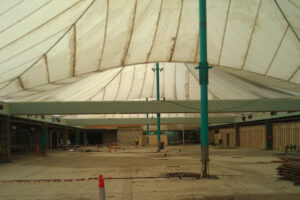 Sunnybank Plaza Carpark Engineering Repairs & Membrane Repair & Replacement 2017

Chevron Renaissance Shopping Arcade Membrane Replacement 2020