Lightweight, Large-Span Roofing Solutions
Cable Net Structures offer minimalistic, light, and aesthetic solutions.
While most tensile membrane structures use cables to tension fabric over a rigid steel-frame, cable net structures use tensioned cables as the main support grid, allowing innovative and lightweight alternatives to standard structures.
A common application is to create an anticlastic support grid of cables, which in turn provide support for a tensioned membrane surface.
This helps to develop aesthetically pleasing and iconic architectural membrane structures and architectural features that almost seem to float over the covered area. Cable net structures can be used to obtain larger spans by reducing the number of columns or other conventional structural elements.
MakMax Australia also has experience in creating parallel cable grid structures for shade and artwork elements, such as the stunning Arbour Walkway which snakes its way alongside the Perth stadium.
Cable Net Stadiums
With the ability to achieve large spans with minimal support elements, cable net structures have been used in multiple MakMax and Taiyo Kogyo stadium roof designs.
Making use of either a self-supporting inner tension ring connected to an outer superstructure via a radial cable grid (on projects such as the Jawaharlal Nehru Stadium or the Wanda Metropolitano Stadium), or using a radial cable grid supported by a central arch on stadiums such as Moses Mabhida Stadium, gravity-defying stadium membrane roofing is made possible through innovative cable net structures.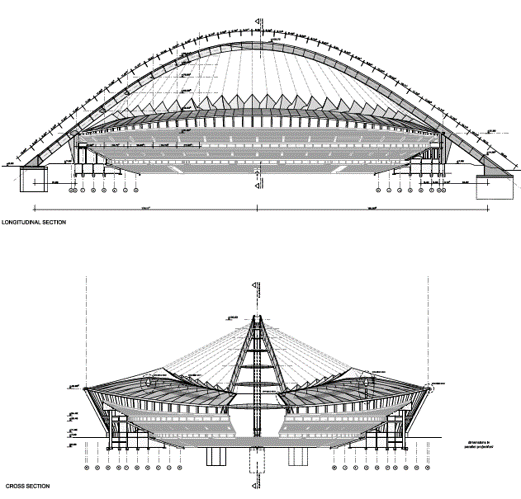 Would You Like More Information About Cable Net Structrues?
Contact us today to discuss your project requirements. We are the market leader in the design, engineering, fabrication and installation of custom fabric structures for a wide variety of applications and industries. We have extensive project experience and offer endless possibilities when it comes to custom design solutions to meet your needs.