WetnWild H2Oasis Splash Pad Shade
Project Details
Location: Gold Coast, QLD
Completion Date: December 2021
Size: 4 Shade Structures - 780 sqm
Fabric: PVC Mesh - Serge Ferrari Soltis FT381 & PVC - Mehler FR700
Client: Badge Construction/Village Roadshow Theme Parks
Photography: © Alberto Del Arco
The WetnWild H2Oasis is an aquatic play zone – the newest attraction at the Gold Coast Themepark.
The splash pad stretches across 870m2 and features an array of fountains, showers and things that go SPLASH!
Keeping park visitors safe from the Queensland sunshine are 4 bespoke shade structures.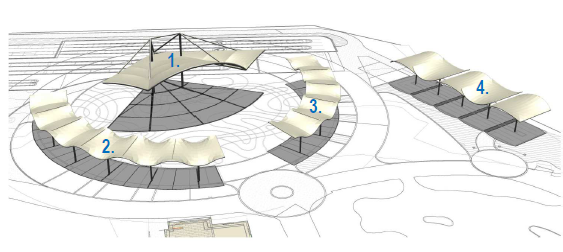 1 – A 270sqm Manta Ray shaped cantilever shade structure – PVC Mesh.
2 & 3 – Wave-like shade canopies surrounding the splash pad – PVC (waterproof).
4 – A series of centre-pillar overlapping shade canopies – PVC Mesh.