Club Pine Rivers Bowling Green Canopy
Project Details
Location: Pine Rivers, QLD
Completion Date: October, 2010
Size: 1913 sqm & 1638 sqm
Fabric: PVC - Ferrari 1002T2
Client: Club Pine Rivers
The Bowling Green Canopy at Club Pine Rivers, completed in 2010 is the first lawn bowls roof installed by MakMax Australia.  Over a decade later, Club Pine Rivers continues to be a world-class bowling facility.  This project was a significant accomplishment for MakMax Australia and showcases our skill and expertise of designing and constructing tensile membrane structures for a range of applications.
The Brief
Club Pine Rivers (formerly Pine Rivers Memorial Bowls Club) was founded in 1948 and has been dedicated to Lawn Bowls for over 70 years.   The club strives to provide the best facilities and has undergone several facelifts, expansions and renovations.
In 2009, the club undertook a project to create an all-weather covered bowling green and approached MakMax Australia to design and construct a tensile membrane structure. This was a new and innovative application of tensile membrane at the time. Tensile membrane structures are ideal for large-span roofing with minimum supporting columns, making it the perfectly solution to cover the bowling green.
The Concept
With an extensive portfolio of stadium and sporting facilities, MakMax's team of engineers drew on 30 years of expertise and knowledge from working on large-span roofing project to design a custom structure that suited lawn bowls.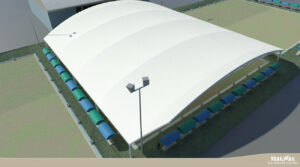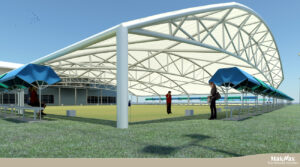 The tri-chord truss design allowed for lights to be mounted and projected onto the underside of the membrane roof. The addition of synthetic green and lighting system integrated into the design of the structure created a multi-use facility and guarantees bowlers can play rain hail or shine, day or night.
The initial proposal was for a single bowling green canopy over their middle green however half-way through the project, the club requested an additional canopy to be built over their second green.  The two canopies are independent structures that are joined by a centre guttering system that provides shelter between the two structures.
The Materials
Both bowling green canopies are made from a PVC membrane (Ferrari 1002T2) with a PVDF coating, offering greater resistance to pollution and dirt, requiring less maintenance and cleaning in the long-term. The highly-translucent fabric membrane creates a glare-free environment under the canopy and reduces the need for artificial lighting throughout the day.
The Result
This project was a huge success as MakMax's first lawn bowls roof in Australia and more than a decade later we have developed a range of Bowling Green Canopies and continue to work closely with the Australia bowls community to deliver innovative and premium-quality bowls club roofing and shade structures.
Club Pine Rivers are proud of their facility, with club members affectionately referring to the canopy as 'The Old Girl'.  Every year the club hosts the Bowls Premier League, a massive competition featuring teams from across Australia and New Zealand.   The canopy guarantees that competition can take place year after year as it protects players and spectators from inclement weather.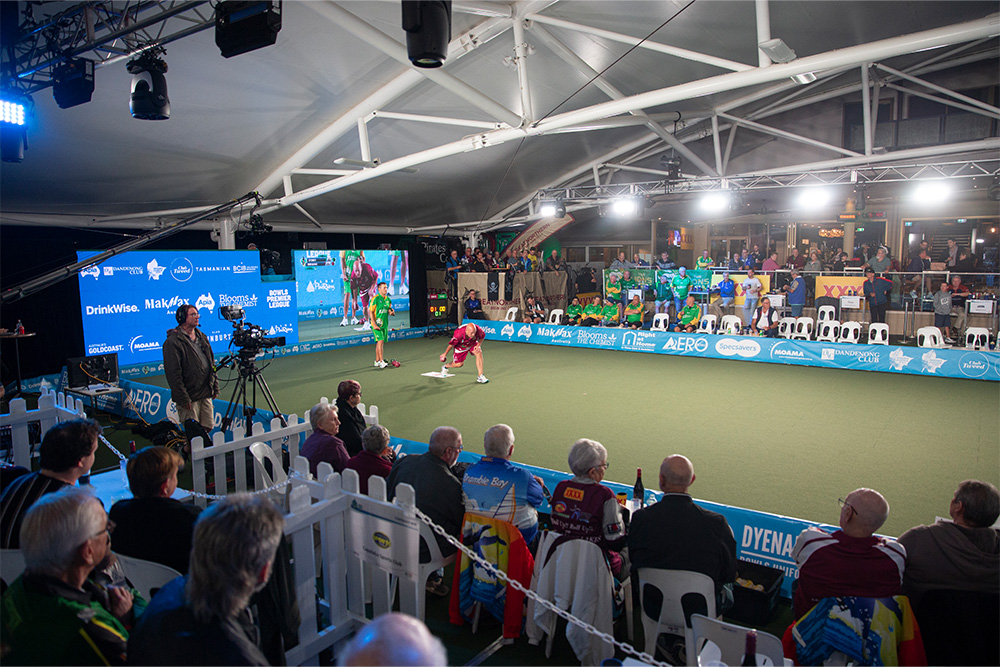 The club not only utilises the spaces for bowls and competition but has hosted a number of other community events under the canopy such as Drone Racing.